The EasyJet share price is in its third day of decline, as the stock continues to face headwinds to its pandemic recovery. However, there are hopes that the company's stock may start to turn a corner as several key developments come to light.
The company says is has joined the race towards zero-carbon emissions, as it has set a 2050 milestone for ending its carbon footprint. This comes as the entire airline industry comes under focus from the COP26 climate change summit in Glasgow.
The company has also opened new routes to enable travellers to hit new destinations for the Christmas holidays. EasyJet will commence new weekly flights to Italian destinations, starting from 16 December, and this will add to its reopened Brussels routes which fly from Belgium to France and Switzerland.
The Easyjet share price is down 1.55% on the day as of writing.
EasyJet Share Price Outlook
The Easyjet share price currently tests the ascending support trendline that connects the lows of the recent daily candles. A breakdown of this trendline and the 607.8 support (14 October and 5 November lows) allows the bears to aim for the 556.0 support (13 September low). The 506.4 support level comes into play if the share price continues its decline.
On the flip side, a bounce on the trendline targets the 655.8 resistance. If the recovery continues, 684.8 (8 September and 5 November highs) comes into the mix, leaving the previous double top at 700.00 and the 739.4 barriers (site of the 200-day moving average) as the additional near-term targets for the bulls. 
EasyJet: Daily Chart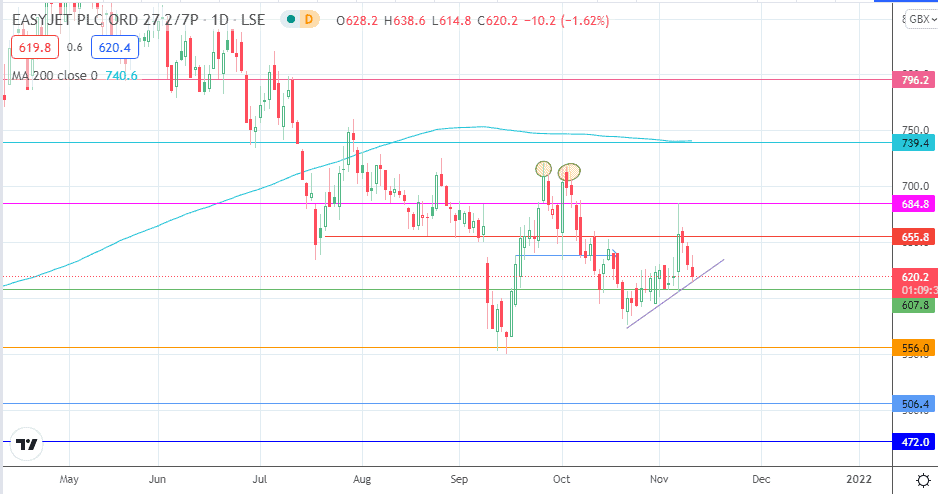 Follow Eno on Twitter.