The Easyjet share price continued its ascent on Wednesday after investors responded positively to the lifting of US flight restrictions. Some upbeat comments from the EasyJet CEO, made in a news briefing in Toulouse on Tuesday, also added to upbeat sentiment on the stock.
In the briefing, CEO Johan Lundgren says that the worst of the pandemic's crisis was "behind us". He also indicated that its Schipol airport domestic operations were back to 2019 traffic levels. The CEO also explained the recent rejection of a bid from Hungarian airline Wizz Air, saying the offer did not provide value for Easyjet. 
The Easyjet share price is one of several airline stocks that have responded positively to tailwinds provided by news of the reopening of the US airspace to vaccinated travellers from the EU and UK. After rejecting Wizz Air's takeover bid, Easyjet is moving ahead with its $1.7billion rights issue to shareholders.
Easyjet Share Price Outlook
The price is challenging resistance at 655.8. A break of this price level allows 692.8 to enter the picture, leaving additional targets at 739.4 and 796.2 up for grabs as well.
On the flip side, rejection at the 655.8 resistance could engineer a pullback, targeting 607.8 initially. 566.4 becomes available if this new downside target gives way.
Easyjet Share Price (Daily) Chart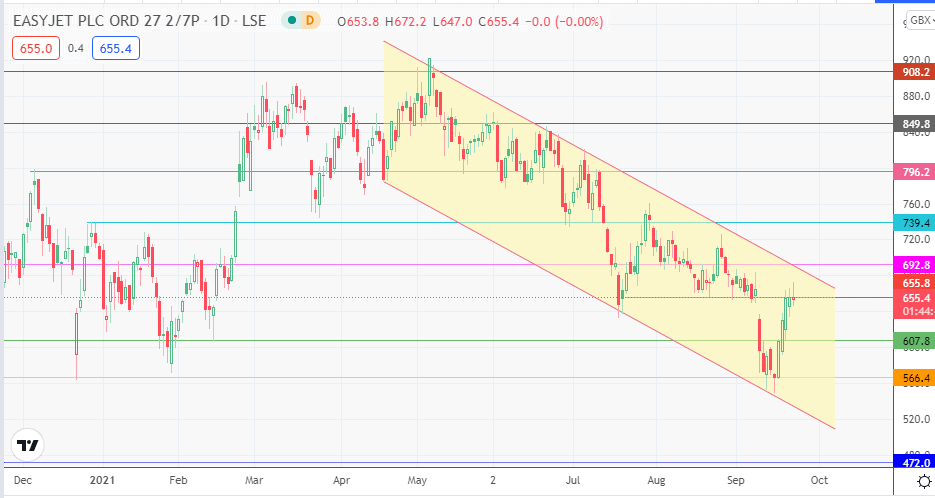 Follow Eno on Twitter.