The easyJet share price is up for the second day in a row, as airline stocks on the FTSE100 benefit from positive sentiment and lower oil prices. The addition of new routes to its holiday schedule boosts the stock's sentiment this Tuesday, sending it to the number 15 position on the FTSE 250 index's gainers' chart.
A lower start to the session quickly gave way to bullish demand as the airline announced the opening of a new Liverpool – Belfast air route. The flights will commence on 1 July, following a daily service of six flights per week. This will eventually increase to seven flights per week, fulfilling the company's commitment to expanding its operations to Belfast.
EasyJet says that the move could help bring in new demand after forecasting that demand and passenger figures from Belfast were on their way to pre-pandemic levels this year. The new flight route also brings more traffic to Belfast City Airport due to its proximity to the city and short transit time through security points, according to the airport's CEO Matthew Hall.
The easyJet share price has had a remarkable recovery in April 2022, after a disastrous end to March in which crew absences due to COVID-19 and repeated flight cancellations soured investor sentiment and led to a 7-day selling spree between 30 March and 7 April.
EasyJet Share Price Outlook
Following the completion of the bullish pennant on the daily chart at the 573.6 resistance, the accompanying price action appears to have formed a rising wedge. The attempt to break down this wedge failed due to a bounce at the 548.8 support level.
This bounce was followed by a bullish gap that pushed the price above the 573.6 resistance, keeping the price activity within the wedge. An advance from current price levels targets the wedge's upper border at the 607.8 resistance (16 November 2021 high and 26 January 2022 low). 
A break of this barrier invalidates the wedge, opening the door for a further advance towards 646.2 (27 January high and 23 February low in role reversal). An additional northbound target is seen at 684.8 (9/17 February lows).
On the other hand, a pullback move that leads to a drop below the 573.6 support level completes the expected breakdown of the wedge. This breakdown move must overcome the 548.8 support to deliver the measured move, which is expected to end at the 508.8 support line (21 December 2021 and 2 March 2022 lows). If the decline is extended, we could see more price deterioration towards 472.0 (4 March low).
EasyJet: Daily Chart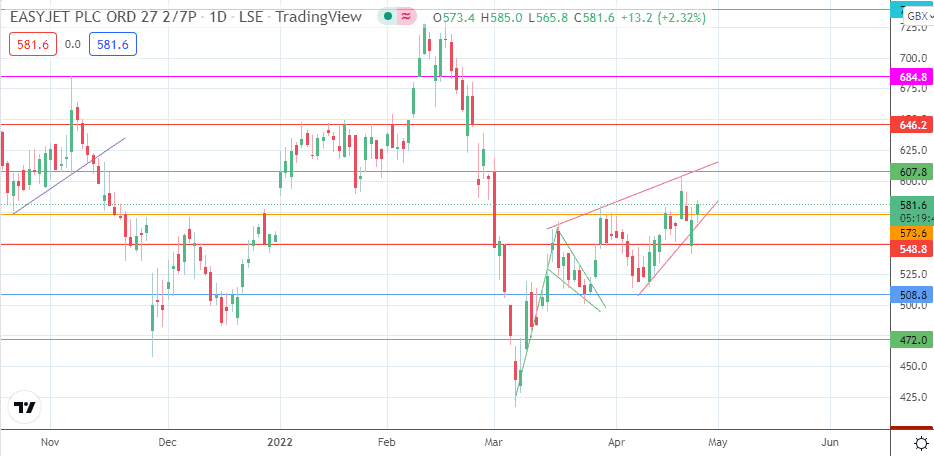 Follow Eno on Twitter.