A lift in the cyclical stocks is sending the Dow Jones Industrial Average to new highs this Monday. This comes on the back of Friday's jobs numbers out of the US and the passage of the massive US infrastructure bill worth $1trillion.
The NFP report showed a decline in the unemployment rate and an uptick in public sector jobs than the markets expected. However, the downside of the report was that the participation rate had not tracked upwards along with the employment change.
Any reservations the markets may have had were blown away by the passage of the infrastructure bill by the US Congress. This bill provides for massive spending in the construction and maintenance of public infrastructure, driving up business for companies such as Caterpillar.
Caterpillar is leading the gains among industrials as its construction business (accounting for 45% of its revenue in 2021) is poised to benefit from the IS government's infrastructure spending. Travel stocks are also rising, fuelled by the lifting of restrictions for vaccinated EU travellers by the US.
Dow Jones Price Outlook
Monday's push to new highs has stalled at the 36403 resistance (141.4% Fibonacci extension). This barrier needs to give way for new targets at 36800 (161.8% Fibonacci extension level) to come into the picture.
On the other hand, a decline from this resistance barrier targets 36126 (127.2% Fibonacci extension level) initially, before 35594 and 25175 (20 August and 8 September highs) line up to form additional targets to the south.
Dow Jones: Daily Chart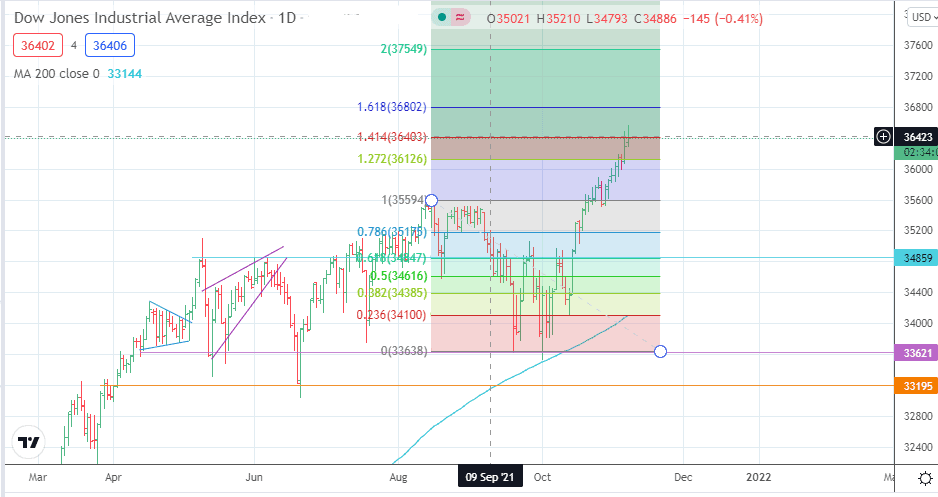 Follow Eno on Twitter.