Dow Jones Index futures show a remarkable 1.58% recovery from its last week's close on Monday. The recent correction in the 10-year bond yields and the positive price action of the mega-cap stocks acted as a catalyst for the recent rebound in the benchmark indices alongside the Dow Jones index.
On Tuesday, the index experienced a positive sentiment but turned red as the New York session started. At press time, the Dow Jones Industrial Average was down 98 points.
The much-awaited FOMC statement is set to be released tomorrow. The CME FedWatch tool shows a whopping 98.2% probability for the rates to remain at 5.25%-5.5%, while there is only a 1.8% chance for the rates to drop between the 5%-5.25% range.
Investor sentiment looked positive at the start of the week as the futures of the benchmark indices traded in the green. On Monday, the 1.58% recovery in the Dow Jones Index was bolstered by McDonald's better-than-expected quarterly results which were aided by new launches, promotions, and demand for its more affordable meals.
The US 10-year bond yields faced headwinds on Monday after the US treasury department expressed its intention to borrow $76 billion less this quarter as companies report strong quarterly earnings. However, this correction in bond yields might be temporary as there is no demand for bonds is not that strong.
Dow Jones Index Forecast
My forecast of Dow hitting 32,730 points level was met perfectly last week as the index plunged to 32409 points on Friday. The benchmark index of the blue chips has shown a strong rebound from the support and the Dow futures are now trying to reclaim the 33,000 points level.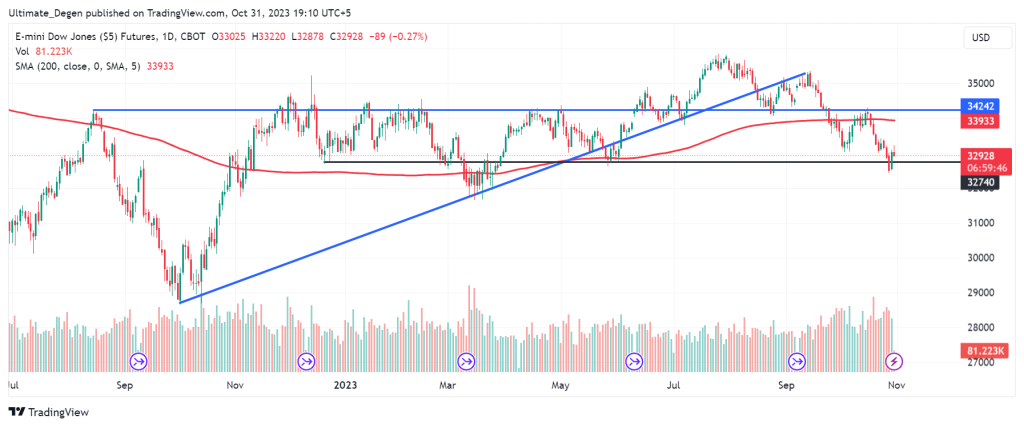 A look at the chart below shows a resistance level of 33,767 points which the DJI may target provided it stays above the 32,604 points support. The 33,767 points resistance is a critical level as it also lies at the confluence of the 200 MA. However, the Dow Jones Index might flip bearish if the index gains acceptance below the 32604 points support level in the coming days.