The FTSE 100 was a hidden gem in 2022. The blue-chip British index dropped by just 8% in dollar terms even as its American counterparts like the Dow Jones, S&P 500, and Nasdaq 100 indices collapsed by double-digits. Dogs of the FTSE 100 refers to the highest yielders in the Footsie index. Here are some of the top picks for 2023.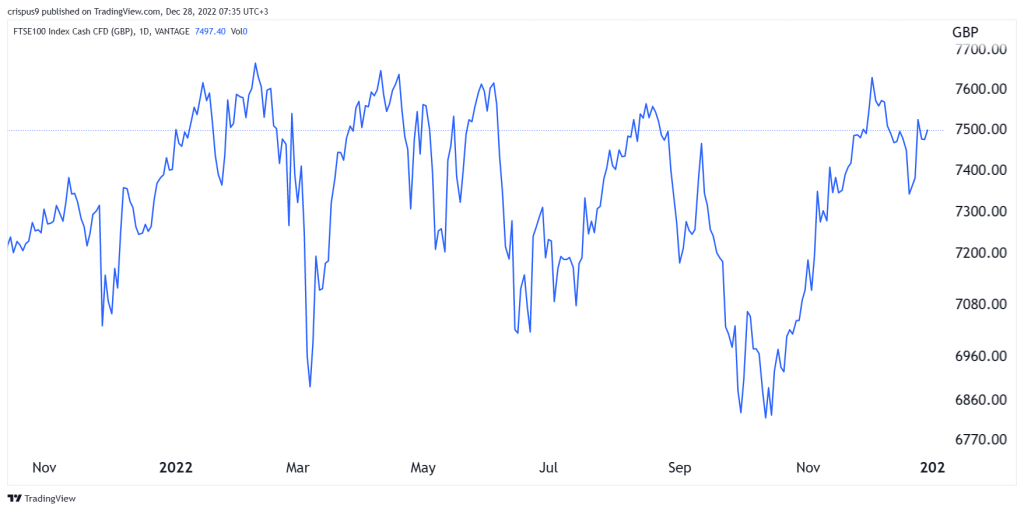 Rio Tinto (RIO)
Rio Tinto is one of the top dogs of the FTSE 100 stocks with a dividend yield of 9.78%. It is a global mining empire that focuses on key metals like copper, iron ore, aluminium, lithium, borates, and scandium among others.
Based on conventional reasoning, Rio Tinto share price should lag in 2023 after it rebounded by 30% in the fourth quarter. Analysts believe that commodity prices will wane as the world faces a triple whammy of high-interest rates, high inflation, and slow economic growth.
However, conventional wisdom has failed in the past and the outlook could be much better. For one, China has fully reopened, which could be a catalyst for most metals. Demand for electric vehicles could also lead to more demand for lithium and other metals.
Rio Tinto has a high dividend yield, a reasonable payout ratio, and has positive catalysts that could push its shares higher in 2023.
British American Tobacco (BATS)
British American Tobacco is another dog of the FTSE 100 with a dividend yield of 6.57%. The company manufactures cigarettes and new-generation products and sells them internationally. Most of its sales come from the United States, where it competes with the likes of Philip Morris and Altria. It is followed by Europe and North Africa, Asia Pacific, and Americas and Sub-Saharan Africa.
BATS share price rose by more than 22% in 2022 as it outperformed other tobacco stocks. This recovery happened even as the company exited its Russian business. The company will likely have slow but steady growth in 2023. Investors will benefit from its stable business and higher dividend returns.
Vodafone (VOD)
Vodafone is one of the most embattled dogs of the FTSE 100 stocks. Its stock price plunged to a low of 85.5p in December from a high of 141.67p. This decline happened as the company's business experienced significant challenges. Growth not only slowed down but it decelerated. It lowered its guidance and announced significant cost cuts.
Nonetheless, Vodafone is a top dogs of the FTSE 100 stock pick for 2023 for three main reasons. First, the company could tie up with Three in a bid to grow its market share in the UK. Second, the firm will get a windfall of between 3 and 7.2 billion euros once Vantage Tower is delisted. Finally, investing in Vodafone is a bet that the management can turn around the company.
Some dogs of the FTSE 100 are highly risky. Housebuilders like Persimmon and Barratt Development have dividend yields of over 10%. A slowdown in the UK property market could lead to significant challenges for the firms.