Dogelon Mars (ELON) price has been in a prolonged slump since its 2021 surge. The once very popular meme coin is currently trading at its lowest level since October 2021. The latest analysis suggests that there are no signs of a bullish reversal, and ELON price may remain in a slump.
Dogelon price has been in an aggressive bearish trend for the past few months and is down by over 32.7% percent year-to-date. While new meme coins like PEPE have generated exponential gains for their holders, ELON holders remain underwater without any signs of a recovery.
What Is Dogelon Mars Coin?
Dogelon Mars is a dog-themed meme coin that aims to replicate the success of Dogecoin (DOGE). The cryptocurrency also takes its inspiration from Elon Musk, who is currently the richest person on earth. This is evident in its ticker name, which trades with the Elon symbol.
Like all other meme coins, Dogelon Mars has no real-world use case. Therefore, it relies on investors' traction and bullish sentiments. The prices are also pushed up by people buying into the project. For instance, one of the reasons dogecoin, also a memecoin, prices suddenly exploded is due to the online endorsement from people such as Elon Musk. Dogelon Founders are also unknown at the moment, a usual occurrence for most of these memecoins.
Dogelon Mars Price Prediction 2023
In 2023, a new wave of meme coins has taken over the crypto world. PEPE, GENSLR, and LADYS are one of the hottest projects in this regard. In fact, PEPE has become the third-biggest meme coin by market cap. However, Dogelon has failed to gain any investor interest in the season. Many other old meme coins like Dogecoin and Shiba Inu coin also remain unfazed by the recent meme coin wave.
However, despite the recent industry-wide bullish trend, there are many reasons why I expect Dogelon Mars to be trading lower by the end of the year. One of these reasons is the drop in traction of memecoins. In 2021 and early 2022, the major reason why Dogelon Mars price was going up was due to social media hype and users toying with the idea of investing in memecoins to generate revenue.
Another reason why Dogelon value may drop is a change of trend in the industry. Although the entire cryptocurrency market have started aggressively bullish, there is a high likelihood that we might see this change as the year progresses. The impact of this will be a bearish trend of most cryptocurrencies including Dogelon, which is correlated with the industry.
Therefore, my Dogelon Mars price prediction for 2023 expects the prices to continue dropping. There is a high likelihood that we might see it dropping below the $0.0000020 price level in the coming weeks. By the end of the year, Dogelon will likely be trading below the $0.0000010 price level.
Will Dogelon Mars Price Ever Recover?
The 2023 Dogecoin Mars forecast remains bearish as the price is yet to show any signs of any strength. The following ELON price chart reveals that the price has broken below the range lows and its strong support of $0.0000002250. A reclaim of this level may trigger a relief rally in the meme coin; apart from that, my Dogelon Mars price prediction for the long term remains bearish.
The major reason behind this outlook is the fact that meme coins are very risky assets and are not designed for long-term investments.
Dogelon Mars Daily Chart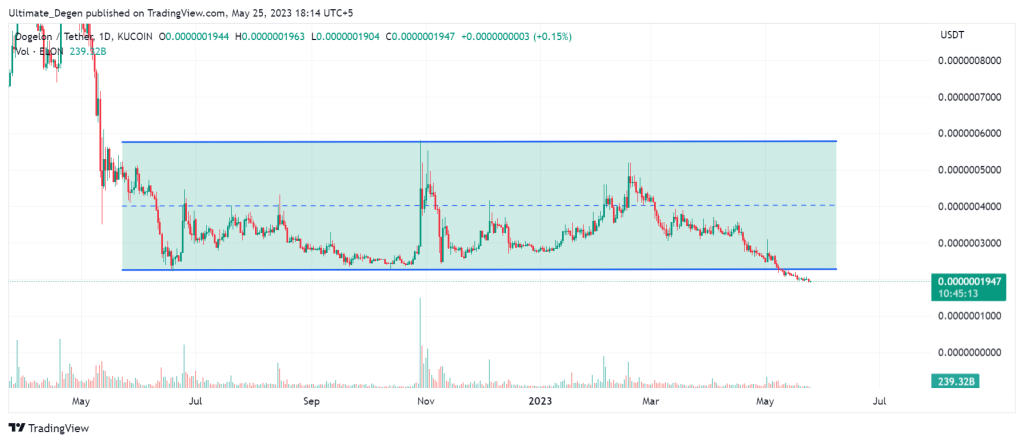 Dogelon Mars Price Prediction 2025
Based on events that have happened in 2022, there is a high likelihood that by 2025, Dogelon Mars will still be trading below its all-time price high of $0.00003263. Today, with over 99 percent of its value having been wiped out since hitting these price highs, we are likely to see only a small recovery by 2025, if at all Dogelon Mars will be in existence.
The minimal chance that it recovers, my price expectation is that Dogelon Mars will be trading at about $0.000001 price level.
Dogelon Mars Price Prediction 2030
Dogelon Mars price prediction for 2030 shows the token will likely be trading at below $0.00001, its predicted 2025 level. This is based on the circulating tokens and the expected circulating supply by 2030. Today, the token has half a trillion Elons circulating in the market. The token also has a maximum of one trillion tokens.
By 2030, I expect most of these tokens to be circulating in the market. This will make the cryptocurrency lose its value between 2025 and 2030. It will also mean a reduced growth of the cryptocurrency, and as more tokens are generated, the less valuable they will become.
Another possible outcome of Dogelon by 2030 is memecoin economy will have ended as the cryptocurrency industry shifts to more serious utility projects. In this scenario, it is highly likely that Dogelon Mars will not be in existence by 2030. Although this is the worst-case scenario, it is still within the realm of possibility, especially due to the crypto having very few use cases outside of being a memecoin.
Is Dogelon Mars a Good Investment?
Based on the events of 2022, it is likely that 2023 will also be a tough year for Dogelon Mars. There is also a high likelihood that by 2025, memecoins will have stagnated, and Dogelon will not have recovered to its all-time high.
Between 2025 and 2030, the same struggles we are seeing today are likely to still be impacting Dogelon Mars. There is also a high likelihood that Dogelon Mars will not be in existence by then, based on what we have seen this year. Therefore, long-term crypto investors need to take caution and approach the next few years with an open mind that their investments might not work out.