This article will look at Dogelon Mars prediction for 2022, 2025, and 2030. We will also explore its history and how the meme coin price increased.
Dogelon Mars Overview
Dogelon Mars is a dog-themed meme coin that aims to replicate the success of Dogecoin (DOGE). The cryptocurrency also takes its inspiration from Elon Musk, who is currently the richest person on earth. This is evident in its ticker name, which trades with the Elon symbol.
Like all other meme coins, Dogelon Mars has no real-world use case. Therefore, it relies on investors' traction and bullish sentiments. The prices are also pushed up by people buying into the project. For instance, one of the reasons dogecoin, also a memecoin, prices suddenly exploded is due to the online endorsement from people such as Elon Musk. Dogelon Founders are also unknown at the moment, a usual occurrence for most of these memecoins.
Dogelon Mars Price Prediction 2022
Dogelon Mars' price is currently trading at 0.00000069. In today's trading session, the cryptocurrency has gained over 2.5 percent of its value, having opened the markets at $0.00000066. Looking at the daily chart below, we can see that Dogelon Mars started trading within a support and resistance market structure on January 22, 2022, when the prices set a new yearly low of $0.00000050. The prices would later set a new resistance level of $0.0000011 on February 7, 2022, but failed to break the resistance level to the upside after multiple days.
The prices have since dropped to the current levels. Looking at the daily chart of Dogelon Mars shown below, my 2022 price prediction for the cryptocurrency indicates that I expect the prices to trade at around $0.00000145 by the end of the year. This is the region that is highlighted blue by the prediction and measurement tool in the chart below. I also expect the cryptocurrency prices to trade within the region marked blue during that period.
My Dogelon Mars price prediction for 2022 is, therefore, a 110 percent return on investment based on the current prices. This prediction is also based on past price action, where Dogelon Mars' price has been able to increase nine-fold in less than two weeks.
Dogelon Mars Daily Chart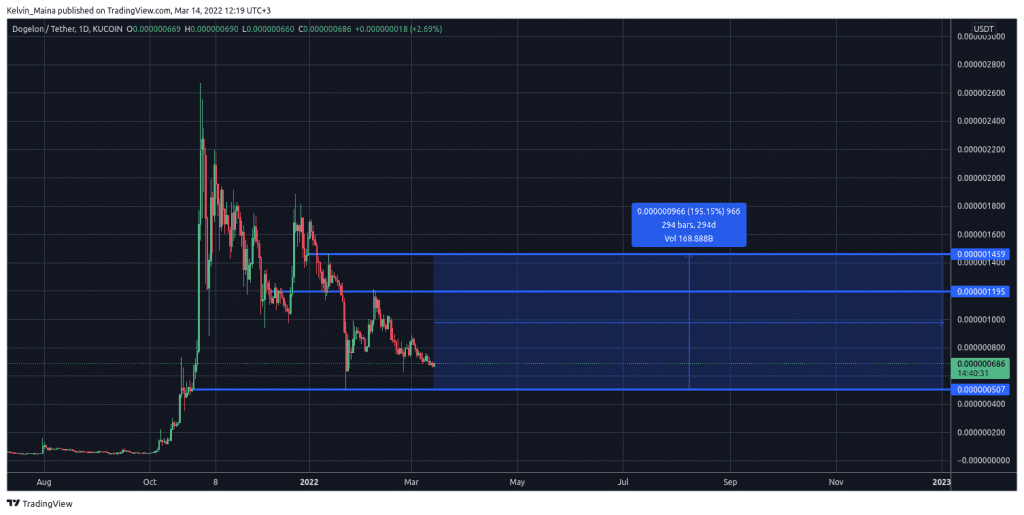 Dogelon Mars Price Prediction 2025
My Dogelon Mars price prediction for 2025 shows that prices of the cryptocurrency will have broken their all-time high of $0.00003263 by 2025. I also predict that the prices are highly likely to have hit the $0.0001 milestone. This will be an 800 percent annual rate growth of the cryptocurrency between 2023 and 2025.
Normally, an annual rate of over 100 percent on any investment asset class would sound ridiculous. However, on October 18, 2021, Dogelon Mars started a 12 days rally to the upside, where the cryptocurrency gained over 900 percent of its value. Although these gains did not last long, they showed that Dogelon Mars had enough volatility to increase prices within a very short time.
Dogelon Mars Price Prediction 2030
Dogelon Mars price prediction for 2030 shows the token will likely be trading at below $0.0001, its predicted 2025 levels. This is based on the circulating tokens and the expected circulating supply by 2030. Today, the token has half a trillion Elons circulating in the market. The token also has a maximum of one trillion tokens.
By 2030, I expect a majority of these tokens to be circulating in the market. This will make the cryptocurrency lose its value between 2025 and 2030. It will also mean a reduced growth of the cryptocurrency, and as more tokens are generated, the less valuable they will become.
Is Dogelon Mars a Good Investment?
In my analysis of Dogelon Mars 2022, 2025, and 2030 predictions, I have explained in-depth on why I think the cryptocurrency will have more than a 100 percent return on investment in 2022, and over 800 percent annual return on investment between 2023 and 2025. Even though these numbers seem ridiculous, I have explained why they are possible and analyzed similar meme coins that have posted similar numbers in the past.
However, from 2025 to 2030, the rate of return on investment will begin to fall. There is the likelihood that by 2030, the prices of the cryptocurrency will be lower than the Dogelon mars prices in 2025. Therefore, very long-term investors should be careful when investing in Dogelon.
Compared with other traditional forms of investment that post less than 20 percent annual returns, Dogelon Mars' returns on investment are higher. Therefore, Dogelon Mars is a good investment for investors looking for high returns between now and 2025.