This article will look at DNT price prediction for 2022, 2025, and 2030. We will also look at the DNT ecosystem and the recent news cycle that will impact DNT prices in the future.
DNT is based on the Ethereum blockchain and is the native cryptocurrency of District0x. The project offers developers tools to create decentralized marketplaces and communities, referred to as districts. In addition, the platform offers its users the ability to post listings, filter results, accrue reputations and make payments using the d0xINFRA.
DNT Overview
DNT was founded in January 2017 by Joe Urgo and Matus Lestan. The platform started as Ethlance, a job marketplace built on the Ethereum platform. The initial coin offering was done in June 2017, where the developers raised $9.78 million in the form of Ethereum. Today, the project operates under a San Francisco-based company called district 0x, headed by the two cofounders of DNT. Urgo is the president and COE of the company, whereas Matus is the technical lead.
When users acquire DNT, they gain the right to signal what districts should be built into the platform. In addition, the cryptocurrency can also be staked to gain access to voting rights on the district0x Network. The voting rights allow the platform to operate on consensus in every activity they take, including the district's branding, design decision, and functionality added to the platform.
DNT Price History
A few months after it was launched, DNT was trading at $0.084 on August 3, 2017. The prices would then jump to $0.25 by August 17, 2017. Since then, the DNT has achieved significant price milestones, and the table below lists some of these milestones.
| | | |
| --- | --- | --- |
| Date | Milestone | Price |
| April 19, 2021 | All-Time High | $0.4964 |
| March 13, 2020 | All Time Low | $0.0021 |
| 52 Week Low | 52 Week Low | $0.066 |
| 52 Week High | 52 Week High | $0.4964 |
| district0x ROI | district0x ROI | 357.95% |
Adoption
DNT and the district0x platform have been highly applicable since it was launched. Some of the platforms that have adopted DNT include:
Ethlance: This is a job market place that was founded in January 2017. The platform allows freelancers and full-time career seekers to connect with their eimployers and runs on the district0x platform.
Name Bazaar: This is also a market place that allows users to buy Ethereum name Service domain names for their platforms.
Meme Factory: The platform allows for the creation, collection and curation of uniquely rare pieces of digital art.
DNT has also found applications in other platforms such as Stream Tide, matching grants. The platform has also promised the continued development of new platforms and projects running on the DNT network.
You can check also: Ethereum Price Prediction For 2022, 2025, And 2030.
DNT Price Prediction 2022
DNT is currently trading at $0.085 and has been on a long-term downward trend since October 2021. However, the past year has seen the prices of DNT rise by 357 percent, an indication of the crypto's volatility. In my DNT price prediction for 2022, I will use technical analysis such as support and resistance to determine where the prices will end. I will also consider past returns on investments when making my predictions.
In the DNT weekly chart shown below, There are long-term support levels of $0.045 and resistance levels of $0.25 and $0.5. The prices of DNT are currently trading within the $0.045 support levels and $0.25 resistance levels. DNT has also failed to break outside this support and resistance structure since May 20, 2021, when the first $0.25 resistance levels were retested.
Using the support and resistance levels on my DNT price prediction for 2022, I expect the prices to continue trading within the structure. This means that between now and the end of 2022, the prices of DNT will trade within the blue shaded area, as shown in the weekly chart below. I also expect the prices of DNT to trade at around $0.25 by the end of the year. This will be at almost the same position as the resistance level. Therefore, I expect the return on investment between now and the end of the year to be approximately 196 percent.
DNT Weekly Chart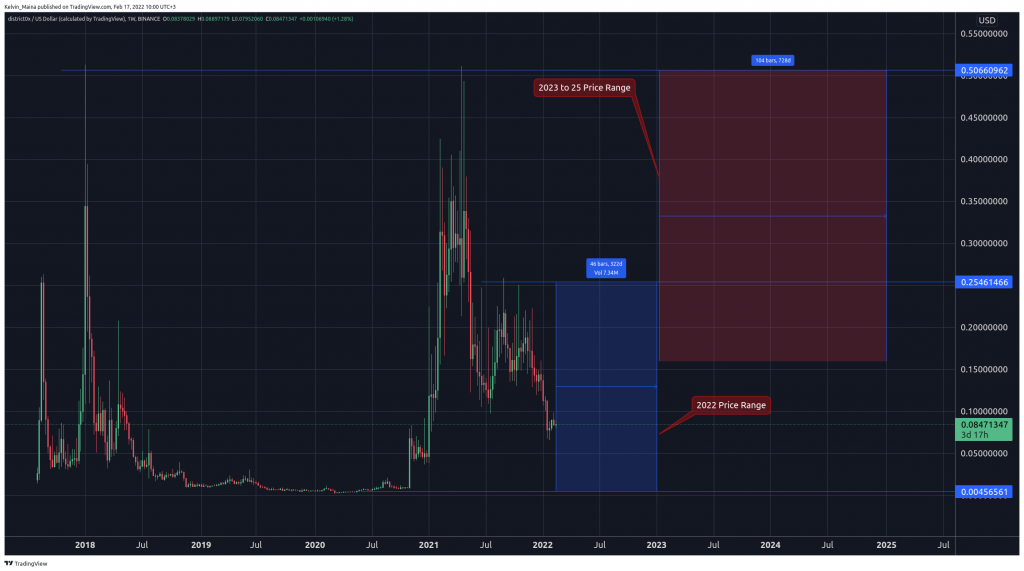 DNT Price Prediction 2025
DNT reached its all-time high of $0.4964 in April 2021, setting a new resistance level. Since then, the prices have not traded near that level, and months after the all-time high level was achieved, the prices are currently trading below $0.1.
My DNT price prediction 2025 uses this resistance level for its 2025 price prediction, where I expect the DNT prices to trade at slightly above $0.5 by 2025. This means that I expect the prices of DNT to grow by an average of 41 percent between 2023 and 2025. My prediction also means that investing in DNT today will see a return on investment of 500 percent by 2025.
DNT Price Prediction 2030
My DNT price prediction for 2030 uses the predicted annual growth rate of DNT between 2023 to 2025 to determine the crypto prices in 2030. By 2030, I expect DNT to be trading at around$3s. To achieve this price, the crypto will need to have an annual growth rate of about 40 percent between 2023 to 2030.
Is DNT a good investment?
My 2022 DNT price prediction shows that the prices will grow by almost 190 percent. My analysis of 2025 also shows that between 2023 and 2025, DNT will go at an annual growth rate of 41 percent, giving a return on investment of 500 percent to investors buying the crypto at their current prices.
Compared to traditional financial institutions, which average below 20 percent annual returns, DNT is a perfect investment for traders looking for long-term opportunities. Moreover, many underlying fundamentals support a bullish DNT move in the next few years.