The Diageo share price surged strongly on Thursday after posting a 16% rise in sales for the first half of the 2021 fiscal year. The company's premium spirits accounted for the jump in sales, as locked-down shoppers stocked up on the company's products.
Restocking of bars in Europe and North America as the lockdowns eased and bars were allowed to reopen increased. Sales are up 27% in Europe and 13% in North America. Sales in the UK also topped 19%, with Guinness doing exceptionally well with the British public.
The company says it has seen growth in all its drink categories. Whisky sales jumped 27%, while tequila sales also rose 56% globally. Company executives say that the last six months has seen a recovery in its onsite sales as lockdowns eased. Investors appear pleased with the results and are pushing the Diageo share price 2.35% higher on the day.
Diageo Share Price Outlook
The price candle is now challenging resistance at 3735.5. If this resistance barrier is broken, 3827.5 will become the new target for the bulls. 3857.5 and 3926.5 remain attractive upside targets if the advance is maintained.
On the flip side, rejection at 3735.5 leads to a retest of 3644.0. 3598.5 becomes a new target if the 3644.0 support pivot gives way, while 3522.0 and 3453.5 line up as potential southbound targets if there is a corrective decline. 
Diageo: Daily Chart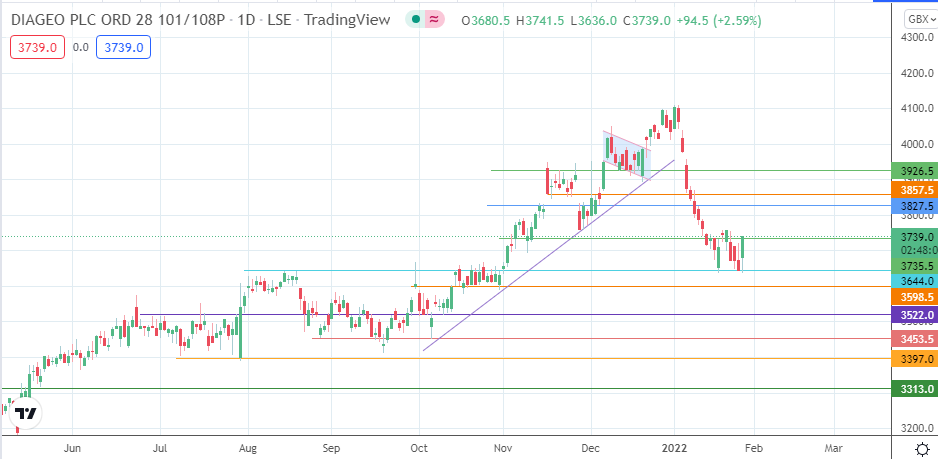 Follow Eno on Twitter.