Diageo share price has been in a tight range in the past few days as investors focus on the broader global economy. It was trading at 3,783p on Friday, where it has been in the past few days. This price is about 10% below the highest level in 2022.
Diageo vs peer companies
Diageo is a leading alcohol company in the world. It operates in a significantly competitive market where leading brands like Anheuser Busch, Constellation Brands, Heineken, Molson Coors, and Asahi dominate.
Alcoholic stocks have had a mixed performance in 2022 despite the ongoing reopening. In the past 12 months, only one company, Molson Coors, has seen its stock rise by double digits. Other competing companies like Pernod Rickard, Heineken, and Carlsberg have declined slightly, as you can see below.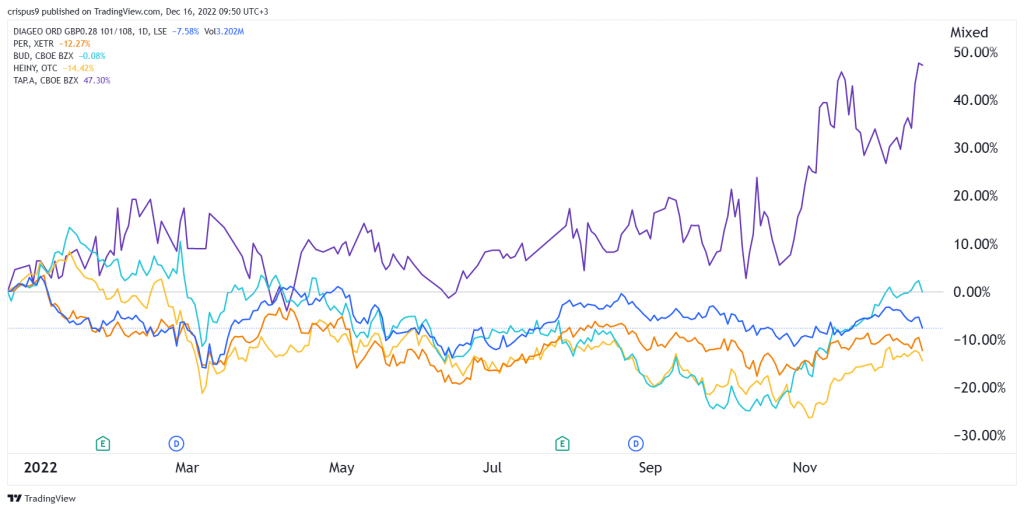 Diageo shows some positive numbers compared to its peers. For example, it has a forward dividend yield of 2.2%, which is higher than that of its competing companies. This yield is supported by a low payout ratio.
Further, the company has been spending substantial sums of money buying back its stock. Share buybacks are important for a firm because they increase its earnings per share (eps). Also, they boost sentiment in the financial market. Some analysts have called for the company to shift its financial resources towards paying back its dividend instead of buying back its stock.
Diageo is not a cheap stock. It has a forward PE ratio of 22.40, which is bigger than that of Pernard Ricard and the S&P 500 average multiple of 16. This means that the S&P 500 and FTSE 100 are better bargains than the company. It has a forward EV-to-sales multiple of 6.71, which is also not cheap. Therefore, the case for switching from buybacks to dividends make sense.
Meanwhile, Diageo is an all-weather stock because alcohol consumption is still strong. The firm's revenue in 2020 dropped to just $14.6 billion despite the lockdowns. Revenue rebounded to more than $18.8 billion in 2021 and analysts expect that this will continue growing.
Diageo share price forecast
The daily chart shows that the DGE share price dipped sharply on Thursday as investors reacted to the latest ECB, Fed, and Bank of England decisions. It has moved slightly below the 25-day and 50-day moving averages while the Relative Strength Index (RSI) has moved below the neutral point. It remains inside the symmetrical triangle pattern.
Therefore, the Diageo share price will likely remain in consolidation for the rest of 2022 and then rebound to 4,000p in 2023. A drop below the support at 3,500p will invalidate the bearish view.