Our DESO crypto price prediction needs the price to hold the $37.50 level. This level could be the final line in the sand for the bulls. A lower low might result in a retest of the March 2022 lows at $28. DESO price chart shows signs of massive whale manipulation as there are massive wicks in both directions.  This has made many people question the fundamentals of the Decentralized Social project.
Latest DESO Crypto News
In September 2021, BitClout rebranded to Decentralized Social and the token ticker became DESO. The project aims to become the blockchain for future Web 3.0 based social media platforms. DESO crypto is trying to fix everything that is wrong with the current centralized social media platforms. Unlike legacy social media where user data could only be used by the platform, DESO makes this data permissionless. Any DESO crypto price prediction mainly depends on the network adoption.
As per the official DESO crypto news, the network is constantly growing. After 1 year of launch, the project has already onboarded 1.5 million wallets. Its blockchain has processed 65 million transactions. According to the team, it also hosts more than a hundred apps. However, it is the project itself that has presented these stats and they need to be verified by blockchain analysts
DESO Crypto Price Prediction
Technical analysis of DESO price chart shows that the price increased by more than 200% after bottoming at $28. For a brief moment, price even touched $100, however, it immediately retraced back to the lower 40s. DESO is still not available on Binance but it is now trading on Coinbase. Such pumps on DESO coin price charts suggest that whales could be capturing liquidity at higher price levels.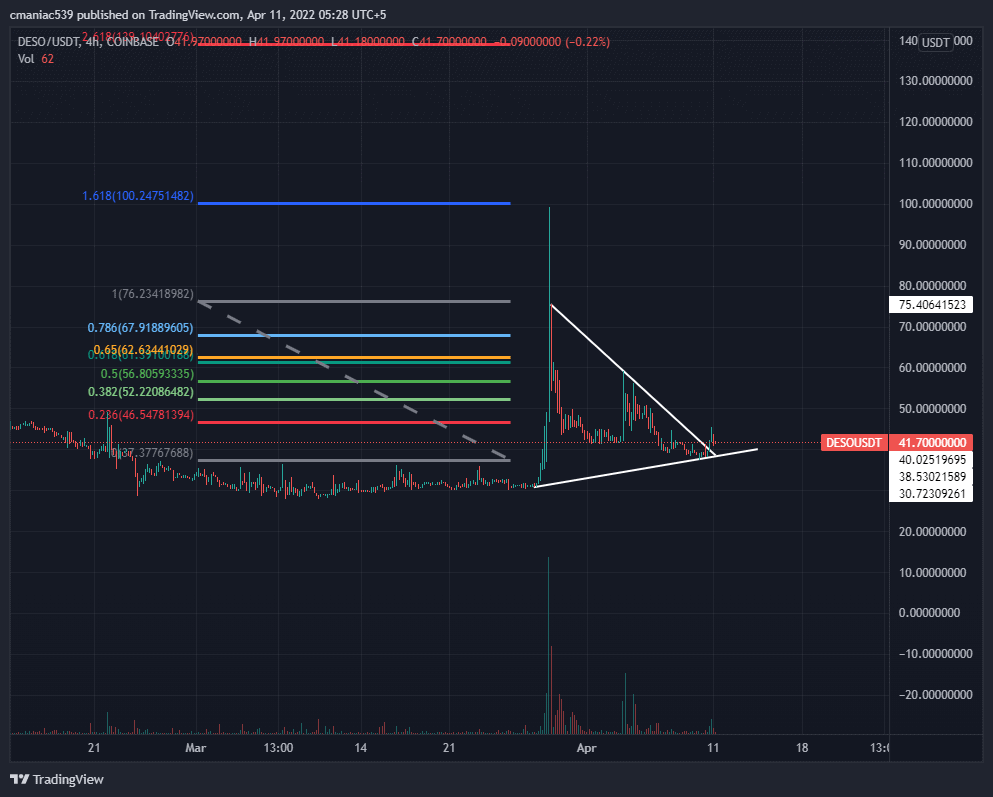 On the 4h chart, DESO crypto price has broken out of the downwards trendline. Nevertheless, it must hold the $37.5 price level by avoiding a lower low. Any lower low than this level could take it below $30 once again. Nevertheless, if the current level holds then $50 appears to be a valid DESO crypto price prediction in short-term. A daily close above $50 can also make $61 a reality. These price targets are the 0.382 and 0.618 Fib levels of the ongoing retracement from the March 2022 highs.