Deliveroo is an online food delivery service that was launched about a year into the COVID-19 pandemic. The company had a promising start in early 2021, but as the UK economy began to reopen with expanding vaccination coverage, shoppers began to return to their old shopping habits. This and a major development regarding its worker classification created a dropoff in investor appetite for the stock, causing it to fall from a high of 394.50p (17 August 2021 high) to 231.20p on 7 December 2021.
A recent report by the Sunday Times indicates that during this period, the company received a takeover bid from US-based food delivery company DoorDash. However, this deal fell through, and DoorDash acquired Wolt Enterprises, a Finland-based food delivery startup. The collapse of this deal and a set of proposals put forward by the European Commission over the status of its delivery riders appeared to have pushed the Deliveroo share price over the cliff. The stock kept dropping like a rock, hitting a low of 100.95 on 7 March 2022.
Since hitting these lows, investor demand has started to pick up, leading first to a stall in the descent and then a slight uptick after forming a double bottom pattern to indicate an upside reversal. With the formation of this pattern, is there a chance of the Deliveroo share price getting back to its glory days?
Latest Deliveroo Stock News
The latest Deliveroo stock news is about its recently-released full-year results. This Thursday, Deliveroo says its net loss for the 2021 operating year widened on a year-on-year basis due to higher sales and administrative costs. As a result, the UK online food delivery company's full-year loss amounted to 308.5 million pounds, or £0.18 per share, higher than the loss per share of £0.15 sustained in 2020. The consensus of polled analysts was for the company to lose £0.1 per share.
The company's revenue in 2021 was £1.82 billion, which exceeded the £1.16 billion it made in the previous year. This was still lower than the estimates of polled analysts, who saw revenue at £1.83billion. The revenue growth was attributable to an increase in gross transaction values. The company expects a boost in this metric to between 15% and 25%.
The company also said it was not seeing wage inflation and had appreciable rider retention rates. This had been a great fear for investors, who are still awaiting the results of the company's appeal against a Belgium court's ruling on classifying its riders as full employees instead of their current status of independent contractors. This point may explain why investors did not dump the stock en masse when the downbeat full-year results were released.
What Led to the Collapse of the Deliveroo Share Price?
The Deliveroo share price suffered a monumental collapse that began in November 2021 and extended until mid-March 2022. Triggering the fall was the proposal published by the European Commission that would require so-called gig economy companies to reclassify their drivers and couriers from independent contractors to full employees.
The change would entitle these workers to earn a minimum wage in addition to health, pension, and other financial benefits, which they currently do not receive. The change would come at a substantial financial cost to affected companies, of which Deliveroo is part. This could also impact profitability in the future and upend the business model of Deliveroo and other gig-economy companies. The rules are not law yet but could cost Deliveroo and other impacted companies billions of dollars in new employee costs if the proposals eventually pass. 
Deliveroo has been in a running battle with labour unions representing its independent contractors and seemed to have won a reprieve in July 2021 when an appeal court backed the company's claims that its workers were self-employed and so could not enjoy employee benefits. The Independent Workers Union of Great Britain (IWGB) had started legal proceedings against Deliveroo to recognize its members as employees since 2017.
Shareholders were expectedly spooked by the European Commission proposals and have relentlessly dumped the stock since November 2021. This came when the company saw a dropoff in its numbers as the economy reopened and people returned to physical restaurants and eat-out locations.
Deliveroo Share Price Targets: Consensus Analysis
A poll of 16 institutional analysts produced a majority BUY recommendation by eight (8). Three (3) analysts indicated an "Outperform" rating, four (4) voted for a "Hold," while one analyst gave an "Underperform" rating. The 12-month price target set for the Deliveroo share price is 276.29p, with a high price target of 435p and a low price target of 163p. This means that the expectation is for the Deliveroo share price to more than double its value in the next 12 months.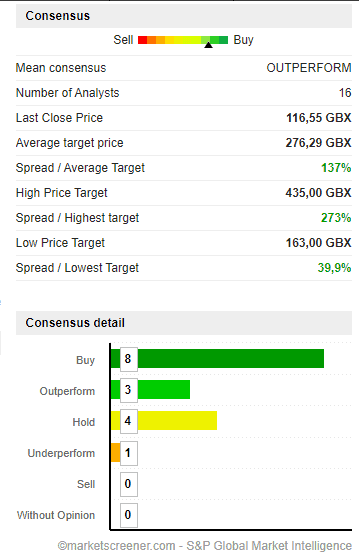 Deliveroo Share Price Outlook
The relentless price descent appears to have found a bottom with the formation of a double bottom. The break of the neckline resistance at 119.35 has opened the door for a measured move towards 144.95. If the price action continues the advance, then 167.75 becomes a viable target. 181.25 and 192.30 are additional northbound targets that are presently out of reach.
On the flip side, the bears need to see a breakdown of the 107.10 support, where the double bottom is located, for a further decline towards the 100.00 psychological support initially. This move would need to come off a potential sell on any rallies to nearby resistance barriers.
Deliveroo: Daily Chart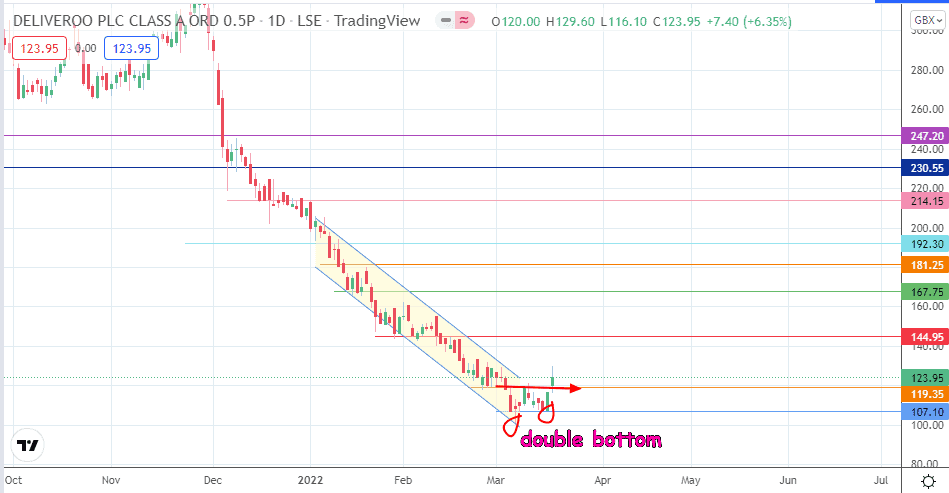 Follow Eno on Twitter.