The DAX index came under intense pressure as investors refocused on the upcoming ECB interest rate decision. GER40 also pulled back as the energy crisis continued in Europe. The index fell to a low of €12,610 this week, which was the lowest level since July. It has fallen by more than 7% from its highest level in August of this year.
ECB decision next
German stocks are facing numerous challenges as recession risks rise. First, River Rhine and other important rivers in Europe are on the verge of drying. As a result, this has led to a major drought that has also impacted other parts of the economy such as transport.
Second, and most importantly, the region is facing substantial energy challenges after Russia decided to halt natural gas exports. This is notable since Russia buys most of its natural gas from Russia. As a result, the cost of doing business has jumped sharply in the region, which has affected profit margins of most industrial companies. Besides, inflation has jumped to the highest level in decades.
Third, interest rates have started rising. The European Central Bank (ECB) decided to hike interest rates by 0.50% in its most recent meeting. And analysts believe that the ECB will deliver another large rate hike when it concludes its meeting on Thursday.
The worst performers in the DAX index in the past 30 days were companies like Zalando, Continental, Adidas, and Hello Fresh. Zalando share price has collapsed by more than 76% in the past 12 months, making it one of the worst–performing stocks in Germany. The only GER40 gainers in the past 30 days are firms like Munich Re, Hannover Rueck, Fresenius, and Volkswagen.
DAX index forecast
The chart below shows that the DAX 40 index has been in a strong bearish trend in the past few weeks. As a result, the index has dropped below the 25-day and 50-day moving averages. It is also forming what looks like an inverted cup and handle pattern. Therefore, the index will likely continue falling as sellers target the next support at 12,400. A move above the resistance at 13,200 will invalidate the bearish view.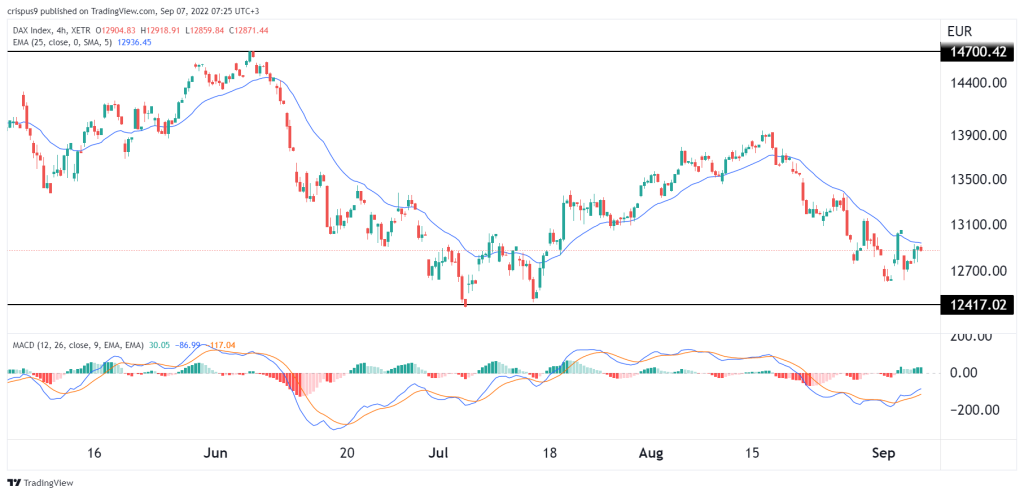 GER40 S&R levels
According to InvestingCube's S&R indicator, the DAX index will likely continue falling in the coming days. If this happens, the support levels are at 12,600 and 12,400. The stop-loss for this trade is at 13,200. Our S&R indicator has a success rate of over 85% and is highly affordable. Subscribe here.