The DAX index slipped by more than 12% in 2022 as German companies came under a significant inflation pressure. It was trading at €13,900 on Wednesday, a few points below its December high of €14,665. Here are the best and worst-performing DAX constituent companies of 2022.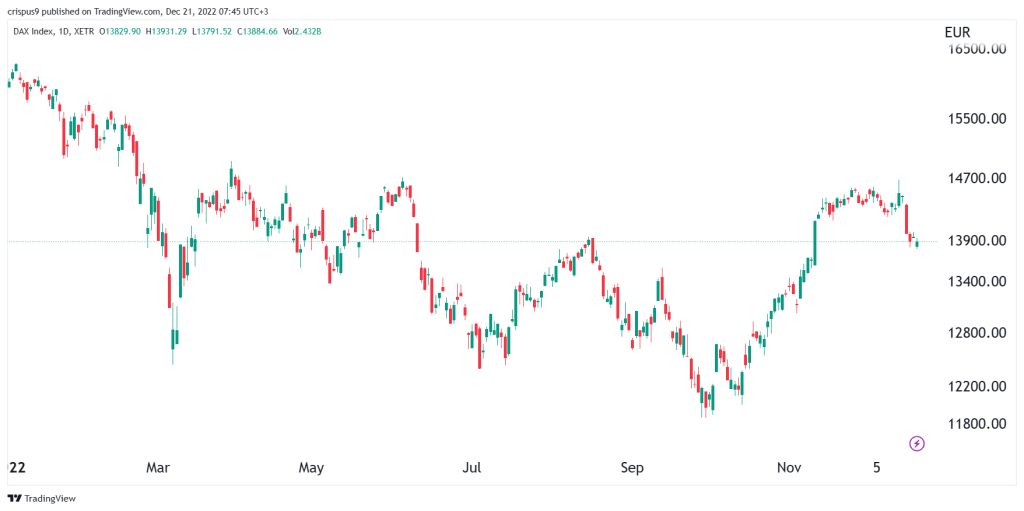 Why German stocks plunged
The DAX index collapsed in 2022 because of the challenges facing the German and European countries. German companies are now spending more money on energy after Russia slashed its gas exports to the block.
Europe also experienced a major drought that helped to push the cost of doing business significantly higher. The producer price index (PPI) jumped to double-digits, which hurt most domestic companies in Germany. As a result, most DAX companies recorded their slowest revenue and profitability growth since 2020.
Further, German stocks declined because of the hawkish tone by central banks amid a recession. The European Central Bank (ECB) hiked interest rates by 0.50% last week and pointed to more hikes in 2023. In the US, the Fed has hiked by 450 basis points and warned that rates will remain at an elevated level for longer. Historically, the DAX index tends to underperform in a period of high-interest rates.
German stocks like Adidas struggled because of the Covid-zero strategy in China, which affected production and demand.
DAX index best performers
Most DAX index constituent companies were in the red in 2022. Still, some companies managed to do well. Beiersdorf was the best performer in 2022 as the stock surged by 17% during the year. This growth happened as the company increased prices to compensate for higher prices.
The other top performer was RWE AG, whose shares jumped by over 16%. The company did well despite the energy challenges that Germany faced. This growth was supported by its clean energy solutions. Other top performers in the index were Deutsche Telekom, Munich Reinsurance, MTU Aero, and Deutsche Boerse. All these companies saw their shares jump by more than 10%.
DAX top laggards
There were some spectacular laggards in the DAX index. Vonovia, the real estate company, saw its shares crash by over 56%, making it the worst-performing DAX constituent. It has fallen by over 14% in the past seven days.
Zalando share price dropped by 56% as demand for technology companies remained shaky. Adidas stock plunged by over 53% as the company's relationship with Kanye West imploded. It also faced slow growth in China as the country moved into a lockdown.
Fresenius shares plunged by 50%, making it the fourth-worst performer. Most importantly, the Porsche share price plunged by over 38% after the company went public. After its IPO, I warned investors against buying the stock Other top laggards in the DAX index were firms like Covestro, Siemens Healthineers, and Volkswagen.