The CRO/USDT pair has pared some of its weekend losses, adding 2.46% as of writing on Monday. Even though this has not boosted bullish Crypto.com price predictions, it at least gives some hope to HODLers of this token that the downward slide may have stalled, at least for now.
Crypto.com's CEO, Kris Marszalek announced in a tweet that the exchange had donated a sizeable amount to the Red Cross for ongoing relief efforts in Ukraine. But more importantly, Crypto.com looks set to delve into the world of NFTs and has added this category of crypto products to its product suite on the exchange.
The NFT marketplace on Crypto.com allows users to buy and resell NFT collections, which are sorted according to popularity (top creators) and the bestselling NFTs. Users can also get NFT tokens distributed to them for free as airdrops.
Crypto.com Price Prediction
Price activity is in a range bordered by 0.4224 above and 0.3847 below. Price recovery requires a break of 0.4224, which opens the door for 0.4846 to come into the mix as the initial upside target. 0.5200 and 0.5408 are additional price targets to the north. A break of 0.5408 could trigger a return of the uptrend, with the higher high pursuing additional targets at 0.5882 and 0.6434.
On the flip side, a decline below the 0.3847 support triggers a potential run towards 0.3151. Below this level, the 20 March 2021/17 April 2021 highs at 0.2513 become an additional downside target, as does 0.1973 (1 May/18 September 2021 highs) if the decline is more extensive.
CRO/USDT: Daily Chart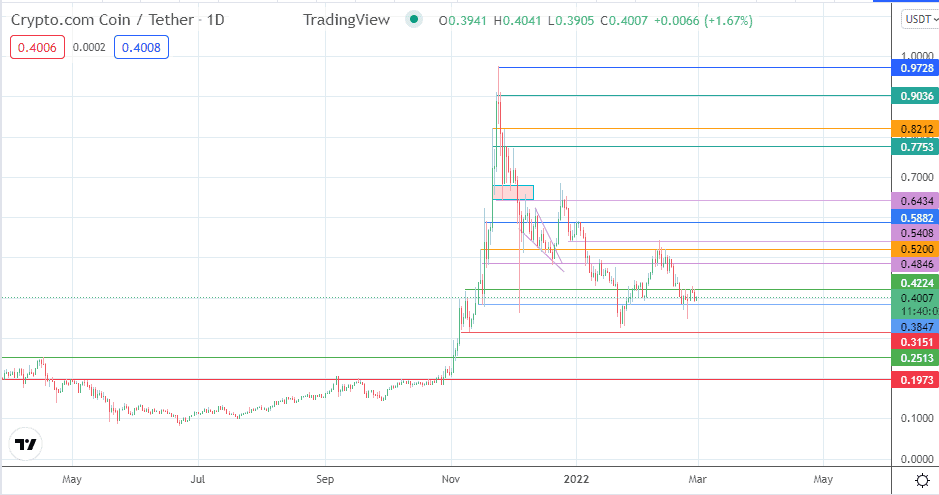 Follow Eno on Twitter.