The launch of a new NFT collection by Crypto.com has sent bullish Crypto.com price predictions soaring. This appears to have snapped the 3-day losing streak on the token.
Interest in NFTs has soared all through 2021. Search volumes for NFTs have grown more than 100-fold on Google since the start of the year, drawing in new players into the market.
Crypto.com hopes to draw more attention to its NFT platform and offers NFT traders (secondary resellers) and creators (primary traders) on its platform fee reductions on all sales made until the end of the year. The fee reductions are pretty drastic and are designed to attract more players to the NFT platform of Crypto.com.
The Crypto.com price is up 0.23% as of writing and appears to have snapped the 3-day losing streak on Crypto.com.
Crypto.com Price Prediction
The bullish flag on the daily chart could provide direction for future price action. The expected bullish breakout has to follow a bounce on the 0.18065 support. This bounce has to take out the 0.19430 resistance and barriers at 0.20007 and 0.21031 before 0.22574 comes into the picture. The latter is the completion point of the measured move.
This outlook is negated if the price action breaks down the 0.18065 support, with 0.17409 and 0.16490 serving as the additional price targets to the south. The base of the pole stands at 0.14936, and this can serve as a potential price option for the bears on a more extensive decline.
CRO/USDT Daily Chart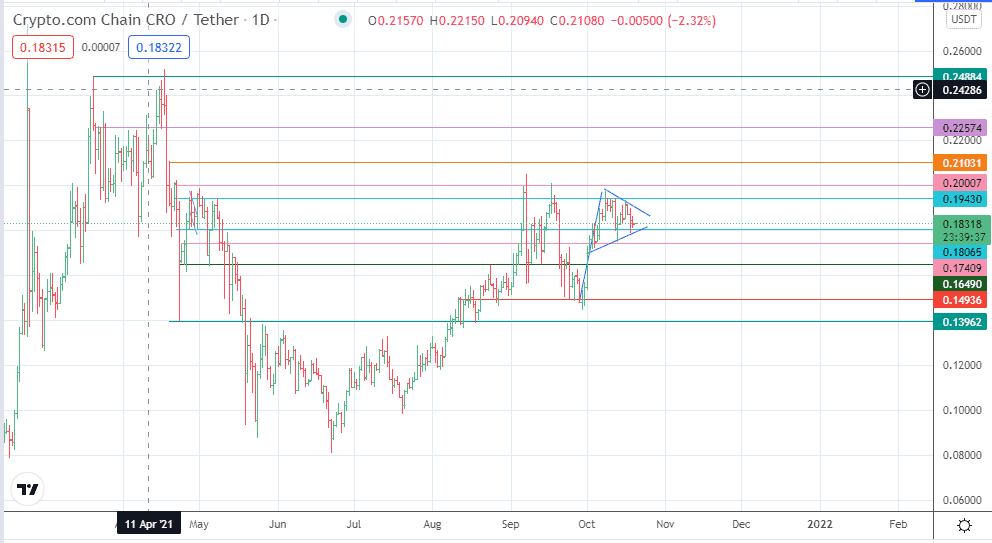 Follow Eno on Twitter.