Crude oil price on the Brent benchmark spiked this Wednesday, after the American Petroleum Institute and the Energy Information Administration reported a shortfall in crude oil inventories. The latter announced a short while ago that crude oil inventories fell by 6.4 million barrels in the week ended 10 September as the shutdown of oil production on Gulf Coast platforms from Hurricane Ida took its toll. Increased refinery utilization by 85,000 barrels more than the previous week's average also contributed to the shortfall.
The data comes on the backdrop of upbeat demand forecasts for 2021 by the Organization of Petroleum Exporting Countries (OPEC) and the International Energy Agency (IEA) on Monday and Tuesday.
Crude oil price on the Brent benchmark is up 2.15% on the day as of writing.
Crude Oil Price Outlook
Following the symmetrical triangle's completion, the surge in price has violated the 75.52 resistance and touched off a psychological barrier at 76.00. The slight pullback still has not saved this resistance, which is now at risk of a breakout. 77.93 only becomes available if the price advances beyond 75.52.
Conversely, a decline below 71.44 restores bearish bias on Brent crude, opening the door towards 70.01 and possible other downside targets at 67.74 and 66.81.
Crude Oil Price (Brent)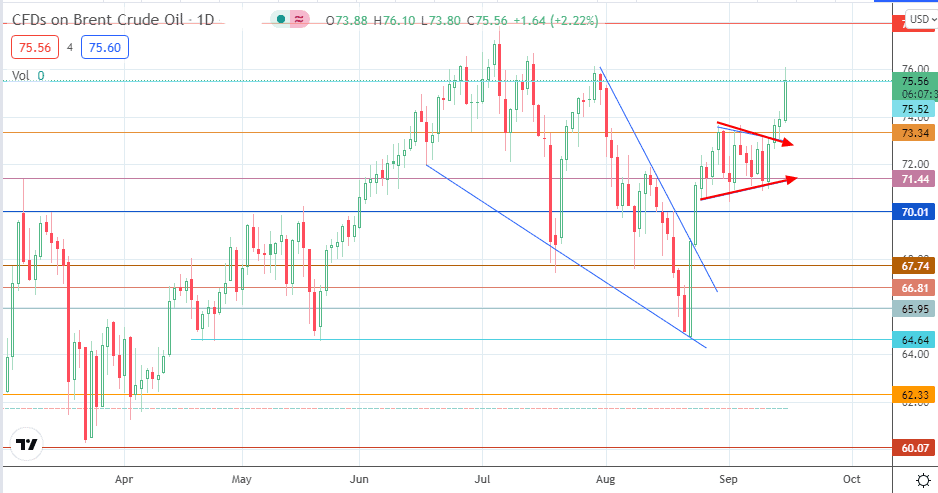 Follow Eno on Twitter.