Crude oil prices inched higher on Monday after a new storm formed in the Gulf Coast, threatening to elongate a shutdown of production in the region after Hurricane Ida. More than 50% of production remains shuttered, removing a fifth of the US oil supply from the market.
Further adding to bullish pressure on prices is the bullish outlook provided by the Organization of Petroleum Exporting Countries (OPEC) in its monthly report. OPEC has upped its 2022 demand forecast by 900,000 barrels per day while rimming the estimate for the rest of 2021 by 110,000 barrels per day on the spreading COVID-19 delta variant.
Crude oil prices on the Brent benchmark are up 1.04% as of writing.
Crude Oil Price Outlook
Monday's advance has sent the price above the 73.34 resistance and the upper boundary of the symmetrical triangle pattern. If the breakout is complete, a pullback and bounce from these broken levels allow the bulls to aim for a brush with 75.52. If crude oil prices advance further, we could see 77.93 become an additional target to the north.
On the flip side, a failure to confirm the break above 73.34 could see a potential correction to the contrasting border of the triangle at 71.44. If the decline continues below the triangle's lower border, the pattern is invalidated, and 70.01 becomes a new target in the near term. 
Crude Oil Price (Daily) Chart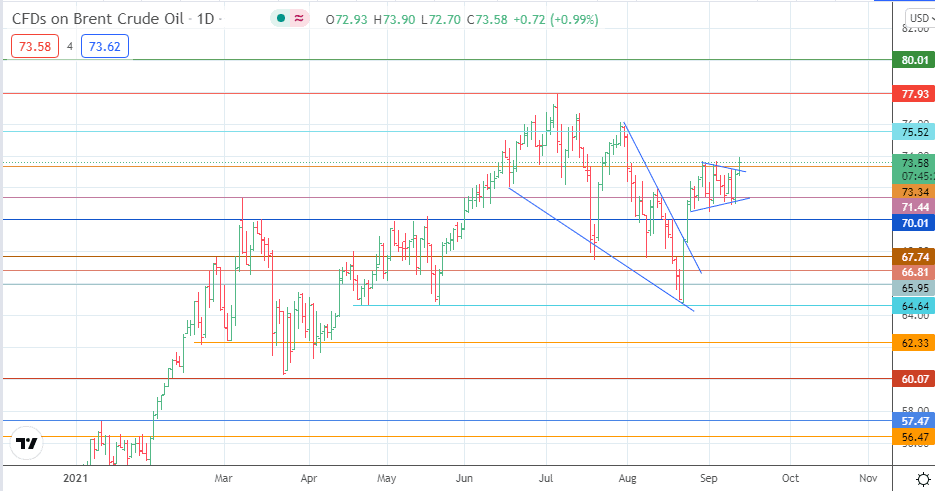 Follow Eno on Twitter.