Crude oil prices drop steeply as US Inventories rise.
Rise in oil stocks gives US room to flood the market from reserves if OPEC + holds firm.
OPEC + meeting begins on Thursday.
Crude oil prices are under pressure after data showed that US oil stocks rose in the week ended 29 October. According to the Energy Information Administration, crude oil inventories in the US increased by 3.3million barrels, trumping the market estimate of an addition of 1.9m barrels.
This served as the impetus for crude oil sellers to seize control of the market ahead of the OPEC + meeting scheduled to begin on Thursday. The cartel is expected to maintain the previously agreed quota of an increase of 400,000 monthly. However, the US government is piling pressure on major producers within OPEC + with spare capacity such as Saudi Arabia to boost production as a way of cooling prices.
Even if the cartel refuses to budge, the extra inventory depicted by the EIA and API reports gives the US room to flood the market from its strategic reserves to force down prices. The market sentiment is factoring in this possibility, which is why a much-awaited correction is now on the cards.
The Brent benchmark is down 2.45% as of writing.
Crude Oil Price Outlook
The intraday selloff has violated the 83.08 support and is now testing the 81.91 price pivot. A breakdown of this area brings the psychological support at 80.00 into the picture, and 77.93 becomes available if the corrective decline continues.
On the flip side, the uptrend will recover on a break of the 86.72 top seen on 25 October. This move could follow a bounce on 81.91, which takes out 83.08, 84.11 and 85.32 in succession. Bulls would then seek new targets at 88.52 and at 91.32.
Brent Crude: Daily Chart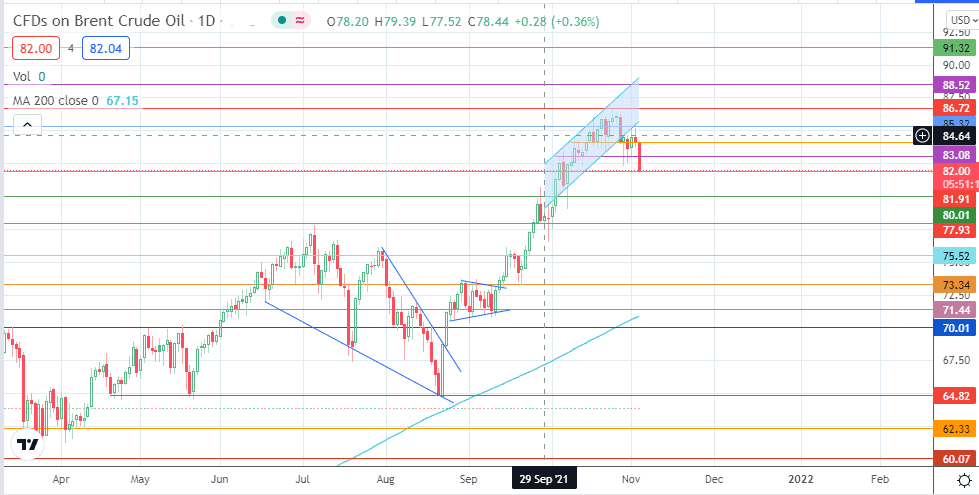 Follow Eno on Twitter.