The Cronos Group share price recorded its best trading day in 7 weeks after hitting gains of 12.37% on Tuesday, 10 May. This followed the stellar earnings report for the first quarter of 2022 as released by the company.
Details of the earnings report indicate that the company posted consolidated net revenue of $25m, an increase of 99% from the figures recorded in the same period a year earlier. Revenue growth on an annualized basis was driven by growth in the Canadian adult-use and Israeli medical markets. Consolidated gross profit for Q1 2022 came in at $6.9m, an improvement of $9.9m from the first quarter of 2021.
Gross margins were up 28%, a vast improvement from the -23% recorded in the same period a year earlier. Consolidated EBITDA went from $1.2m in Q1 2021 to $18.9m in Q1 2022, driven by an improvement in gross profit and a drop in expenses incurred on sales and marketing as well as research and development.
Despite missing Wall Street's forecasts of earnings of -$0.08 per share for Q1 2022, the $-0.09 per share recorded as earnings and general improvement in revenue and cost reduction in the overseas segment of the cannabis company's financials was enough to boost investor sentiment on the stock. The Cronos Group share price was up more than 19% at a point in Tuesday's trading before shedding some of its gains for the day.
Cronos Group Share Price Forecast
Tuesday's upside has led to the wedge's upper border violation. However, the rejection at the 3.28 resistance (11 March and 4 May highs) is holding up the measured move. This resistance and the 3.79 barrier (7 February and 23 March highs) must give way before the measured move attains completion at the 4.11 resistance barrier (11 February and 28 March highs). Above this level, 4.32 forms an additional northbound target, being the site of previous highs seen on 23 December 2021 and 31 March 2022.
On the flip side, a continuation of the rejection of 10 May to the downside challenges the support at 2.97 (14 March and 29 April lows). A breakdown of this support lines up 2.81 (23 October 2017 high in role reversal) as an additional downside target. If this pivot fails to prevent the bears from pushing further south, we could see an extended drop that targets the 19 October 2017 low at 2.44.
Cronos Group: Daily Chart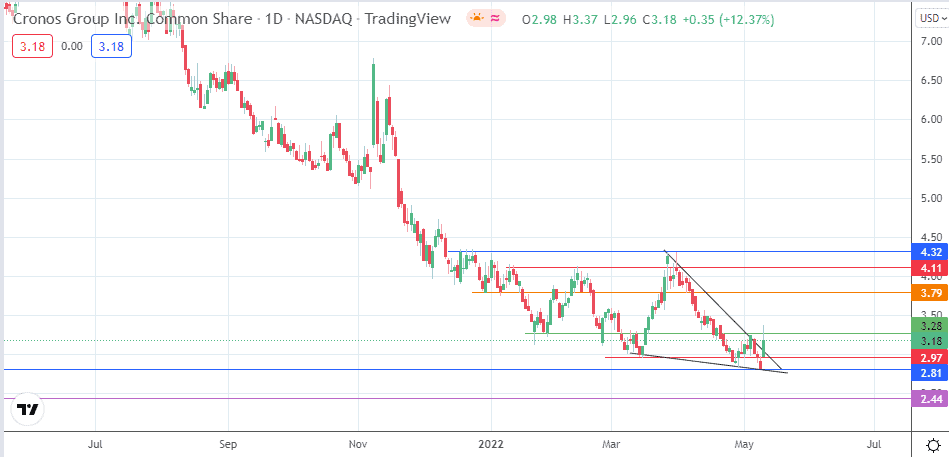 Follow Eno on Twitter.