Coreum price went parabolic on Thursday as investors bought the penny token. It rose by more than 46% in the past 24 hours to trade at $0.47. It has jumped sharply in the past few weeks, pushing its market cap to over $40 million. In this CORE price prediction, we will explain whether it is a good coin to buy.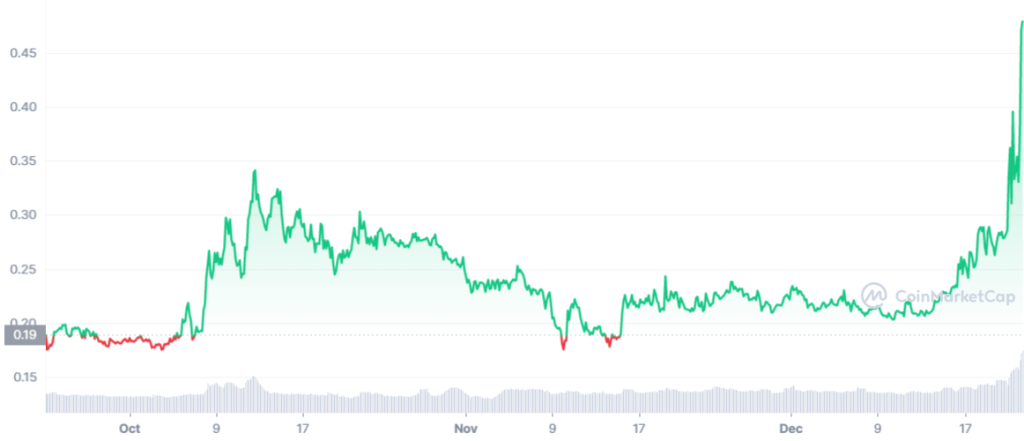 What is Coreum and why is it rising?
Coreum is one of the top blockchain networks that hopes to become the next big thing in the industry. It is a network backed by Sologenic Development Foundation to become an Ethereum-killer. The network is highly scalable, interoperable, and substantially fast.
Some of its features are that it can handle 7,000 transactions per second while the average block time is less than 1.5 seconds. It uses the WASM smart contract technology and has interoperable features built into the network.
Coreum is also used for tokenization of assets. Early this week, the developers announced that they were introducing the next generation of blockchain-based assets that are supercharged with smart contracts. These contracts will be able to tackle several challenges with the ability to program native tokens to execute functions independently.
Coreum price is also rising after the developers announced the mainnet launch and the upcoming airdrops. The mainnet launch will happen on March 2023. Shortly afterwards, CORE holders will start receiving theur token rewards. A total of 100 million CORE tokens will be distributed.
Risks for Coreum
Fundamentally, Coreum faces significant risks going forward. First, the reality is that the developers are moving in an extremely competitive industry, where Ethereum is still the biggest game in town.
Second, there are other well-backed blockchains that do most what it does. A good example of this is Kadena, which can handle over 450k transactions per second. The recently launched Aptos can handle over 100 tps.
Third, Coreum claims to be an enterprise-focused blockchain. But we already have other well-known blockchains that focus on enterprise users like Hedera Hashgraph and Waves. Many enterprises using blockchain are actually using Ethereum or layer 2 networks like Polygon and Arbitrum.
Further, there are concerns about dilution as the number of tokens in circulation are set to rise in the coming months. There is also a concern that the Coreum price rally is part of a wash sale trade where insiders trade among themselves to push the price higher.
Finally, as we have seen with other popular tokens like Voyager Digital and FTX Token, it is incredibly difficult to value crypto tokens.