Coinbase stock price resumes its recovery after opening in the green for the third consecutive trading session. The stock of the crypto exchange seems to be shrugging off Bitcoin's 1 % decline which was due to whales unloading their Bitcoins in the market. At the time of writing, the stock price of Coinbase is up 1.1% from its previous close.
The positive price action in Coinbase shares is further aided by the improved investor sentiment in the US stock market. The Wall Street indices showed gains on Wednesday as the US Fed paused the rate hikes for the second consecutive FOMC meeting.
Additionally, the US Treasury's refunding plans also caused an easing in bond yields which caused US stocks to trade in the green at New York open.
According to analysts, Coinbase is expected to report $651 million in revenue, which represents a $0.55 loss per share. This loss is a massive improvement over last year's $2.43 per share loss which was during the cryptocurrency market crash. As a result, Coinbase stock price is expected to remain volatile for the rest of the week.
Back in August, Coinbase was able to secure permission from the US regulatory authorities to offer regulated crypto futures only in the US. Consequently, on Wednesday, the crypto exchange announced that it would allow its US-based customers to access the futures through Coinbase Advanced, which is a different platform that will offer both spot and future trading options.
NASDAQ: COIN Chart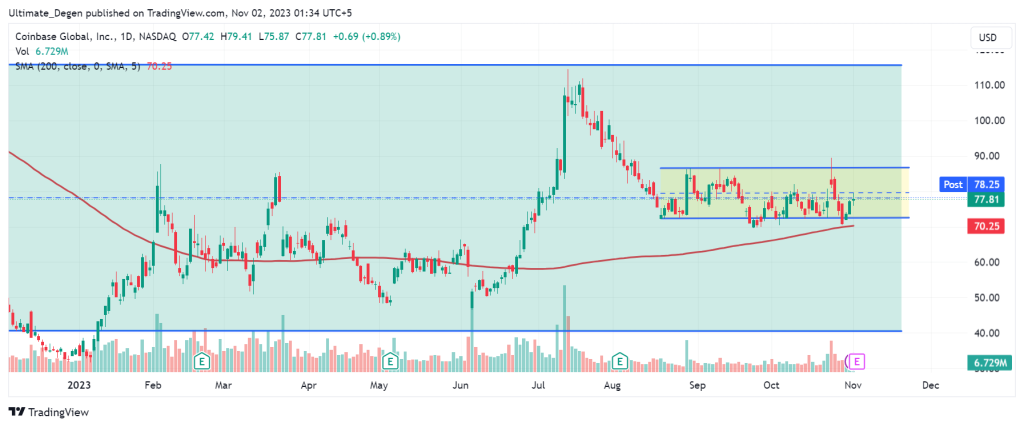 Coinbase Stock Price Forecast
An analysis of the NASDAQ: COIN price chart reveals two different trading ranges. The first one is a global range of $40 to $115, within which the price has been trading since May 2022. The second one is a shorter-term range of $72.5 to $87.7. After breaking down under the low of the short-term trading range, the price is once again gaining strength.
The bulls can expect a retest of the $86.7 range high if tomorrow's earnings report beats market expectations. However, if there is a breakout from the short-term trading range, the price could retest the high of the macro trading range at $115.
On the other hand, a breakout below the short-term trading range would flip the Coinbase stock price forecast bearish, putting the downward price target of $40 on the cards. This will also make a retest of the range lows of the global trading range.