Coinbase stock price is back below the psychological level of $200 after briefly trading above the crucial zone in the past week. Notably, its price movements is comparable to that of major cryptocurrencies. With this correlation in mind, this article will focus on Coinbase stock price prediction for the short, medium, and long term even as investors await its Q4'21 earnings report later in February.
Coinbase stock price history
Coinbase Global, Inc, became a publicly-traded company in mid-April 2021. At that point, its share price was at a record-high of $429.12. A month later, it dropped to $208.62, which is slightly above its current price of $205.74.
Between mid-May and mid-October 2021, it was range-bound between $260.93 and $208.62. Granted, it momentarily rose above the range's upper border to a three-month high in mid-August.
The subsequent breakout had Coinbase stock price rally to a seven-month high in November 2021 before recording a trend reversal that has continued for about three months now.
Coinbase stock price news
Coinbase is the leading US cryptocurrency exchange. Notably, it has been under pressure for about three months now. In late January, it hit its all-time low of $162.27.
It is hovering below the psychologically crucial level of $200 after rising above this zone in the past week. Notably, $200 has been a steady resistance level for about three weeks. Prior to dropping below this zone in late January, it had been trading above it since becoming a publicly-traded company in April 2021.
Coinbase stock price movements in recent sessions are comparable to those of cryptocurrencies such as Bitcoin and Ethereum.  For instance, Bitcoin price rebounded from a six-month low of $32,950.55 it hit two weeks ago to $45,929.30 in the past week. Since then, it has been trading below the crucial level of $45,000.
Besides, Ethereum is hovering below the support-turn-resistance level of $3,200 after momentarily rising above it in the past week. In comparison to this price trend, Coinbase stock price is hovering below the psychological level of $200 after the bulls failed to sustain the move past that zone in the previous week.
The surge in the price of various cryptocurrencies has boosted the Coinbase stock as more investors transact digital assets. Interestingly, the Coinbase cryptocurrency exchange was momentarily on an outage amid heightened traffic. This follows the advert on Super Bowl LVI.
In the ensuing sessions, optimism in the crypto market will likely support its share price. Besides, investors are keen on the Q4'21 earnings report scheduled for release on 24th February.
What is Coinbase market capitalization?
Market capitalization is a crucial parameter in evaluating a firm's valuation. It is attained by multiplying the outstanding shares with the firm's share price. According to Yahoo Finance, Coinbase has a market capitalization of $51.13 billion.
Is Coinbase a good investment?
Coinbase Global has been on downward momentum since late last year. Even then, there are several reasons that substantiate its placement as a good investment.
Coinbase market share
To begin with, the firm is still one of the leading cryptocurrency exchanges in the world. As shown on the chart below, it ranks sixth in terms of daily trading volumes. While other firms may enter the scene in the coming years, Coinbase will likely remain one of the popular entities, both in the US and worldwide.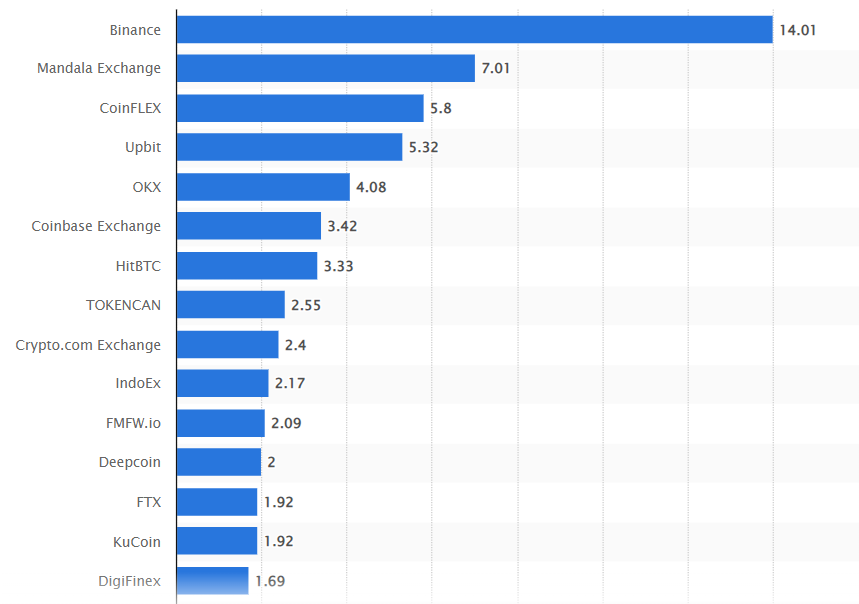 Cryptocurrency adoption rate
The crypto adoption rate has sky-rocketed in the recent past. According to the Chainalysis Global Crypto Adoption Index for 2021, the score was at 24 by the end of the year's second quarter. In comparison, it was at 2.4 a year earlier. In 2020, the adoption rate surged by 881% and 2300% between Q3'19 and Q2'21. In the coming months, a continuation of this trend is expected to boost Coinbase's stock price.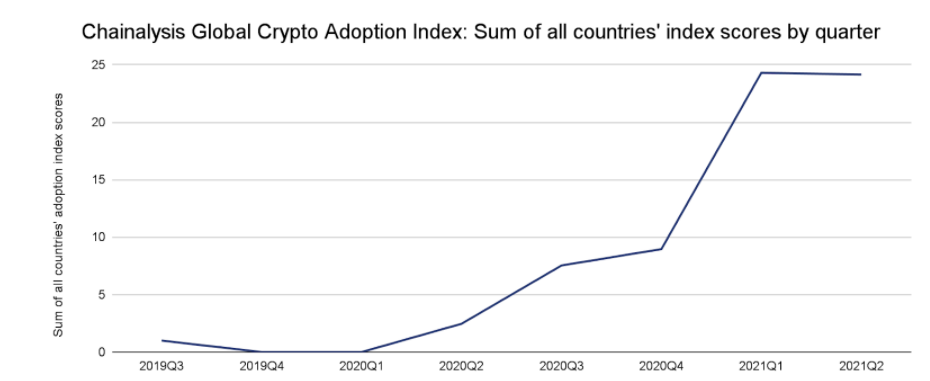 Is Coinbase profitable?
In Q3'21, Coinbase Global, Inc. missed earnings and revenue estimates. Besides, amid the recent market sell-off, its share price has declined significantly in recent months. As indicated in the chart below, the company is still profitable even with the turbulence.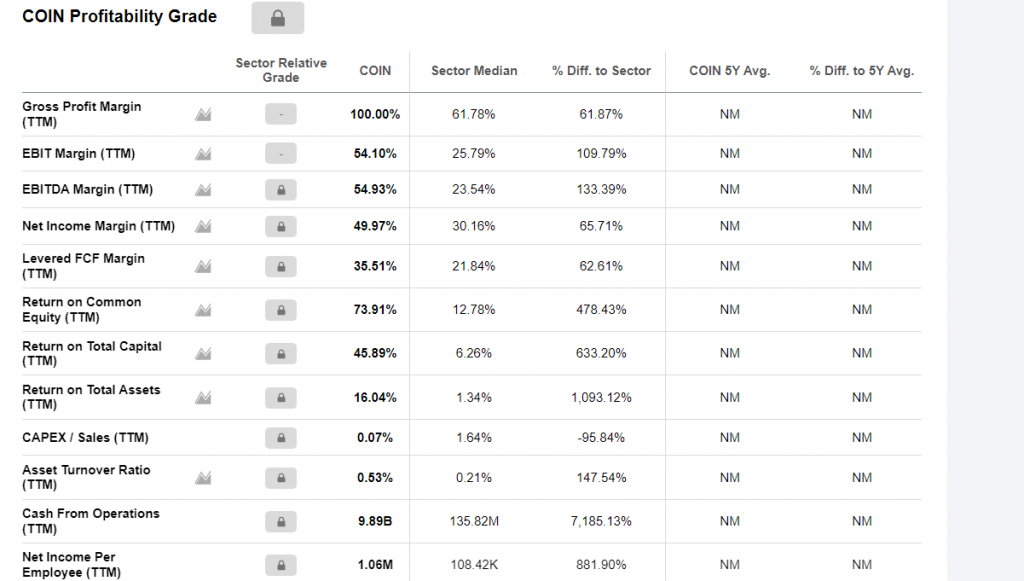 Coinbase stock price prediction 2022
As aforementioned, the equity has been on a downtrend since mid-November 2021. During this period, it has dropped by 46.95%. Even with the plunge, the Coinbase stock price prediction for 2022 for most analysts is positive.
As highlighted in the image below, the analysts' consensus rating indicates 'buy'. The recent slide offers investors a viable buying opportunity based on its competitiveness and high growth potential. With a price target of $373.72, it is expected to record a surge of 91.41%.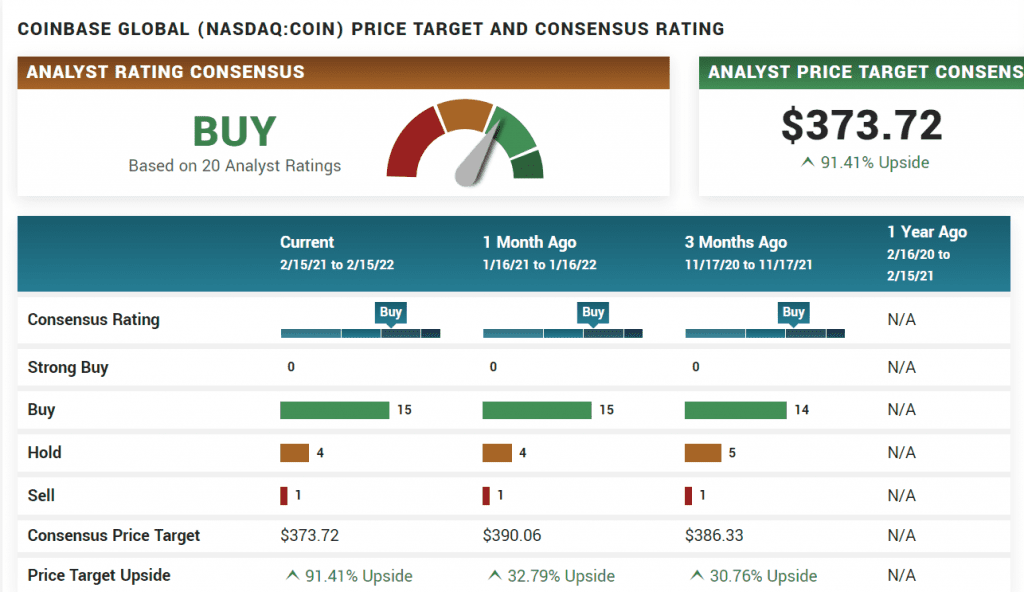 In line with its Coinbase stock price prediction 2022, Goldman Sachs has reiterated its position that the asset is a good buy at its current level. While Citigroup has lowered its price target for the share price from $415 to $300, it remains positive on the crypto exchange's price movement. At the same time, Bank of America (BoA) has upgraded from neutral to buy, predicting a high of $340.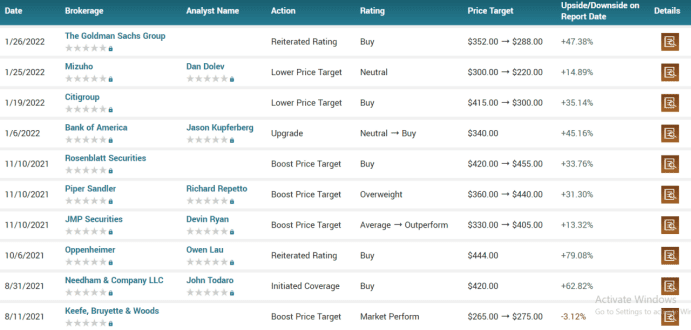 Coinbase stock price technical analysis
A look at the daily chart shows that Coinbase stock price is still under pressure despite the recent rebound. It is still below the 25 and 50-day exponential moving averages. In the short term, it may hover around the psychological level of $200 as it finds resistance along the 25-day EMA at $207.96. Subsequently, it will likely be range-bound over the ensuing sessions with the range's lower border at the support level of 175.52.
With additional bullish momentum, the Coinbase share price may reach $250 in the coming months. The level has been a crucial zone for NASDAQ: COIN since May 2021. Nonetheless, the bulls will need to break the resistance along with the 50-day EMA at $226.50. On the flip side, a decline past the range's lower border may place it at the support zone of $160.00

Coinbase stock price prediction 2025
According to Wallet Investor, Coinbase stock price prediction for 2025 is rather bearish. The firm expects the crypto exchange's share price to be at a maximum of $155.40 at the beginning of 2025. By mid-2025, it forecasts a further decline to $147.12 and $137.11 by the end of the year.

While the firm's Coinbase stock price prediction for 2025 is viable, it is important to note that analysts can be wrong in their forecast. As such, it is crucial to conduct individual research on the asset. Besides, sticking to the adopted trading strategy and evaluating your risk appetite will help avoid hefty losses.