Coinbase (NASDAQ: COIN) stock price has started the year well. It jumped to a high of $87.63, the highest level since November 1 last year. The shares have been in a strong comeback, helped by the strong comeback of cryptocurrencies, with Bitcoin prices recovering. As a result, the company's stock has soared by more than 97% from its lowest point in 2022.
On the basis of daily trading volume, Coinbase Exchange is currently the 2ns largest exchange in the world. As of 10th March 2023, around $2 billion worth of digital assets changes hands on the platform every day. This also makes it the biggest crypto exchange in the United States. Binance US comes in second place with only 17% of the total Coinbase volume.
Coinbase stock price history
Coinbase Global, Inc, became a publicly-traded company in mid-April 2021. At that point, its share price was at a record high of $429.12 as demand for cryptocurrencies was soaring.
Between mid-May and mid-October 2021, it was range-bound between $260.93 and $208.62. Granted, it momentarily rose above the range's upper border to a three-month high in mid-August.
The subsequent breakout had Coinbase stock price rally to a seven-month high in November 2021 before recording a trend reversal that has continued this year. The stock plunged to an all-time low of $40 in May. After attempting to recover, the stock crashed again and retested the lowest point as the crypto sell-off intensified.
Was Coinbase IPO Price Overvalued?
After establishing itself as one of the major crypto hubs in the world, Coinbase finally listed itself publicly in 2021. Coinbase IPO was one of the most hyped IPOs of 2021 as it occurred at a time when both traditional and crypto markets were in a bull market.
Just within a few days after the launch, Coinbase stock price went from its listing price of $250 to $429. The fear of missing out (FOMO) caused many new investors to jump to those insanely high levels. Nonetheless, the following sell-off proved that the company's stock was overvalued. As of March 20, the stock of the top US Exchange is trading 86% below its 2021 all-time high.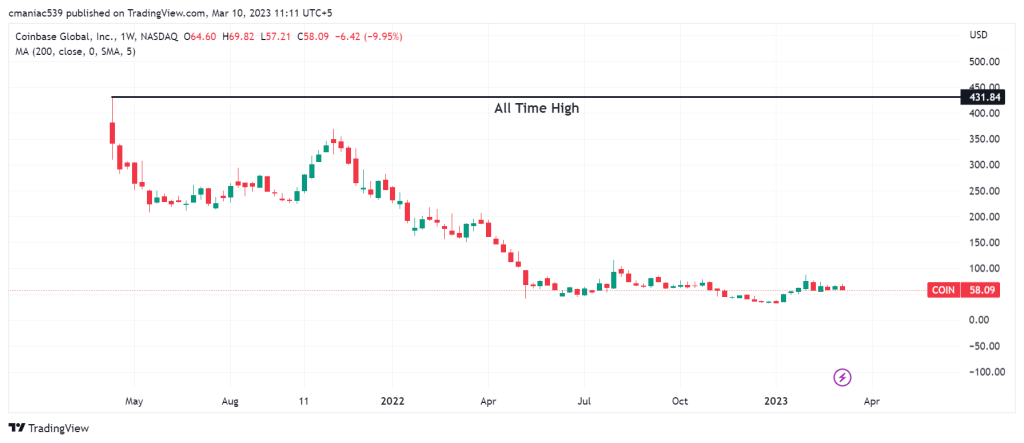 As Bitcoin peaked at $69,000 in November 2022, Coinbase shares (NASDAQ: COIN) also tumbled. Since the start of 2023, Coinbase stock has shown a massive rebound due to a corresponding recovery in BTC price. However, the price is tumbling once again as Bitcoin price failed to break above $25,000.
Coinbase (NASDAQ: COIN) & Silvergate Liquidation
Crypto industry is still not recovered from the FTX collapse, and another major institution has collapsed. Silvergate was one of the few banks that had partnered with crypto exchanges for fiat payments. Recently it was announced by the bank that it might not be able to conduct business as usual.
Following this announcement, many exchanges, including Coinbase Exchange, distanced itself from the troubled bank. More recently, Silvergate Capital Corporation has announced its plans to liquidate its banking unit. This move has intensified the downtrend in cryptocurrencies, sending the Bitcoin price below 20,000 for the first time in 2 months.
Coinbase stock price news
As per the most recent Coinbase news, the company has announced the results of a February 2023 survey. The survey was conducted by Morning Consult at Coinbase's behest. The survey revealed that 20% of Americans hold digital assets. Despite a crypto bear market, the number of holders hasn't decreased from its 2022 peak.
The latest data also showed that 80% of the participants were not satisfied with the current financial system. These people called for either a complete overhauling or major changes to be made in traditional finance. Most American adults also considered crypto to play a part in the development of a modern financial system.
Coinbase has just announced its own layer-2 network, which will act as a gateway to Ethereum and any other blockchains. It will be known as BASE. The testnet of the Optimism base layer-2 platform was launched on February 23. This Coinbase news was taken well by the industry as it meant more credibility for smart contract platforms.
The announcement was made via a series of tweets by Coinbase. The Coinbase layer-2 will leverage the open-sourced OP Stack of Optimism Network. It was also mentioned by the company that there wouldn't be a new token for the new smart contract platform.
The recent drop in Coinbase stock price is due to SEC's latest crackdown against Kraken exchange. As per latest news, the top US exchange Kraken has agreed to settle with US Securities and Exchange Commission by paying a hefty fine of $30 million. Kraken was sued by SEC for illegally offering crypto staking services to US citizens.
According to a recent tweet from Coinbase CEO Brian Armstrong, SEC might put a ban on staking. As per him, such a move would push the country far behind in the adoption of disruptive tech like cryptocurrencies.
Coinbase Exchange Faces Financial Issues
Recently, Coinbae has been forced to implement layoffs in a bid to conserve cash. In June, the firm said that it was cutting 1,100 jobs. It then followed these layoffs with another 60 job cuts in November. In January, the company announced that it will lay off 10% of its staff.
The exchange was also recently fined 3.3 million euros by the Dutch Central Bank for failing to register in the country. Further, the Coin was downgraded by analysts at Mizuho, who warned that retail traders were still afraid of investing in cryptocurrencies.
What is Coinbase market capitalization?
Since its 2021 IPO, Coinbase market capitalization has been in a downward spiral. The current Coinbade stock price of $63.7 (NASDAQ: COIN) puts the company's market cap at $14.74 billion. This is 79% below the peak market capitalization of $70 billion, which was achieved in its initial days.
Is Coinbase a good investment?
Coinbase Global has been on downward momentum since late last year. Even then, there are several reasons that substantiate its placement as a good investment. Nevertheless, the stock price has made a strong comeback in 2023 and has gained 80% since the start of the year.
Coinbase market share
To begin with, the firm is still one of the leading cryptocurrency exchanges in the world. As shown on the chart below, it ranks sixth in terms of daily trading volumes. While other firms may enter the scene in the coming years, Coinbase will likely remain one of the popular entities, both in the US and worldwide.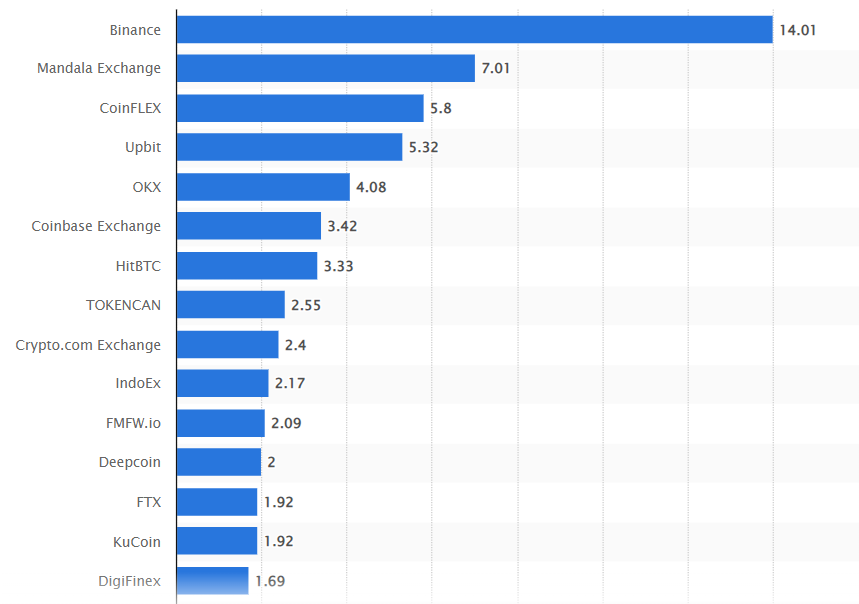 Cryptocurrency adoption rate
The crypto adoption rate has sky-rocketed in the recent past. According to the Chainalysis Global Crypto Adoption Index for 2021, the score was at 24 by the end of the year's second quarter. In comparison, it was at 2.4 a year earlier. In 2020, the adoption rate surged by 881% and 2300% between Q3'19 and Q2'21.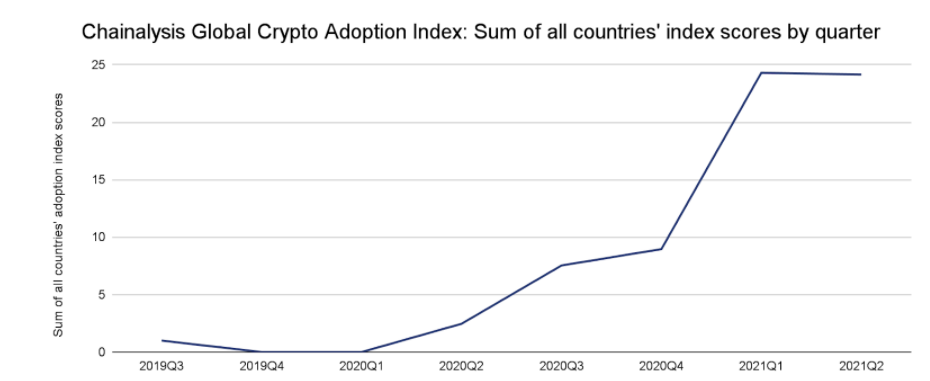 Is Coinbase profitable?
In Q3'21, Coinbase Global, Inc. missed earnings and revenue estimates. Besides, amid the recent market sell-off, its share price has declined significantly in recent months. After seeing robust profitability in 2021, the company moved into a loss this year.
Coinbase lost $429 million in the first quarter of the year followed by $1 billion in the second quarter. This loss then narrowed to $544 million in Q3 as the situation improved. However, this improvement will not last for long as the situation has worsened in the past few weeks.
Coinbase stock price forecast 2023
Analysts have been relatively bearish on the Coinbase share price for a while. Those at Atlantic Securities expect that the shares will be between $67 and $46. However, the price already surged to $87 in February and then retraced. Despite the bearishness in crypto markets, Ark Invest's Cathie Wood still remains bullish on Coinbase. Her firm bought around $16 million worth of Coinbase stock in February 2023.
Similarly, analysts at Barclays, Needham, Bank of America, DA Davidson, and Oppenheimer have all lowered their estimates. The most accurate analysts were Goldman Sachs, who predicted that it will drop to $41. As shown below, most analysts have downgraded the stock.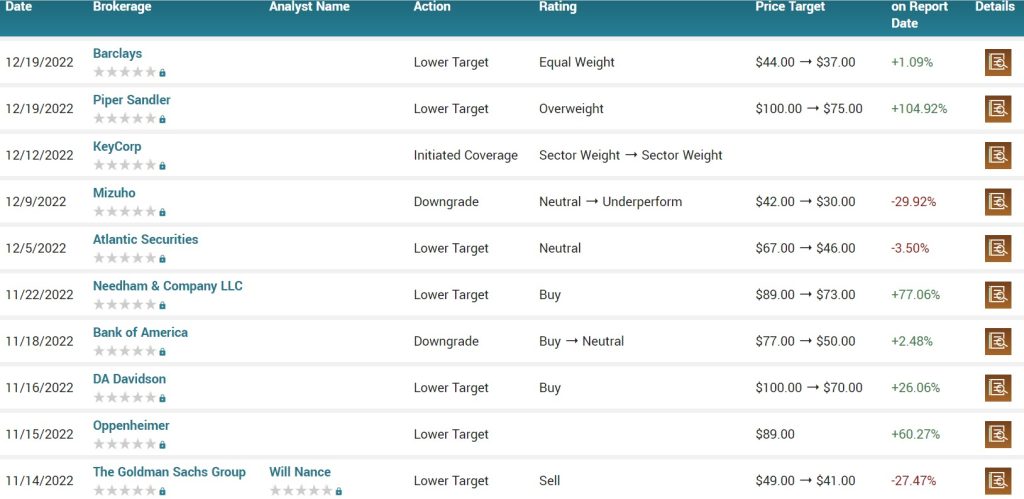 NASDAQ: COIN Technical Analysis
On a daily timeframe, Coinbase stock appears to be range bound since May 2022. This trading range is marked on the following chart. The $116 level is acting as the range high, while the range lows lie at $40. Both of these levels act as strong resistance and support zones, respectively.
After a very strong bounce at the start of the year, NASDAQ: COIN is retesting the 200-day moving average. This indicator acts as a line in the sand for many traders. If the price closes below 200-day MA, then a retest of range lows will be very likely. This will be a 28% drop from the current price.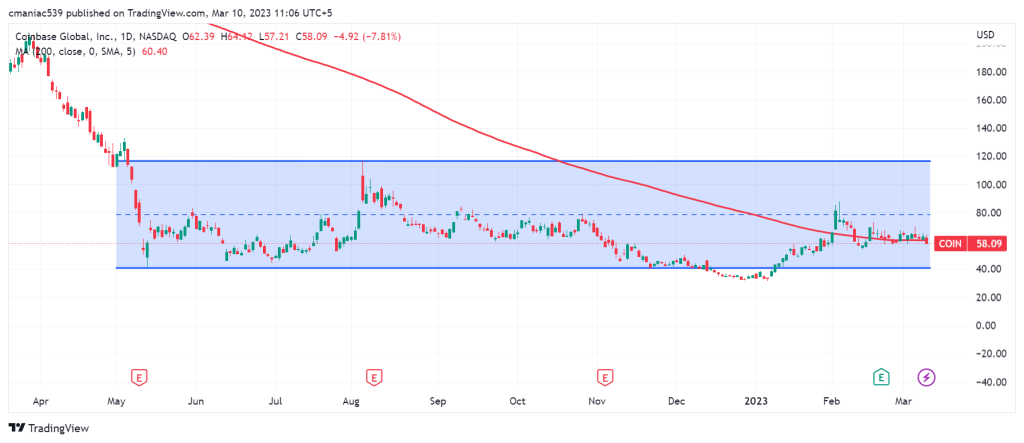 Coinbase stock price prediction 2025
According to Wallet Investor, Coinbase stock price prediction for 2025 is rather bearish. The firm expects the crypto exchange's share price will have collapsed by 2025. They believe that the company's shares will be trading at about $0.00001, meaning that they expect that it will have gone bankrupt by then.

We believe that Wallet Investor's Coinbase stock price forecast for 2025 is not accurate since it assumes that the company will be bankrupt by then. It also expects that Bitcoin and other cryptocurrencies will be worth nothing. While the stock could be much lower by then, we believe that it will be between $5 and $20.