The CLF stock price is down for the second day, as some modest profit-taking seems to have taken hold of the stock. This follows the attainment of new multi-year highs at $34, following the stock price surge prompted by two price upgrade calls from major investment banks. The upswing took the stock from below $18, sending it to a 100% gain in 6 weeks. The emergence of a bullish pennant was an additional technical metric that supported this heavy bullish move.
The surge seen in the CLF stock price in March came due to a raise in the price target by JPMorgan from $37 to $44, even while reiterating its overweight rating. This price upgrade came a day after a similar one by Goldman Sachs, which uncapped its median price target on the CLF stock from $27 to $31 with a buy rating. Since hitting the multi-year highs, the CLF stock price has retraced below the $30 mark but remains within reach of the price targets set by the two investment banks. The CLF stock price is down 1.23% as of writing.
CLF Stock Price Outlook
After reaching the high of 5 April at 34.04 following the completion of the bullish pennant, the stock was able to break down the 31.88 support level. An attempted return move towards 31.88 was rejected, which led to the selloff on Friday and Monday. The CLF stock price is testing the support at 29.74 (the previous high of 23 March in role reversal). A breakdown of this support level makes 27.77 available as new support, being the site of a previous low of 6 April. 26.50 and 23.54 (3/8 March lows) are additional support targets that become viable if 27.77 gives way.
On the flip side, a bounce from the current support at 29.74 allows the bulls to aim for a retest of 31.88. If this resistance is broken, the recent highs of 25 March and 1 April form the new target at 33.25. Only when this price level is uncapped can the bulls extend the advance towards the 21 September 2009 high at 35.60 or the 4 February 2013 high at 38.60.
CLF: Daily Chart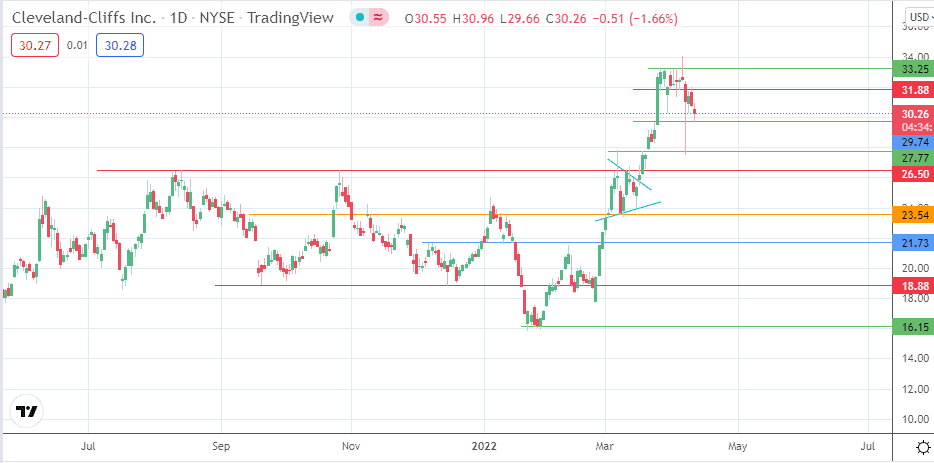 Follow Eno on Twitter.