The Cineworld share price is off to a muted start this Monday. It is down 1.76% on the day, continuing from where it left off on Friday. However, the downside appears to be limited by the presence of a strong support line on the charts at the 31.72 price mark.
The Cineworld share price has faced significant headwinds in recent weeks. A report from the London Stock Exchange, released late in March, indicates that Cineworld topped the UK's most shorted stock list. According to the LSE, five institutional firms are holding short 8.1% of Cineworld's shares. Of these firms, the New Holland Capital LLC holds a 2.24% short position against the company's shares. This has led to a gradual pressure on the Cineworld share price as buying demand is drying up gradually.
The Cineworld share price has fallen more than 70% in the last year following a direct hit from the COVID-19 induced shutdowns. However, things looked like they had started to look up when the company's 2021 full-year results showed a narrowing of its loss position as its locations began to reopen. However, rising inflation in the UK and around the world is starting to impact consumer spending, which could be a negative trigger for the Cineworld share price.
Cineworld Share Price Outlook
Following the triangle's breakdown and the rejection of the pullback move at the 39.95 resistance, the price activity is now testing the support at 31.72. A breakdown of this area opens the door towards the 23.49 support (28 October 2020 low). 26.63 (15 December 2021 and 7 March 2022 lows) could be a potential pitstop to the downside move. The 6 October 2020 low at 15.55 is an additional price target to the south.
On the flip side, a bounce on the 31.72 support allows the bulls to push for a retest of the 39.95 resistance (17 March 2022 high). Only when this resistance is broken can the price activity advance towards 46.52 (1 December 2021 low in role reversal). 56.01 remains an additional target to the north, being the site of the low of 19 July 2021 which will act in a role reversal as resistance to approaching price activity.
Cineworld: Daily Chart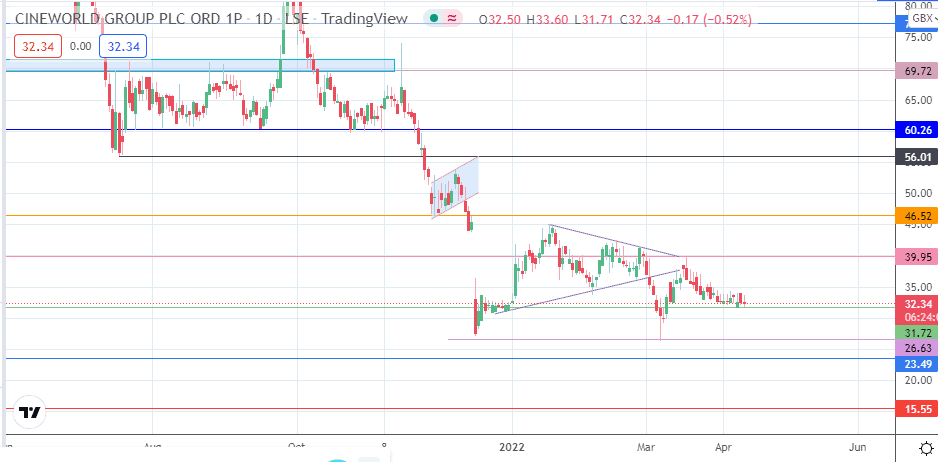 Follow Eno on Twitter.