The Cineworld share price continued its journey to the south after the company decided to seek a delay in repayment of its Regal shareholders. This comes as the debt-riddled movie theatre chain aims to get a breather from yet another monetary payout of $170m being demanded by aggrieved shareholders of its Regal Entertainment US Division.
The dissenting shareholders were displeased with the $23 per share they received in 2017 following Cineworld's takeover of the company. A delay in the repayment would give Cineworld some liquidity boost as it aims to shore up its revenues after a debilitating two-year deprecation from the pandemic.
However, a major headwind to the company's recovery is the rising inflation to multi-decade highs being seen worldwide, which could make its customer base choose alternative entertainment. In addition, the company will respond to competition posed by streaming entertainment services, and alternative entertainment within the Metaverse remains to be seen. 
The Cineworld share price consensus target lies at 77.50p, with a HOLD recommendation based on the analysis of 6 Wall Street analysts. This gives the stock a 64.37% potential upside from the current price level.
A technical look at the charts indicates that the price action is yet to attain the measured move from the triangle's breakdown. Therefore, a breakdown of the current support level could allow the Cineworld share price to realise this objective before any recovery is seen.
Cineworld Share Price Outlook
The Cineworld share price is challenging the support at 26.63 (7 March low). If the bears degrade this support level, this opens the door towards the next target in line, which is the support level at 23.49 (29 October 2020 low). If there is further price deterioration, the 19.78 support (18 March 2020 low) becomes the next downside target. An additional pivot lis at the 15.55 support level, where a low was seen on 2 October 2020. Attainment of this level sends the stock to its pandemic lows.
On the other hand, a bounce on the 26.63 support level allows for a recovery that targets the 16 December 2021/3 May 2022 highs at 31.72. Above this level, 35.07 forms an additional price barrier to the north before the 28 January and 17 March highs at 39.95 enters the picture as another northbound target. Finally, 44.00 serves as a psychological price barrier to the upside before 46.52 becomes a futuristic target for the bulls.
Cineworld: Daily Chart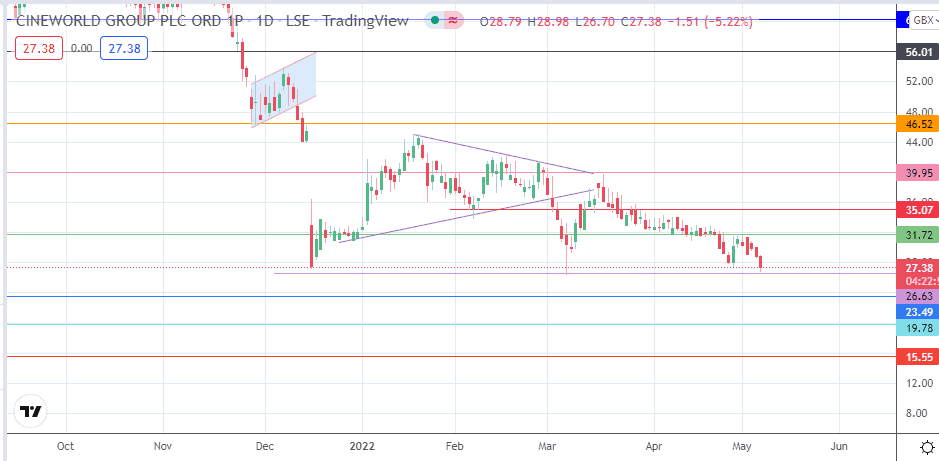 Follow Eno on Twitter.