The Chiliz price prediction is based on multiple factors that could affect it over the next decade. The Chiliz price has been in a significant downtrend after rejection from the $0.65 level in October 2021. Despite several key partnerships and onboarding clubs with a massive fanbase, the Chiliz price chart is still showing bearish signals.
There is no doubt that sports are a billion-dollar industry. Most of the sports revenue comes from each sport's attention from its fans. Whether by buying a ticket or subscribing to pay per view, fans act as the backbone in this economy. However, these loyal fans don't get any incentives, which is where Chiliz comes in. The Chiliz price is likely to rise as it rewards fans with more than just an adrenaline rush after watching their favourite team win. Read on to see our Chiliz price prediction for 2022, 2025 and 2030.
What is Chiliz?
Chiliz was launched to give something back to loyal sports fans. Socios.com platform lets fans interact with their favourite teams while allowing them to take part in crucial team decisions. CHZ token is an ERC-20 on Ethereum and a Bep-2 token on Binance Smart Chain. This token has the most utility in the Chiliz ecosystem.
Socios app has several key features that allow the fans to engage with the Chiliz ecosystem. First, the app acts as a fiat gateway for Chiliz users. Users can buy Chiliz tokens via their credit cards or multiple other payment methods. The app also allows the fans to exchange their CHZ tokens for fan tokens of various clubs and teams. Massive football clubs like FC Barcelona, Atletico Madrid, PSG, Juventus F.C, etc., have already launched their fan tokens on the platform. Chiliz CHZ price is currently trading at $0.225.
These fan tokens give various privileges to the holders that include merchandise discounts, exclusive access, and various voting rights. Teams can allow their fans to vote on critical decisions, including team formations, team sheets, transfers, kit designing, etc.
Founder of Chiliz
Chiliz and Socios were launched by Alexandre Dreyfus, who was already an accomplished entrepreneur and corporate leader. Chiliz team raised $66 million in 2018 via a private funding round. Binance was one of the early investors in Chiliz.
By the end of 2020, Alexandre had already locked partnerships with 19 entities. During the lockdown, he pumped even more money into Chiliz marketing. It was described as how fans could remain engaged with teams from the comfort of their homes.
Chiliz Roadmap & Partnerships
Most of the sports teams that have launched their tokens on Chiliz are European football teams. However, the Chiliz team doesn't want to keep Socios limited to only football. Aston Martin formula one Team also came on board in 2021 and launched their fan token AM.
As per the latest Chiliz news, the platform will launch with NFTs soon. A major partnership was announced with Chainlink to allow the creation of limited edition sports NFTs. This is to tokenize real-world sports events as NFTs on the blockchain. According to Chiliz roadmap, the project will expand soon to other sports and popular culture. The fanbase of pop music and celebrities is also massive, and the Chiliz team is well aware of it.

Chiliz Price Prediction 2022
Although Chiliz boasts several blue-chip partnerships, the CHZ price seems to have a mind of its own. The native asset of the Socios ecosystem made an all-time high of $0.88 on 13th March 2021. CHZ is now trading 74% below its ATH at $0.225. The cryptocurrency is currently the 89th biggest crypto asset with a market cap of just around $1.2 billion. The price briefly touched $0.65 in October 2021 but got rejected from the 0.618-0.65 Fib golden pocket. This level comes into play by taking March 2021 high ($0.88) and May 2021 low ($0.165).
The price went to $0.158 in January 2021, suggesting that the social tokens are not a hot narrative yet. This lower low has put Chiliz CHZ price in a significant downtrend. The bulls need to reclaim the $0.354 level sooner rather than later, or the bears could take it much below $0.1. If the current bounce continues, the bulls can consider a Chiliz price prediction 2022 of around $0.966. This is the 1.618 level from October 2021 high to January 2022 low. If the narrative of social/fan tokens heats up in 2022, then the price may even target the $1.965 level. This lies at the 3.618 fib level of the exact retracement from the October 2021 high.
CHZ USD Price Chart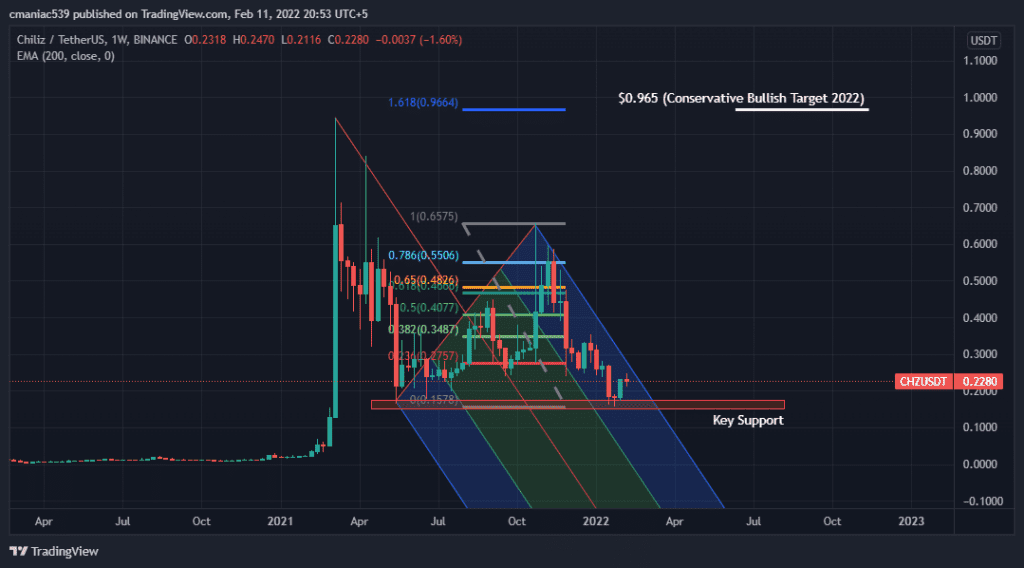 Chiliz Price Prediction 2025
A lot could happen to the global markets in general and crypto markets in particular by 2025. According to the millionaire tech investor Raul Paul, social tokens will be the next big thing in crypto. If this speculation becomes true, then we might see CHZ token in the top 10 cryptocurrencies by market cap. This could also give us a shot at Chiliz price prediction 2025.
Avalanche's AVAX token is currently the 10th biggest cryptocurrency sitting at a market cap of $22 billion. Considering Chiliz at a similar market cap, we get a dubious Chiliz CHZ price target of $4.1. However, this may act as a decent conservative price target if the Chiliz ecosystem gains mass adoption by 2025.
Chiliz Price Prediction 2030
Crypto markets depend a lot on the BTC price as Bitcoin acts as a liquidity floor for the entire market. The famous Stock to Flow Model for Bitcoin price puts it at an eye-popping $1.3 million per BTC by 2025. Of course, such a massive target is less likely, as this would mean a 30 times increase within the next 4 years. Nonetheless, $1.3 million seems more achievable by 2030. This could also help us in deriving Chiliz price prediction.
Let's consider Bitcoin to be trading at $1.3 million by 2030. We can also assume the CHZBTC pair trading at its ATH, i.e. 0.0000168. This gives us a CHZ price prediction of $21.84 by 2030. Nevertheless, this prediction must be taken with a pinch of salt as a lot of things can go wrong with Chiliz before then. Many top cryptocurrencies of the 2017 bull market never recovered after the bear market. The same could happen to any project that fails to gain contraction by 2030.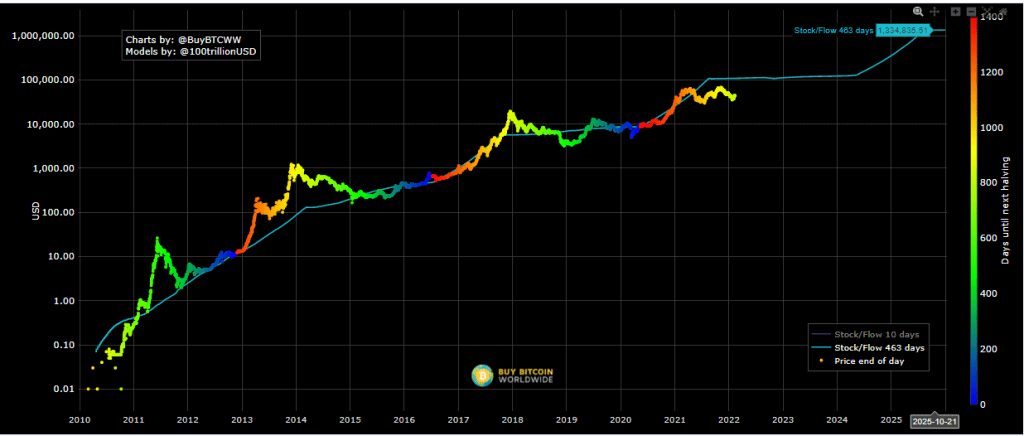 Is Chiliz a Good Investment?
Many analysts like Raul Paul call social tokens the next big frontier in crypto. The investor interest in such a project is quite low at the moment due to the ongoing NFT and DeFi craze. However, the social tokens might lead the next bull cycle in a couple of years from now. Therefore, if crypto plunges into another bear market, this could become a great opportunity to accumulate Chiliz. Proper risk management is necessary while also determining the downside in such a case.