The Chainlink price prediction of a leg lower following the breakdown of the bearish flag appears to have been fulfilled following the crypto market selloff seen on Monday. The LINK/USDT pair is down 5.91%, following Sunday's 1.23% dropoff.
The selloff appears to have been triggered by new EU rules on crypto transactions, which aim to strip off additional layers of anonymity as EU lawmakers aim to ensure that Russian entities do not evade sanctions using the crypto market.
The 5-day evolution of the bearish flag pattern was completed as Monday's downside move violated the triangle and the 15.05 price mark to the south with a strong move seeking to complete the 3% downside penetration move required to confirm the breakdown of the support and the pattern's evolution.
On the fundamental front, not much has been happening with the Chainlink project, save for the integration of LINK by Cache the Gold Token project to provide up-to-date price feeds and tracking/securitizing its gold-back tokens. Consequently, the Chainlink Proof of Relevance consensus algorithm will monitor CACHE's gold inventory and relay this information via the GramChain API. 
Chainlink Price Prediction for the Week
The downside move looks set to continue towards the 13.56 support level (24 January/4 March lows). If the bears degrade this support level, a march towards the 7 March/13 March double bottom at the 12.59 price mark looks assured. Below this level, additional support comes in at 11.41 (24 February low) and at 10.69 (27 December 2020 low).
On the other hand, completion of the measured move from the bearish flag could spur a round of new demand at 13.56 or 12.59. If this is the case, the bulls would ultimately be pushing to break past the 15.05 barrier (23 May/22 June 2021 lows) to march towards the 16.48 resistance (24 November 2020 and 13 February 2022 highs). Subsequent highs are found at 18.00 (psychological barrier) and at the 20.12 resistance level (7 July 2021 high).
LINK/USDT: Daily Chart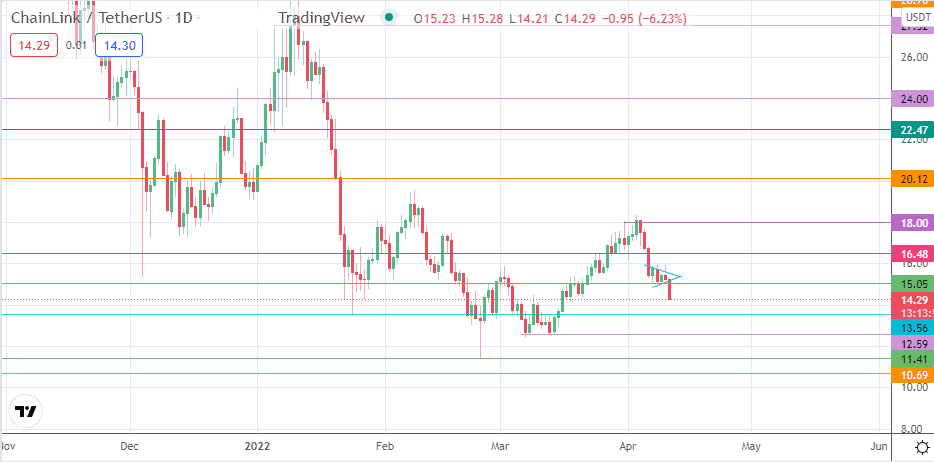 Follow Eno on Twitter.