However, the Carnival share price is set for a higher market open, as it trades at $21.65 in premarket trading following yesterday's close at $21.25. The stock has gained in the last four days without a break, as the company's outlook going into 2022 is very positive.
According to the earnings call, Carnival Corporation is heading towards 90% occupancy, despite headwinds posed by the Delta and Omicron variants of the coronavirus. It also says that it has significantly improved cash flow generation and is embarking on a decarbonization policy which will see the introduction of fuel-efficient ships that run on Liquefied Natural Gas (LNG). It has also set 2050 as its target for net-zero carbon emissions.
Carnival is also reporting a boost in bookings against 2022 and 2023 on the back of strong, returning demand despite the new variants. These statements from the earnings call have given investors the much-needed impetus to snap up the company's stocks, and the trend could continue heading into the new year.
Carnival Share Price Outlook
The double bottom on the daily chart was completed by the neckline break at 19.61. This opened the door for the bulls to drive the measured move to completion at 22.93. Today's higher open takes the price activity closer to this target, having achieved a break of 20.52 and 21.41.
On the other hand, a decline below 21.41 truncates the measured move and brings back 20.52 and 19.61 as immediate downside targets. However, the momentum is decidedly bullish, and any drops in price may present the opportunity for additional dip-buying.
Carnival: Daily Chart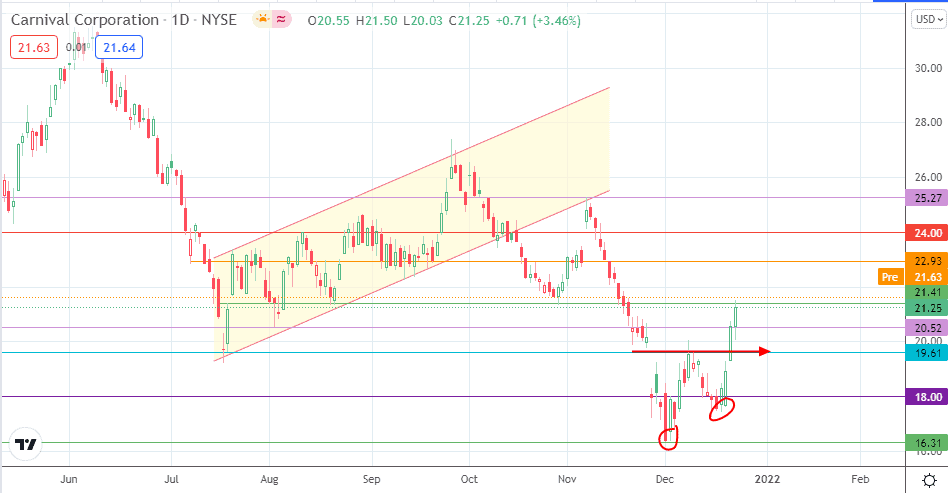 Follow Eno on Twitter.