The performance of the Carnival share price for the rest of the year will be determined by the numbers in the 4th quarter 2021 fiscal results for Carnival Corporation. The last earnings report showed negative earnings of  14.4%.
This time around, the consensus is for Carnival to register a loss per share of $1.46. This is an improvement over the same period in 2020 when the company was in the pandemic's stranglehold. It will also be better than the $2.02 that the company made in the last quarter. Revenue is expected to come in at $1.483 billion, which will beat the last reported revenue of $34million.
The upbeat projection stems from its resumption of activity, with 65% of its capacity to be back online by the new year. Occupancy rates and bookings are also rising. Carnival achieved a recovery of more routes out of the US than any other cruise liner company.
The Carnival share price may be down by 0.34%, but traders may yet get a respite if the earnings call goes according to plan.
Carnival Share Price Outlook
The price action is testing support at 18.00. A bounce at this level tests the 19.61 resistance, with 20.52 and 21.41 serving as additional targets to the north.
On the other hand, a breakdown of 18.00 opens the door towards 16.31. 14.86 (11 November lows) and 13.31 (4 November low) are additional targets to the south.
Carnival: Daily Chart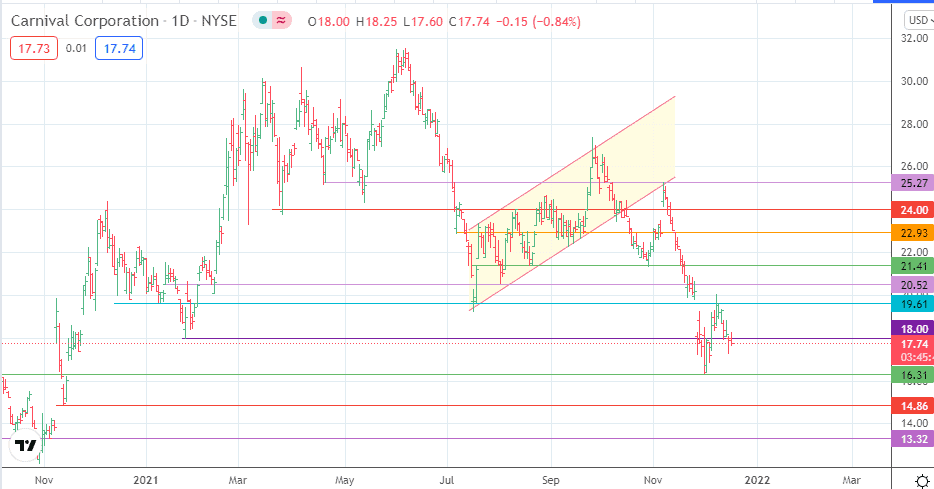 Follow Eno on Twitter.