The Carnival share price continues its ascent for the second day in a row. Its cruise ship Carnival Glory resumed operations from the port of New Orleans to mark the first sail since the onset of the coronavirus pandemic. The company also plans to restart cruises to Mexico, with the Carnival Valor set to sail for Mexico on November 1, with New Orleans as the departure port.
Forward guidance provided by the company says it expects passenger traffic from New Orleans to reach 400,000 per year. This outlook comes as the company initiates pre-boarding COVID-19 testing in partnership with Quest Diagnostics across 1,500 locations in the US.
Another Carnival-operated cruiseliner started operations from Baltimore on September 12, and its Holland America Line expects its complete fleet to resume operations between March and May 2022.
Carnival Share Price Outlook
Carnival's 4.85% uptick on the day comes from a bounce on the 24.00 support level. This move follows a breach of this former resistance by an upside gap after the price had bounced from the 22.93 support/channel's trendline. The price needs to break beyond 25.27 before the 26.78 resistance comes into the picture. This trade could continue to play out as defined by the channel.
On the flip side, the bears would find some joy if the price breaks down the channel at some point. This opens the door towards 21.41 and could also bring 20.52 and 19.61 into the picture if the decline is extensive. 
Carnival Share Price (Daily) Chart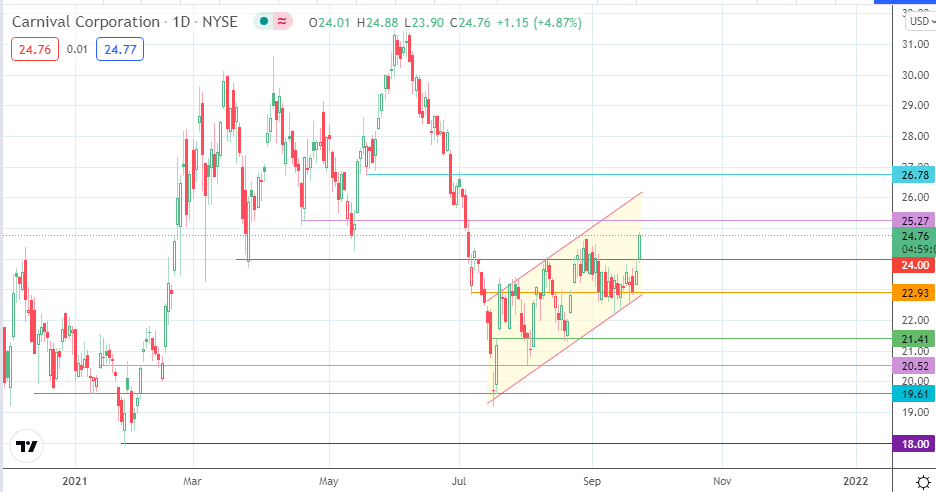 Follow Eno on Twitter.