This article helps readers understand the Cardano cryptocurrency and provides Cardano Price Predictions for 2022, 2025, and 2030.
Cardano is a layer-1, blockchain for smart contracts, similar to Ethereum. Cardano's market cap has grown from $5 billion to approximately $43 billion in 2021. Furthermore, following the recent Alonzo upgrade. Many cryptocurrency analysts view Cardano as credible threat to Ethereum and subsequently raised their long-term Cardano price predictions.
Cardano's Founder

Cardano is the brainchild of Ethereum co-founder Charles Hoskinson, who studied analytic number theory at the University of Colorado Boulder. As a founding member of Ethereum, Hoskinson is aware of its limitations. After leaving Ethereum, he formed 'Input Output Hong Kong' (IOHK) with former colleague Jeremy Wood to build Cardano into a cheaper, faster alternative to Ethereum.

Project Road Map

The Alonzo upgrade in September 2021 started phase three of Cardano's five-step road map. The scheduled upgrades, named after famed mathematicians, will mark essential milestones in Cardano's development.
Byron improved network security and launched the official wallet for the ADA token. Next came 'Shelley', which, according to the roadmap, would make Cardano "50-100 times more decentralized than other large blockchain networks".
The current phase Goguen, enabled smart-contract functionality, allowing Cardano to compete for lucrative decentralized finance (DeFi) projects. Basho, which aims to increase scalability is next, followed by Voltaire, which will focus on governance and self-sustainability.

Cardano's Long-term Prospects
Cardano is well placed to capitalize from the growth of Decentralized Finance. However, the nascent sector is young and fiercely contested. Recently, rival blockchains like Solana and Avalanche have emerged as serious contenders.
The key to Cardano's success relies on its road map. If the Basho upgrade delivers, Cardano's improved scalability could give it an edge over newer projects, which may slow down as they undergo hard forks and upgrades. In that event, Cardano should attract institutional investment, providing a considerable tailwind for the ADA token price.
Latest Cardano Prices Today

Cardano Price
$0.4695
Price Change 24h
-$0.07119
24h Low: / 24h High:
$0.4668 /

$0.543

Trading Volume 24h
$1,081,945,617.79
Market Dominance
1.52%
Market Rank
#8
Market Cap
$15,845,406,674.40
Fully Diluted Market Cap
$21,125,603,308.73
7d Low: / 7d High:
$0.4668 /

$0.5939

30d Low: / 30d High:
$0.4521 /

$0.5939

All Time High: Sep 02, 2021 (a year ago)
$3.10
All Time Low: Oct 01, 2017 (5 years ago)
$0.01735
Last Updated
2022-08-19 10:15

Cardano Price Prediction for 2022
The weekly chart shows the Cardano price his trending lower, beneath the 50 and 100-Week Moving Averages (WMA's). As a result, Cardano's market cap has dropped from $90 billion to approximately $48 billion. However, despite the recent weakness, the ADA token is up around 600% year-to-date.
Notably, the price is approaching significant support between $0.92 and $1.10. Previous drops into the support area resulted in considerable rallies. The 200-WMA at $0.814 adds to the confluent support below the market. Therefore, buyers will likely emerge if the price dips further.
On that basis, the Cardano price may be close to a near-term low. In that event, the first target is the 100-WMA at $1.54. Furthermore, a sustained rally over the next 12 months lift Cardano to a new all-time high. However, a weekly close below the 200-WMA invalidates the bullish outlook.
Cardano Price Chart (Weekly)
The weekly chart shows that the Cardano price has fallen in the past six consecutive weeks and is currently trading near the lowest level since July 2021. It has fallen by more than 60% from its all-time high, meaning that its value has dropped by more than $40 billion.
It is now hovering near its 61.8% Fibonacci retracement level at $1.1832. Additionally, Cardano has crossed below the 25-week and 50-week moving averages (MA). Oscillators like the Relative Strength Index (RSI) and the MACD have also been in a bearish trend. Most importantly, ADA is approaching the key support level at $1.00. This is both a psychological level and also the place where it struggled to move below in April, May, and July.
Therefore, at this stage, Cardano price is at a bearish trend and this situation will remain as long as it is below the 25 and 50-week moving averages.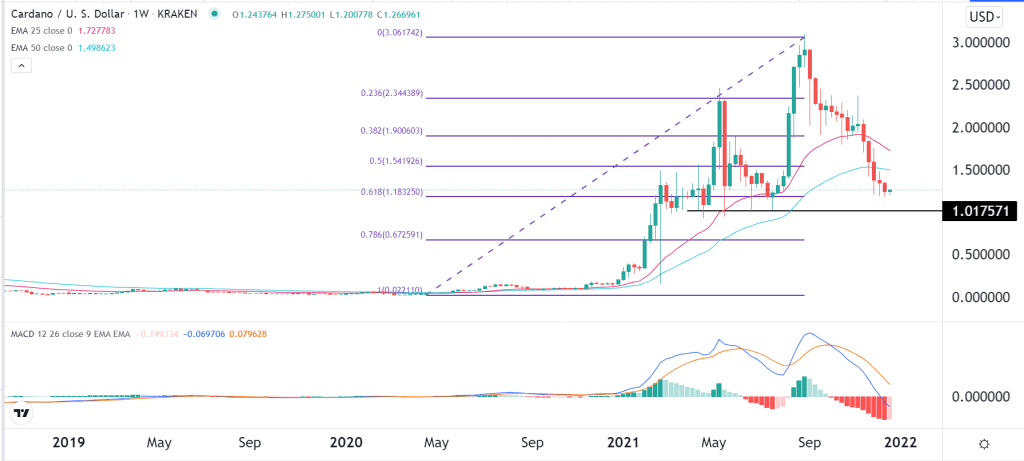 Cardano Price Predictions for 2025 and 2030
The cryptocurrency market is still evolving and may look very different in the coming years. Therefore, long-term price forecasts should be taken with a pinch of salt. Furthermore, the years ahead are unlikely to replicate the gains made in 2021. Nonetheless, even moderate growth could deliver attractive returns.
The below chart highlights two modest growth forecasts of 25% and 50% (year-over-year). The model suggests a reasonable 12-month price target is $1.63-$1.95. Moving forward to 2025, it forecasts a Cardano price between $2.60-$4.39 and as high as $9.69-$49.98 in 2030.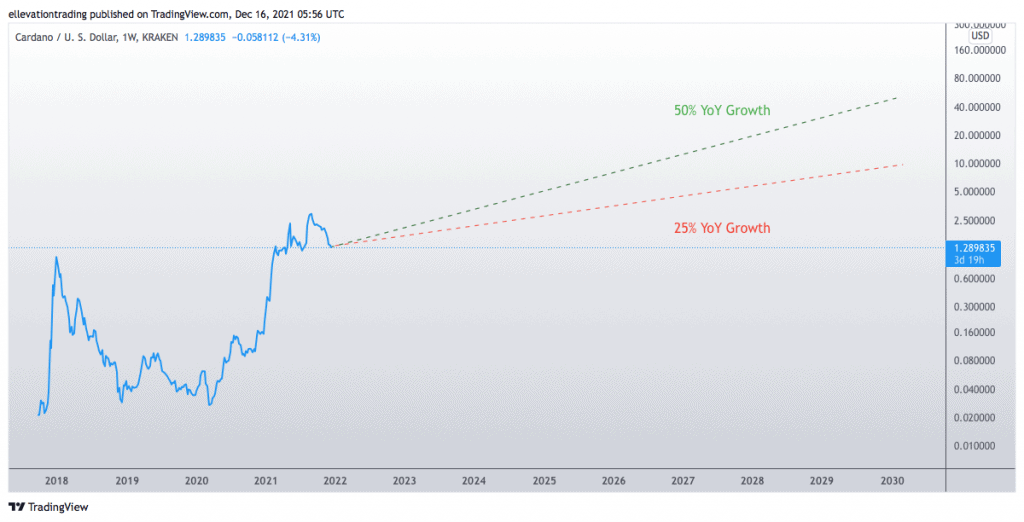 Summary
If Cardano achieves widespread adoption, the price could easily exceed the above projections. Furthermore, considering Ethereum is valued at $500 billion, Cardano's long-term prospects are good.
However, there is no guarantee that Cardano topples Ethereum. And like all cryptocurrencies, investing in Cardano is risky. Nonetheless, if the industry continues to grow and Cardano remains a major player, the rewards could outweigh the risks.
Follow us on Twitter