The Solana price has been unstoppable recently, gaining more than 500% in a six-week buying frenzy. However, all good things come to an end. And this is not to say that Solana (SOL/USD) doesn't have a bright future, just that the current price action is starting to feel a bit desperate, and that's concerning.
After finding stability in June, the cryptocurrency market found itself under pressure again in July. Bitcoin (BTC/USD) was trading below $30,000, Ethereum (ETH/USD) was $1,700 and close to breaking down, and Solana traded at $22.00. Fast forward to the first week in September, and it's a different story entirely. BTC/USD is back above $50k, Ethereum is knocking on the door of $4k, and Solana has just printed a new record of $152, almost 150% higher than the previous one set in May.
What Changed?
It goes without saying that the return of confidence to the crypto market has helped the Solana price. However, it's Solana's threat to Ethereum that has investors piling into the SOL token. Solana's superior scalability and lower transaction costs have caused many analysts to view the Solana blockchain as a credible challenger to Ethereum's crown as the go-to network for Decentralized Finance (DeFi) and Non-fungible Token (NFT) projects.
As a result of the booming NFT market, investors have been clambering to buy SOL at any cost. This has caused the price to go parabolic and is displaying worrying signs of FOMO (Fear of missing out), which inevitably ends in tears for those late to the party.
SOL/USD Price Forecast
The daily chart shows the recent rally has taken the Solana price deep into overbought territory. Despite the price pulling back to $142 from Friday's $152 high, the Relative Strength Index reading of 82.25 is incredibly high. This suggests the rally is sustainable at the current rate and is vulnerable to a correction.
Another factor to consider is that the trading volume has been remarkably light during this run-up. This leads me to believe that the rally has largely been fueled by retail traders and not large scale institutions. This could be an issue if the price turns lower. Retail traders' pockets are not as deep as institutions, which means that if the Solana price starts to reverse, we may see stop-loss selling, forcing the price to cascade lower.
Giving an accurate Solana price prediction is tricky when the market is behaving like this. The higher the SOL token goes, the more retail investors will worry they have missed the boat. This could, in theory, send the price even higher in the coming days/weeks. However, I don't see this rally lasting.
I expect to see the price correct soon and work off the overbought RSI reading. An obvious target on a pullback would be the psychological $100 mark. However, I think the price could go even lower. If SOL trades down to $100, I envisage retail liquidation which could force SOL to $83.00 support. And even though that's a long way down, it would still represent a 300% improvement on the July low.
Solana Price Chart (Daily)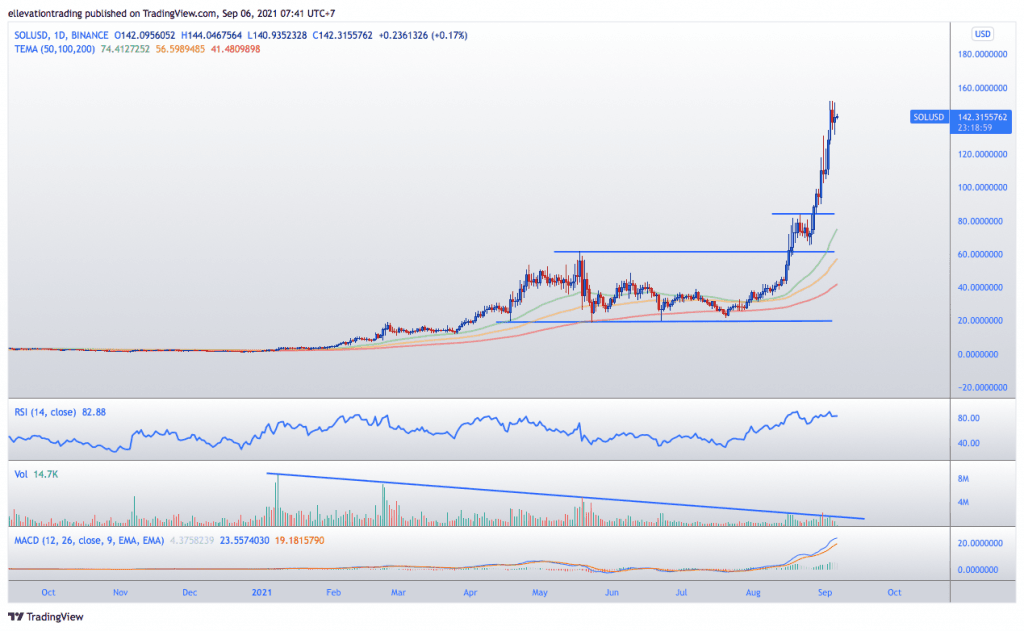 For more market insights, follow Elliott on Twitter.