The Tullow share price is trading lower this Friday and looks set to complete a week of range trading. The stock is presently down 0.52% on Friday, following gains achieved on Wednesday and Thursday.
The price action has been a consequence of conflicting fundamental triggers. On the one hand, Tullow deepened its oil interests by acquiring additional stakes in Jubilee and TEN oil fields in Ghana. The company is hoping to see a boost in its Ghana oilfields' output which will see those fields producing at least 150,000 barrels per day by 2025. A reduction in its full-year 2021 losses on lower exploration costs and lower impairment.
On the other hand, Tullow's share price faced headwinds after analysts have said the company's attempts to return to profitability have come at a cost as it lags in clean energy operations. Hydrocarbon emissions of the company have grown from 221 tonnes in 2020 to 268 tonnes in 2021. This comes amid delays in the deployment of gas capture equipment in its offshore locations in Ghana.
Tullow Share Price Outlook
The Tullow share price is facing rejection at the 54.70 price resistance. Friday's decline requires additional downside momentum to push for the 49.00 support (7 October 2021 and 31 January 2022 lows). Below this level, 46.15 (1 November/24 December 2021 highs and 16 March 2022 low) comes into the picture as the next target to the south. 43.90 and 40.40 (13 September 2021 low) are other targets that only become viable if there is significant price deterioration. 
On the other hand, the daily chart indicates that the recent price picture could be that of a bullish pennant. If this is the case, the bulls need to force a break of the 54.70 resistance to complete the pattern. This scenario sets up a measured move that should target the 60.20 resistance level (10 June 2021 and 20 January 2022 highs). Above this level, an extension of the measured move attacks 63.45 before 66.05 (16 June 2021 high) becomes a new target to the north.
Tullow: Daily Chart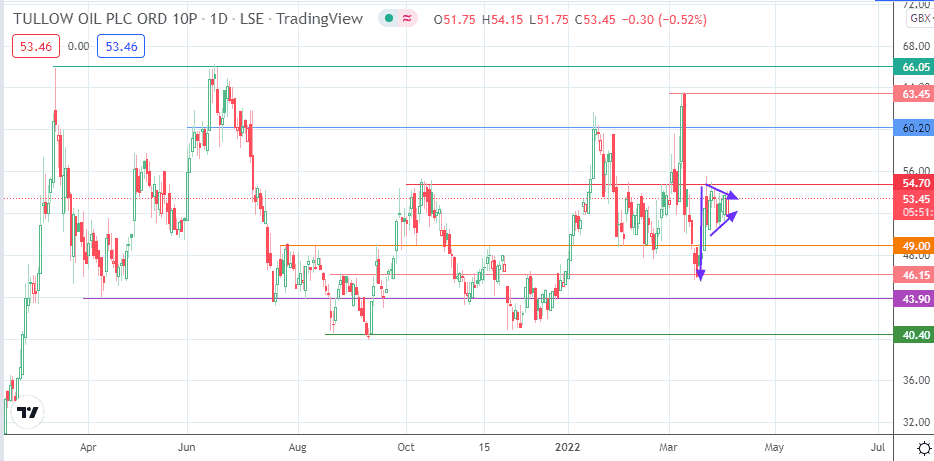 Follow Eno on Twitter.