Bitcoin prices plummeted on Friday, with the BTC to GBP pair falling by about 7.6% as of writing as hourly liquidations exceeded 225 million pounds. The selloff appears to have been set off by market panic following the emergence of a new mutant of COVID-19.
Friday's market moves appear to contrast with previous virus-induced market shocks, where money has flowed into cryptocurrencies and away from the traditional markets. What seemed to be a move towards reclaiming the 44,000 mark on the BTC to GBP pair seems to have unravelled this Friday.
BTC to GBP Price Outlook
The decline is testing the support at 40920 on the daily chart. The lows of price action have broken below the recent lows dating back to 14 November. This situation, coupled with a breakdown of the 40920 price mark, allows for a further descent towards 38075 and potentially 36300.
On the flip side, a bounce on the 40920 support allows 42531 and 43917 to enter the picture as the immediate targets to the north. Any further recovery will rely on the bulls taking out the latter. Otherwise, the bears may see these price points as rally-sell opportunities.
BTC/GBP: Daily Chart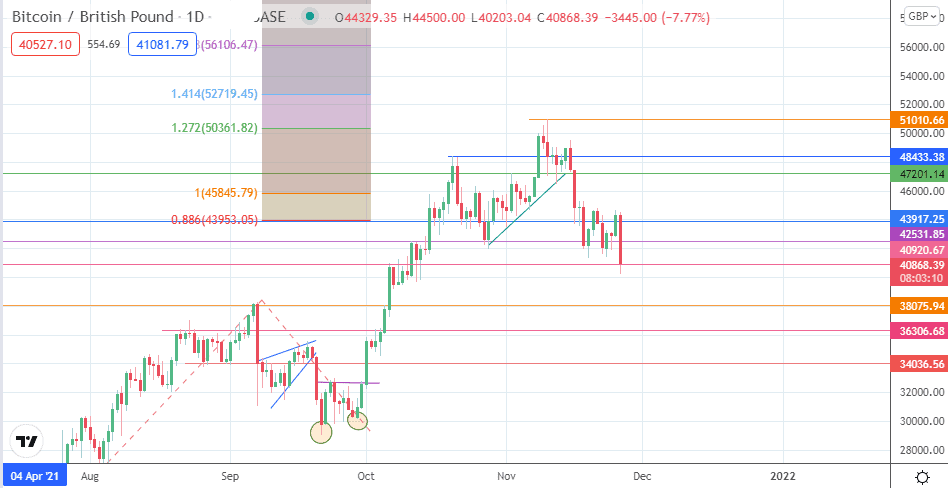 Follow Eno on Twitter.