Bitcoin prices have begun the day on a higher note, leading to a 4.44% jump in the BTCGBP pair. The intraday recovery comes on the back of a revelation of an additional Bitcoin purchase by the Greyscale hedge fund, taking their tally to $7billion worth of the token.
However, the news that the US Securities and Exchange Commission (SEC) has closed the door to additional ETF approvals until further notice could yet discourage bulls from going all in. Perhaps the SEC wants to see how the trading of leveraged ETFs will impact traders, with a special focus on risk management.
On Thursday, Bitcoin prices endured a flash crash on some exchanges, but this does not seem to have affected the BTC/GBP pair.
BTC to GBP Pair Outlook
The daily chart shows the head and shoulders pattern, with the failed neckline violation via the 27 October candle. There is also the ascending trendline which connects the lows of 7 October – 28 October. A successful neckline break must also achieve a penetration close below the trendline, targeting 40494 as the potential completion point of the measured move. Below this level, 38075 and 36306 serve as potential targets to the south.
On the other hand, the price activity needs to clear the recent high at 45850 (15 October high) to open the door for a retest of the all-time high at 66999. Only an uncapping of this level opens the door towards potential barriers at 50361 or 52719 in the short term.
BTC/GBP: Daily Chart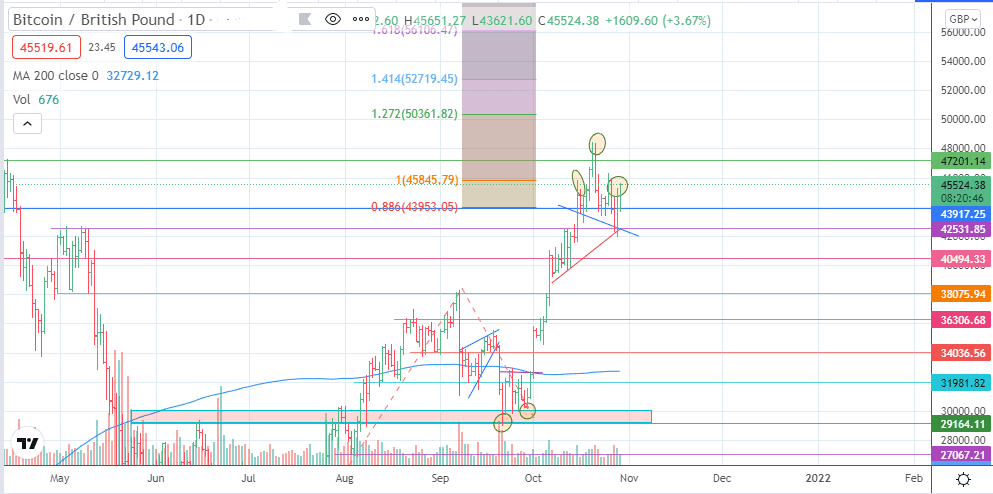 Follow Eno on Twitter.