The BTC to GBP pair is trading lower on the day, as the bearish sentiment on Bitcoin continues to play out gradually. The BTC/GBP pair is down 1.26%, and looks set to close lower for the week after the initial slide on Tuesday and Thursday set the pair back by 6.40% and 3.05%.
On Thursday, the Bank of England's interest rate hike conferred some strength to the British Pound, making the BTC to GBP pair vulnerable to some selling. This played out on Thursday and Friday, setting up the potential for a steeper drop. However, intraday rejection by the bulls did not allow the pair to touch off the 34306 support mark, where the 4 December low resides.
The bulls need to mount additional pressure on the pair, to avoid further losses before the year's end.
BTC to GBP Outlook
The emerging pattern on the daily chart of the BTC to GBP pair does not look good for the bulls, as a bearish pennant appears to be forming off progressively lower highs and stagnant lows. If the price action breaks below the pennant and the 34036 support, we could see the pair track lower as it pursues a measured move completion at 30100. This move must break down the pivot at 32213 to become a reality.
However, if the bulls can initiate a bounce off the pennant's lower border, building on the hammer candle, then a move towards 38221 becomes likely. The hammer needs a bullish outside day candle that breaks above 36306 to force this move. Above this level, 40920 and 42531 become additional upside targets, with the 40,000 psychological price mark serving as a potential pitstop.
BTC/GBP: Daily Chart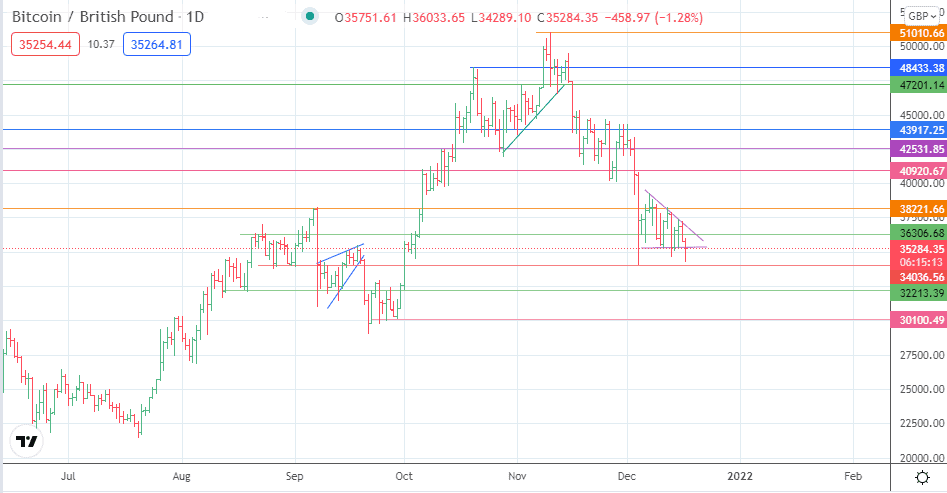 Follow Eno on Twitter.