Blockchain monitoring firm Blockchain Parser has recorded a large movement of BTC from wallets into exchanges in the last few days.
This could indicate possible preparation for large trades, which could impact the BTC to GBP pair. In the last few days, cold wallets have moved thousands of bitcoins this week, with three large tranches occurring on 1 December (15,074 BTC or $849 million, 6,970 BTC moved), 2 December (36,645 BTC kept and 10,547 BTC moved from the wallet). The transactions total more than $2 billion.
Whale movements from wallets to exchanges is an indication that the owners intend to sell their holdings after keeping them in safer cold wallets. This may explain the downtrending prices of the last two days in the BTC/GBP pair, falling by 1.27% and 1.4%, respectively
BTC to GBP Outlook
Friday's decline has led to a violation of the 42284 support. This violation struggles to convince and needs to translate into a breakdown of that pivot for a march towards 40111 to be confirmed. 38093 and 35144 are additional targets to the south if the breakdown move is more extensive.
On the flip side, a bounce on the 42284 support allows for a push towards 44380, with 46941 and 51000 serving as the barriers that must be overcome for the BTC to GBP rate to touch off new all-time highs.
BTC/GBP: Daily Chart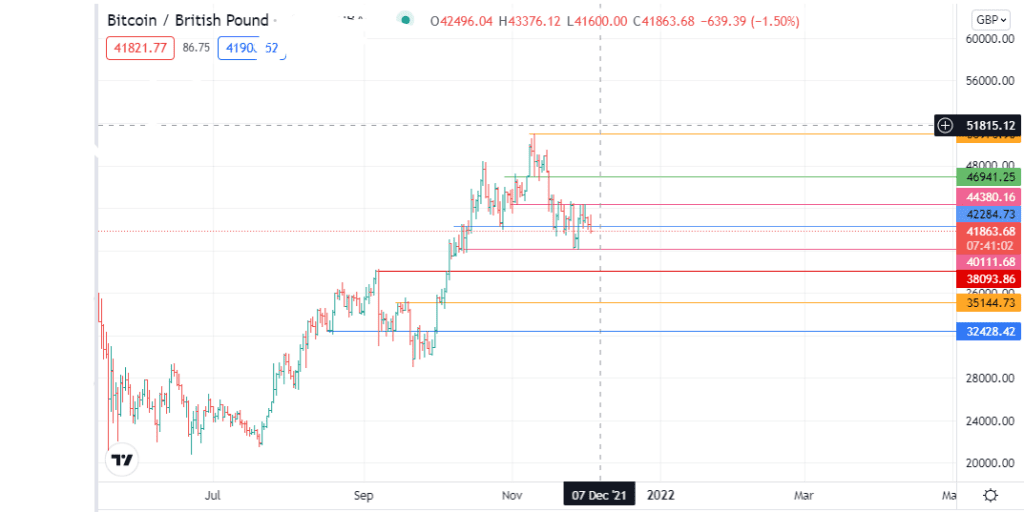 Follow Eno on Twitter.