BT (LON: BT.A) share price continues to trade sideways as the shares of the telecommunication company sit close to yearly lows. The shares of the telecom giant have been trading sideways for about 25 days. On Monday, the shares are being traded at 112.45p, up 0.27% till press time.
The UK equities have started to experience some bullish sentiment once again. This can be attributed to the increasing oil prices and a dovish BOE. The British benchmark, the FTSE 100 index, gained 17.5 points on Monday and was up 0.25% till press time.
BT Halts The Selling Of PTSN Copper Lines
On Tuesday, Openreach announced to halt the copper-based public switched telephone network (PSTN) services in favor of a new digital line. The move comes after BT announced its intention to switch to a full fiber network by the end of 2025.
In other news, BT expressed its intentions to sell 850 million notes that will carry coupons. The coupons will be 4.25%. The issuance will be under the British telecom company's 20 billion note program. BT share price currently stands 32% below its yearly high.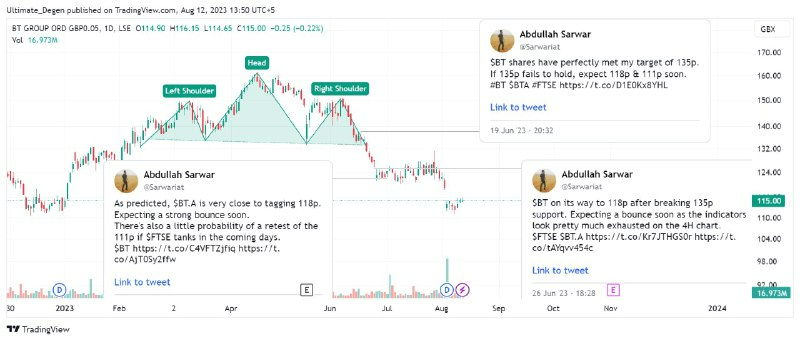 BT Share Price Forecast
The following LON: BT.A chart shows the price consolidating above the 111p support level. The daily chart also shows the price bouncing off 111p support in August, but the bull failed to gain strength above 116p. As a result, the price is once again heading to retest the 111p support level.
The BT share price forecast is likely to flip very bearish if the the price breaks below the 111p support level. In this case, a 14.1% correction to the 95p support level will be on the cards. On the other hand, the bulls must reclaim 116p to avoid a bearish outlook.
You are also welcome to follow me on Twitter, where I predicted the ongoing slump in BT shares 3 months ago.