Brent crude oil price has been in a strong bearish trend in the past few weeks as concerns about the global economy remain. It was trading at $90.6, which is the lowest it has been since February 18 of this year. It has also collapsed by more than 36% from its highest level this year. On the other hand, the West Texas Intermediate (WTI) has dropped to $84.
Why are Brent and WTI crashing?
Crude oil price has been under pressure in the past few weeks as worries about the strong US dollar and a global recession continued. The US dollar index, which measures the performance of the greenback, has soared to the highest level in more than 20 years. Historically, the price of crude oil has an inverse relationship with the US dollar.
Brent crude oil has also fallen amid concerns about demand with most analysts expecting a recession to happen in the coming months. Recession fears have been heightened by the rising concerns that central banks are hiking too fast and too soon. On Tuesday, Riksbank decided to hike by 100 basis points while the Fed and the Bank of England (BoE) are expected to deliver jumbo hikes on Wednesday and Thursday.
Still, there are some positive signs that could push Brent crude oil price higher. For one, some OPEC+ members have struggled to boost production in the past few months. Nigeria, for example, has seen its daily oil shipments tumble. A report published this week showed that OPEC+ was producing about 3.58 million barrels per day less than its target.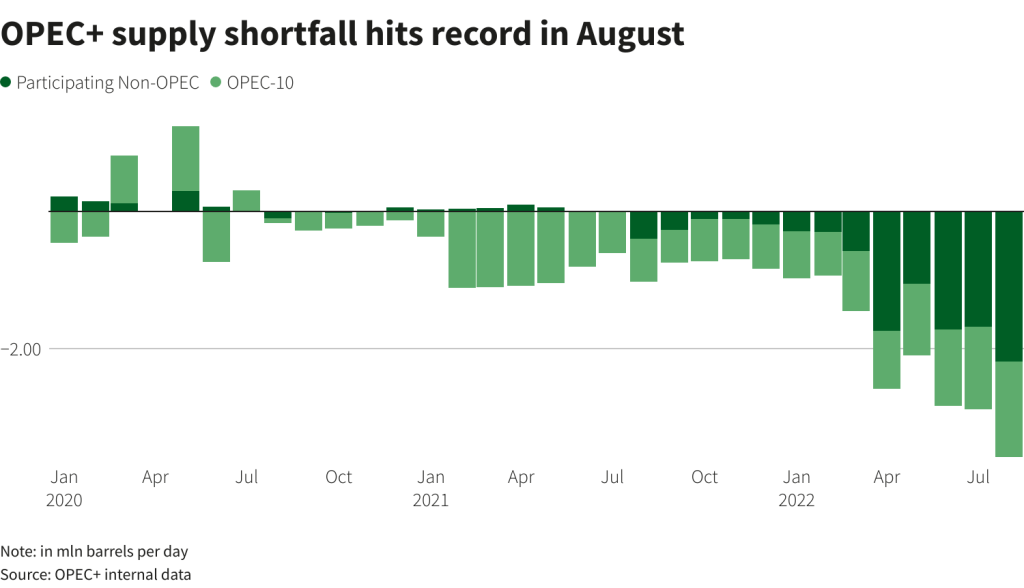 Brent crude oil price forecast
The daily chart shows that Brent crude oil price has been in a strong bearish trend in the past few months. In this period, it formed a descending channel that is shown in blue. It has also moved below the important support level at $97.72, which was the lowest level on March 16. Oil has also dropped below the 25-day and 50-day moving averages while the Awesome Oscillator has moved below the neutral level.
Therefore, crude oil prices will likely continue falling as sellers target the next key support at $85. A move above the key resistance level at $97 will invalidate the bearish view.