The uptick in the price of crude oil has put off additional bearish Brent crude oil price predictions at the moment, leaving oil prices above the $100 mark. Brent crude has gained 3.55% as of writing, erasing Monday's 2.90% loss after the easing of lockdowns in China restored confidence in the market for improved demand from the world's largest buyer of the commodity.
Also adding to the bullish sentiment around crude oil prices this Tuesday are warnings from OPEC that the cartel may find it difficult to replace any lost supply from Russia. The Organization of Petroleum Exporting Countries has said that Russia's 7-million-barrel daily contribution to the market would be impossible to replace if additional sanctions eradicate this quota from the market. There has been no consensus among EU leaders on embargoing Russian oil totally, but this option remains viable.
There is also news that the International Energy Agency member nations may release as much as 240 million barrels of crude over the next six months to cool prices. This factor may have limited the upside seen on Tuesday and moderated any bullish Brent crude oil price predictions.
Brent Crude Oil Price Prediction
The upside move of the day has preserved the integrity of the 100.19 support for now. The bulls need to instigate further action from the bounce, breaking the combined resistance formed by the 106.11 price barrier and the ascending trendline to continue the advance towards 109.58 (18 March/5 April highs). Above this level, additional resistance comes in at 114.03 (11/30 March highs) and 119.76 (3 March high).
On the flip side, rejection of the upside move that started from 100.19, either at the 106.11 price barrier or the trendline, leaves the 100.19 support level vulnerable. If this support is degraded, the door swings open for the bears to push prices towards the 96.58 support (25 February low). A continuation of the decline targets 91.32 (16/17 February lows) and possibly 86.72 (25 January low).
Brent Crude: Daily Chart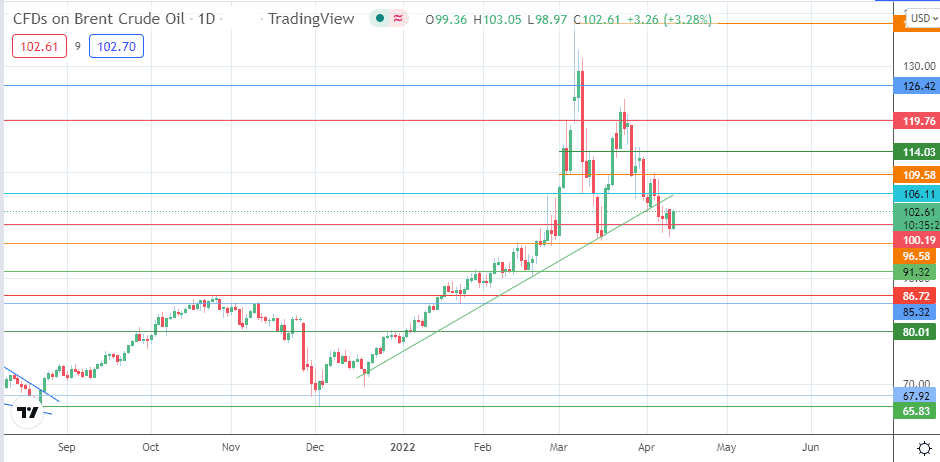 Follow Eno on Twitter.