This Wednesday, the BP share price is up as it pursues the second day of gains following a return to risky sentiment. Monday's decline has been well and truly overcome, as a rise in crude oil prices and energy costs worldwide have put oil stocks such as BP in a prime position to attract demand.
However, the overall sentiment is weak, as the projections for 2022 see a weakening of demand for crude oil. This sentiment is already playing out in the BP share price, where the price action in recent weeks continues to form progressively lower highs.
The company has several strategic plays up its sleeves to insulate it from the bearish outlook. Its Norwegian JV company Aker BP has signed an agreement with Lundin Energy to form an exploration and production company that will focus on Norway's continental shelf in a $2.22 billion deal. It is also exploring the use of B30 biofuel in partnership with Maersk as a marine fuel for two tankers in its pursuit of cutting carbon emissions in marine operations. The company will also acquire any units not owned in its BP Midstream Partners pipeline operations in a deal worth $723m.
The BP share price on the NYSE is up 1.32% as of writing.
BP Share Price Outlook
The BP share price is on its way to the 27.15 price resistance. The bulls need to surmount this level and the descending trendline (which forms the neckline to the evolving double bottom) to unlock the pathway towards 28.47. 29.73 and 30.82 are additional price targets that must be surmounted before the channel's upper boundary becomes visible. 
On the other hand, rejection at 27.15 opens the door for a pullback move that targets 26.01. This support also intersects the channel's lower border, and both must give way if 25.19 and 24.02 are to become realistic targets for the bears. 22.79 is an additional pivot, where 10 December 2020 high and 19 July 2021 low are located.
BP: Daily Price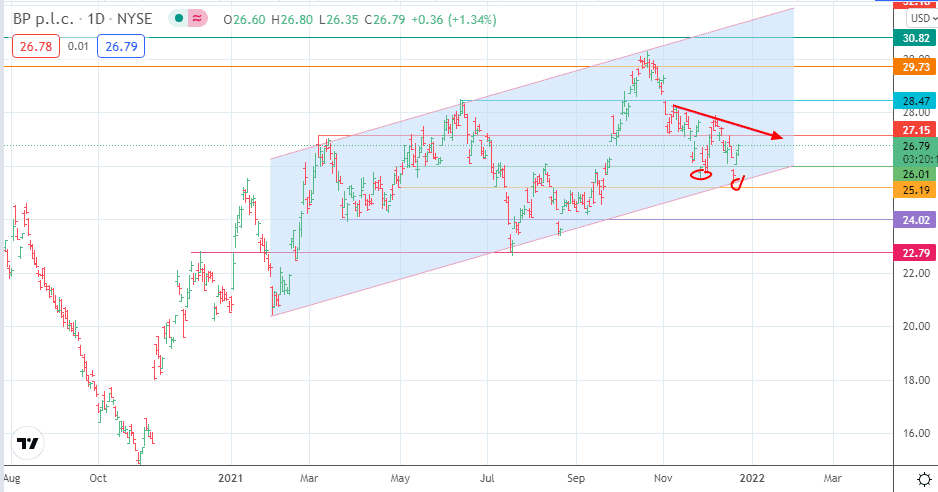 Follow Eno on Twitter.