The BP share price jumped by more than 1.70% on Tuesday as investors' sentiment improved. The stock ended the day at 308p, which was substantially higher than this week's low of 300p.
BP has lagged peers
The BP stock price has lagged its energy peers. In the past 12 months, the stock has jumped by about 36% while the Vanguard Energy ETF gas risen by almost 80%. It has also underperformed American supermajors like ExxonMobil and Chevron.
This trend has happened at a time when the price of crude oil has jumped by more than 50% and natural gas is trading at the highest level in years.
BP has underperformed even as its fundamentals remain strong. The company has reduced its total debt by selling assets and reducing its costs. It has boosted its dividends and share repurchase program while higher commodity prices have helped. At the same time, the company has benefited from the overall performance of the global economy.
Therefore, the underperformance of the BP share price is likely because of external factors. I believe it is primarily because of the ongoing Environment, Social, and Governance (ESG) trend that is sweeping the investment landscape. The trend has affected European companies more than their American counterparts.
Indeed, the chart below shows that BP, TotalEnergies, and Royal Dutch Shell share prices have lagged their American peers and the Vanguard Energy ETF.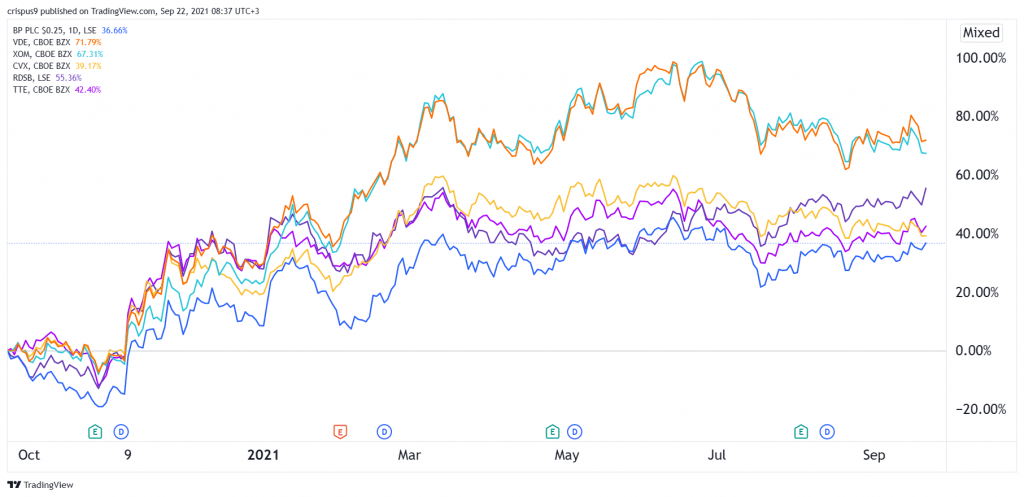 Therefore, the fact that BP has lagged at a time when the energy sector is doing well is a challenge for its shareholders. Sure, they will pick up its 5.1% dividend yield but the stock appreciation may be limited especially if the situation changes.
BP share price forecast
The daily chart shows that the BP share price has attempted to rebound lately. The stock is trading at 308p, which is about 13% above the lowest level in July. Along the way, the bullish trend is being supported by the 25-day and 50-day moving averages while the volume remains stable. The stock has also found a strong resistance at 310p.
Therefore, the shares will likely continue rising as bulls target the next key resistance level at 320p. On the flip side, a drop below the key support level at 300p will invalidate the bearish view.