After an intense sell-off at the start of this week, BP share price opened in the green for the first time amid rising oil prices. The disappointing Q3 report of the British oil and gas company weighed in on its share price as it slid 6.2% below last week's close. Currently, the energy giant's stock is priced at 499p and is retesting its October lows for support.
The ongoing recovery in BP shares is aided by the overall recovery in the UK stock market. The FTSE 100 index went up 100 points on Thursday after the Bank of England decided to maintain its current interest rates.
The bank defended this move by calling it necessary to bring the inflation rate back to the 2% target in the medium term.
Berenberg made headlines after it upgraded its price target for BP shares to 525p while maintaining its "hold" rating. According to the broker, BP is expected to see more upside as oil and gas prices continue to rise in the market. Side by side, the recent divestment made by BP will also make more working capital available in the fourth quarter.
On the contrary, JP Morgan rated the BP share price as "underweight" from "neutral" after the oil and gas company reported weak Q3 earnings results. The broker also trimmed its price target from 615p to 550p.
LON: BP Chart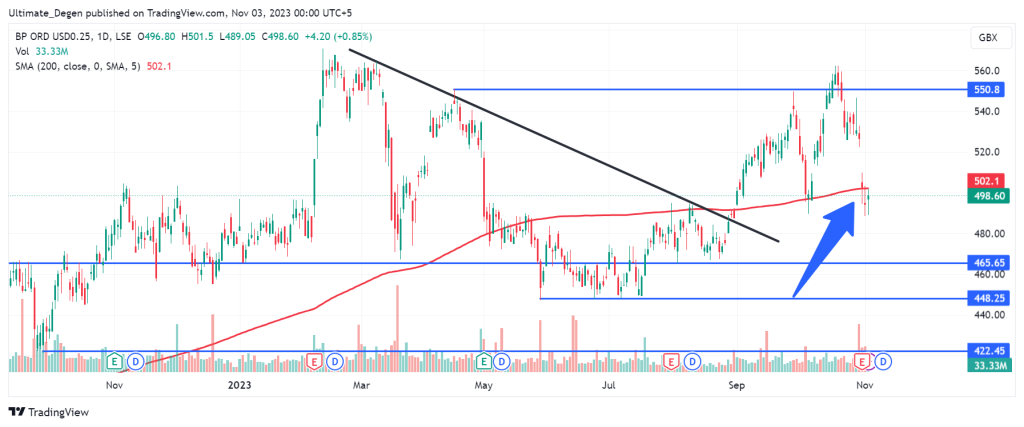 BP Share Price Forecast
It seems I was correct once again as LON: BP hit perfectly hit the 200 MA earlier this week, which I had predicted in my previous forecast. Currently, the price has broken below the key moving average which unlocks the doors for a retest of the 465p support level.
In order to see any upside, the bulls will have to reclaim the 200 MA and gain strength above it. This will not only help to make the BP share price forecast bullish but will also make way for a 9.6% rally towards the April high around 551p.