The BP share price continues its unabated advance as costs of energy derivatives continue to soar. However, BP is making the news more for its innovations outside of the fossil fuel industry.
BP is among companies named as beneficiaries of carbon capture projects. Along with Royal Dutch Shell, SSE and Drax Group, BP will get a share of a £1bn fund to capture and store nearly half of the industrial CO2 emissions in the UK by 2030.
The company is also developing new downstream innovations. BP is currently testing the first acclaimed digital in-truck fuel payment app, the BP In-Truck Pay. This system is designed to provide a faster and more efficient system for fuel purchases. Trials will involve Mercedes-Benz Actros trucks.
BP Share Price Outlook
The continued ascent in the BP share price is currently on course to hit the 6 March 2020 low at 32.18. This move covers the bearish gap of 7 March 2020. If the bulls uncap this resistance, the next target is 32.18 (5 March 2020 low).
On the flip side, the 28 February 2020/19 October 2021 low at 29.73 becomes the next target if a profit-taking-induced decline occurs. 28.47 and 27.15 become additional downside targets if the corrective decline continues. 26.01 and 25.19 may also come into the picture if the decline is more extensive.
BP Share Price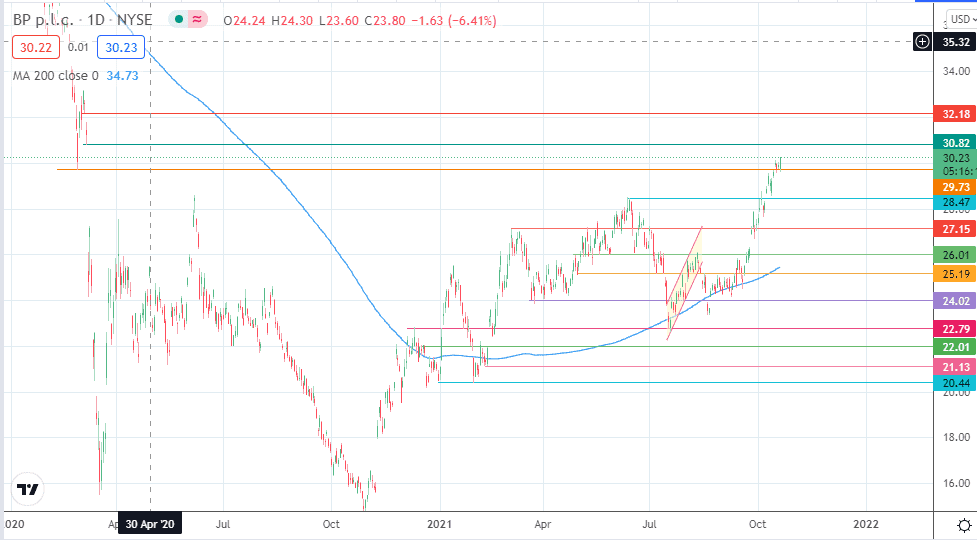 Follow Eno on Twitter.