The Boohoo share price is up this Tuesday, but the stock remains under pressure as the previous negative outlook on its full-year bottomlines continued to weigh on investor sentiment. Boohoo had warned last week that its full-year sales and profits would not meet expectations as surging costs and disruption in deliveries hurt sales. This was the 2nd warning in 4 months, despite the rise in net sales in the UK by 32%. However, the return rates also rose to 12.5% on an annualized basis.
The question that followed the company's stellar performance in 2020 was whether it would survive the reopening of offices and businesses as lockdowns were lifted. The 65% drop of the Boohoo share price in 2021.
HSBC downgraded the stock from a BUY to a HOLD, cutting the target price from 405p to 115p. Traders are watching to see if the UK and European countries will put back restrictions to the extent where sales will pick up once more.
Boohoo Share Price Outlook
The price bounce on the day still remains short of the 128.50 resistance (2 November 2016 and 1 December 2016 highs). If the bulls transcend this resistance, 144.95 becomes the next available target. 169.95 and 216.65 are additional targets to the north, but there is a potential for a pitstop at the 200.00 price mark.
On the other hand, rejection at the 128.50 resistance mark puts the 96.85 support in danger. A breakdown of this would spell further doom for the bulls, bringing the 28 August 2016 lows at 76.15 into the picture as the next downside target.
Boohoo: Daily Chart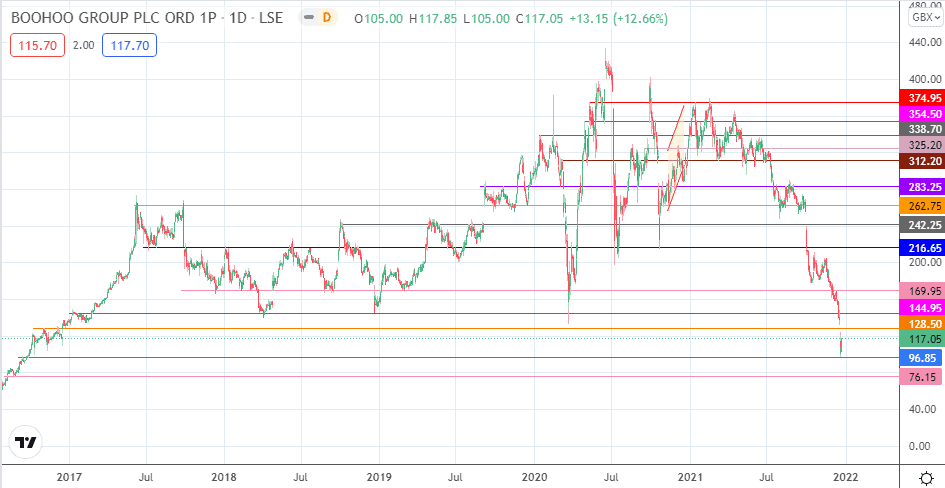 Follow Eno on Twitter.