Fashion retailers in the FTSE 100 and FTSE 250 indices have been in a strong bearish trend as the companies battle multiple challenges. Boohoo share price has collapsed by about 80% from its all-time high. Similarly, companies like Asos have also fallen by more than 70% from their highest point as shown below. The same has happened among companies like Mothercare and JD Sports.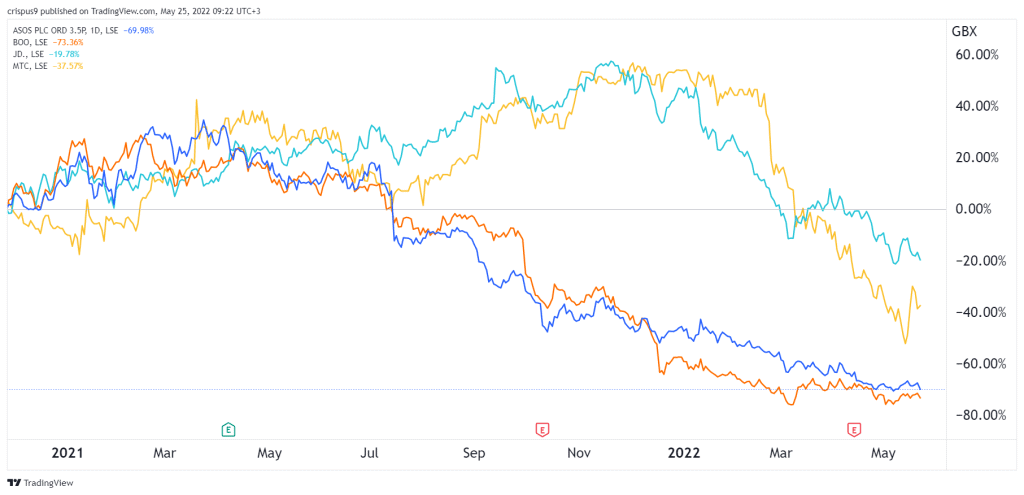 Why has Boohoo crashed?
Boohoo stock price has been in a strong downward spiral as investors worry about the company's growth. The most recent sell-off was triggered by the company's weak earnings and forward guidance. In its most recent results, Boohoo said that its revenue rose from £1.745 billion in FY 2021 to over £1.98 billion. As costs rose, the company's profit before tax fell from £124.7 million to over £7.8 million. 
The company also lowered its guidance as it warned about key risks facing its business. These risks include the rising cost of doing business and the tightening competition from companies like Shein. The situation was worsened by the recent earnings by companies like Target, which expressed worries about margins,
Still, while Boohoo is facing numerous challenges, the firm has valuable assets that could make it an attractive buyout target. For example, in addition to its flagship Boohoo brand, the firm operates other businesses like PrettyLittleThing, Nasty Gal, Karen Millen, Debenhams, Oasis, Warehouse, and Dorothy Perkins among others. A potential acquirer would work to simplify these brands and accelerate their growth.
From a valuation standpoint, the company seems like it is fairly valued. The firm has a market cap of over £980 million, which is lower than its all-time high. This makes it a relatively cheap company considering that its profitability will likely improve in the coming years.
Therefore, while BOO is facing major challenges, I expect that its stock price will do well in the future. Besides, it seems like there is still appetite for British companies. Last week, it was announced that The Hut Group had rejected multiple offers.
Boohoo share price forecast
Turning to the daily chart, we see that the BOO share price has been in a strong downward trend in the past few months. As a result, the accumulation and distribution indicator has been in a strong bearish trend. The stock has also moved below the 25-day and 50-day moving averages. A closer look shows that the stock has formed a double-bottom pattern. In price action analysis, this pattern is usually a bullish signal.
Therefore, a contraria case can be made about Boohoo shares. If this happens, the next key resistance level to watch will be at 133p. A move below the support at 64p will invalidate this view.