Bullish BNB price predictions have taken a bit of a hiatus this Friday, after a slight pullback from recent highs. The price picture for the week on the daily chart indicates that range-trading may continue for a few days more, until renewed momentum enters the pair either to send the Binance Coin to new highs, or a deeper correction.
As traders prepare their tokens to invest in new projects listed on Binance, the BNB/USDT price action has seen a massive surge in the last three weeks. Another reason for the recent surge is that the BNB token also serves as a hedge against the recent drop in crypto prices seen on Wednesday. Pairings of various altcoins were steadier against the Binance Coin than they were against Tether and Bitcoin.
The BNB price prediction depends on the resolution of the range-bound daily candles in the coming days. 
BNB Price Prediction
The intraday decline has found support at the 605.0 price mark, following a price rejection from the 639.9 resistance. This puts the BNB price firmly in a tight range. A decline below 605.0 targets 558.1, with 533.8 and 511.3 coming into the picture if the correction is extensive.
On the other hand, a break of 639.9 restores the bullish sentiment on the BNB/USDT pair. This move favours a BNB price prediction for a push towards the 669.3 recent high. Above this level, an additional price push in record territory will see 725.1 (127.2% Fibonacci extension level) and 769.6 (141/4% Fibonacci extension) come in as potential targets to the north.
BNB/USDT: Daily Chart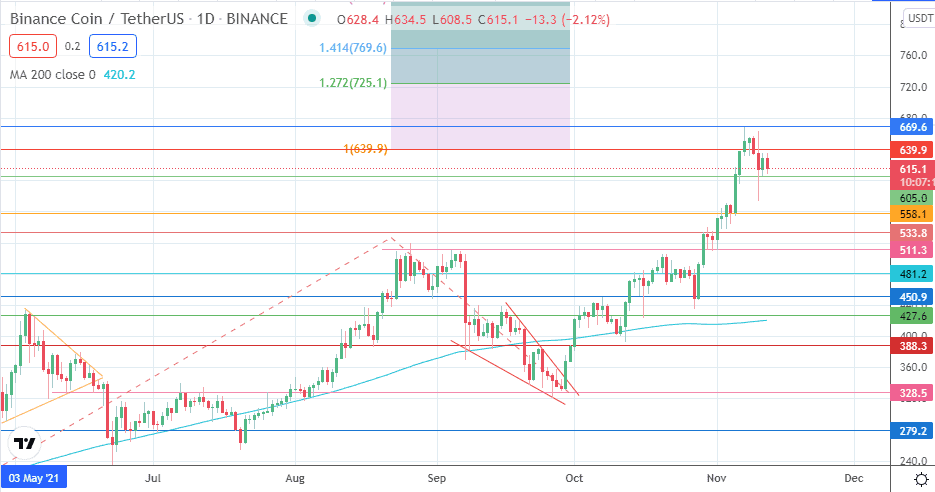 Follow Eno on Twitter.