The BlackBerry share price continues its relentless decline as the cybersecurity software and services company's earnings have been projected to suffer a steep decline. 
Zacks Consensus Estimates is projecting that revenue and earnings would fall to $734 million and -$0.20 per share. The general consensus is a loss per share of $0.06, representing a 400% decline year-on-year. The consensus of seven analysts covering the BlackBerry share price indicates an "underperform" rating, with a mean target price of $829.
BlackBerry's woes stem from its failure to adapt quickly to the lockdown periods, losing a significant market share of its business to its competition. Its performance lags those of the S&P 500 index and the Computer and Technology sector within that index. The BlackBerry share price is down 4.16% on the day.
BlackBerry Share Price Outlook
The intraday decline is challenging the 9.52 support, having violated that price mark, which has held back bearish moves below that area since July. A breakdown of this support opens the door for a continued decline towards 9.01. The 11 May low of 7.81 is also in the running as a potential target to the downside.
A bounce on 9.52 has to be followed by additional buying momentum for 10.84 to come back into view. 11.91 and 13.42 are additional price targets to the north, only available if the bulls take out 10.84.
BlackBerry: Daily Chart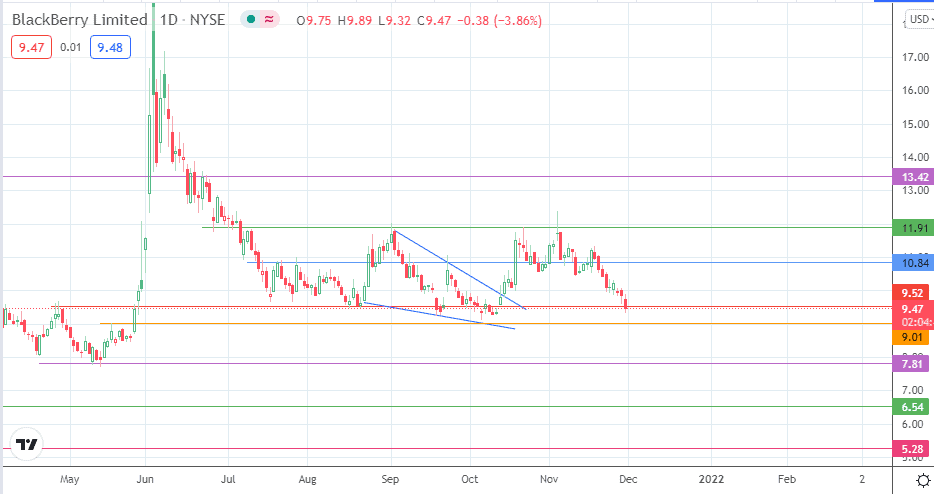 Follow Eno on Twitter.