Bitcoin Cash's price has remained below the critical level of $500 for around two months amid the risk-off sentiment observed across financial assets. According to CoinMarketCap, it is ranked 26th with a market capitalization of $5.83 billion. This improved from earlier in the month when it was ranked 28th.
This article looks at the Bitcoin Cash news and Bitcoin Cash price prediction over the long term.
Bitcoin Cash Coin Founders
Bitcoin Cash is a hard fork from the Bitcoin blockchain introduced in August 2017. The split resulted from differences within the Bitcoin community over the proposed expansion of the network's capacity to allow for an increase in transactions.
Purchase bitcoin cash instantly
Since Bitcoin Cash emerged from Bitcoin, its founder is also Satoshi Nakamoto. However, the person or group of people remains unknown and are responsible for the development of Bitcoin and writing its white paper.
Bitcoin Cash Road Map
As aforementioned, Bitcoin Cash is a hard fork of Bitcoin. This means that it uses the technical foundations of Bitcoin's system. Therefore, unlike some cryptocurrencies like Cardano and Bitcoin, it does not have a road map.
Bitcoin Cash Price History
After launching at $505 in August 2017, Bitcoin Cash price surged to an all-time high of $4,301.16 in just five months. However, within one year, it plummeted below its initial price at $74.19. It traded within a relatively tight range for about two years with $500 as a crucial resistance zone.
Towards the end of 2020, it commenced its rally and reached a 3-year high in May 2021 at $1,640.16. However, the subsequent pullback has seen the psychological level of $1,000 remain evasive for about nine months. At its current level, it is 46.21% below its initial price.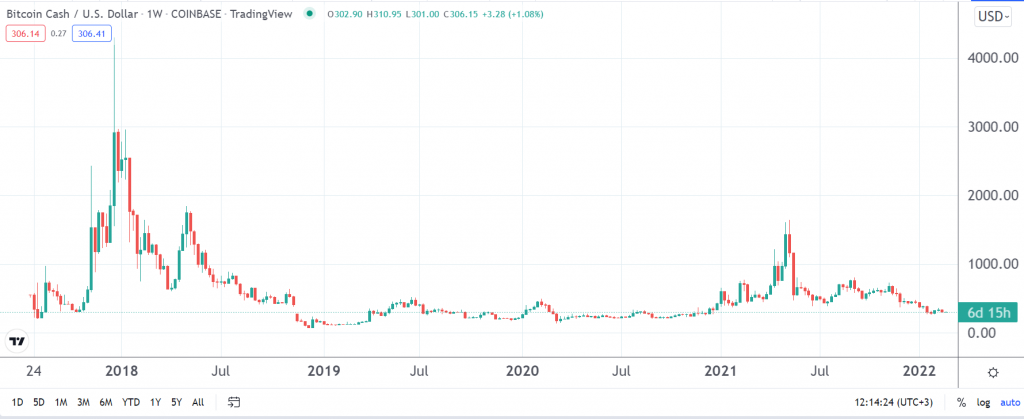 Bitcoin Cash Adoption
More merchants have continued to embrace Bitcoin Cash as a payment option. The altcoin's fast and cheaper structure are some of the features that have boosted its retail adoption.
For instance, BTC's next block fee is $0.20, while its weekly median fee is $0.26. On the other hand, BCH has its next block and weekly median fees at $0.0015 and $0.0007. Its large blockchain size and large volumes have also made it a favourable choice among a growing number of merchants.
According to BitInfoCharts, the 100 largest transactions conducted over the past 24 hours are worth $259.84 million (848,614 BCH). In a similar timeframe, the top 100 largest transactions of Dogecoin, Litecoin, and Bitcoin are worth $316.246 million, $189.512 million, and $117.327 billion, respectively.
Correlation Between Bitcoin and Bitcoin Cash
Bitcoin Cash is often considered a proxy of Bitcoin. With the BTC price being considerably higher than that of BCH, investors often go for the latter entity. Granted, Bitcoin- the leading cryptocurrency by market capitalization – often sets the path for BCH and other altcoins. However, a comparison between both cryptos' price movements substantiates this assertion.
Nonetheless, the correlation between Bitcoin and Bitcoin Cash has been fading in recent months. At its current level of $39,019.23, it is around 43.27% below the all-time high in November 2021 at $69,035.84. In comparison, Bitcoin Cash is at $305.82; 92.92% below the record high of $4,314.28 it reached in December 2017.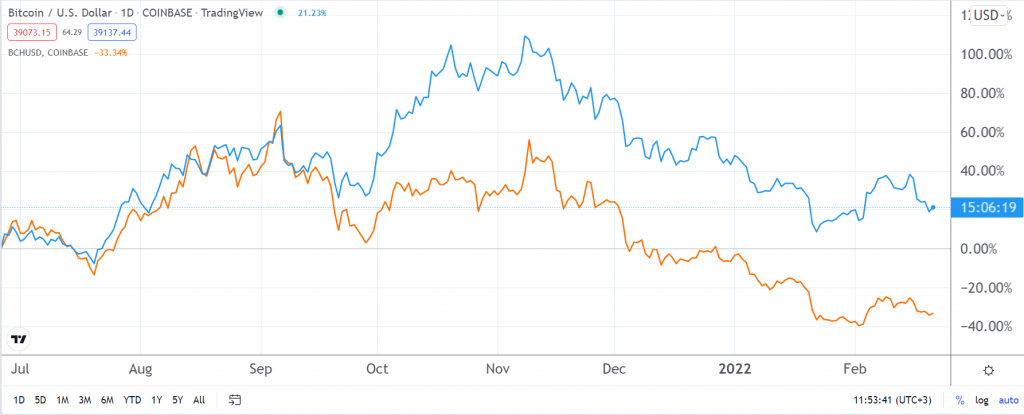 Bitcoin Cash Price Prediction 2022
Bitcoin Cash price prediction 2022 is rather bearish. Cryptocurrencies tend to be highly volatile; while BCH has been on downward pressure for close to three months, a minor catalyst can trigger a trend reversal within a short period.
As the Fed strives to tighten its monetary policy and deal with the inflationary pressures, risk-on assets like cryptocurrencies may remain in the bear market in the coming weeks. However, with increasing retail adoption, the Bitcoin Cash price prediction 2022 is for significant gains as the year progresses.
In the medium term, the bulls will be eyeing a bounce back to the 200-day EMA at the critical level of $500. In the coming months, the zone will likely be a key resistance level for BCH price. In the coming months, the range between $400 and the two-year low of $200 will be a range worth keeping an eye on.
Bitcoin Cash Price Week's Outlook
Bitcoin Cash price is trading below the 25 and 50-day exponential moving averages on a four-hour chart. It is also below the long-term 200-day EMA.
In the new week, the altcoin will likely find resistance and the 50-day EMA at $317.81 while finding support at $293.54. A move above the resistance mentioned above zone will likely have the gains curbed at $328.60, which is still below the 200-day EMA.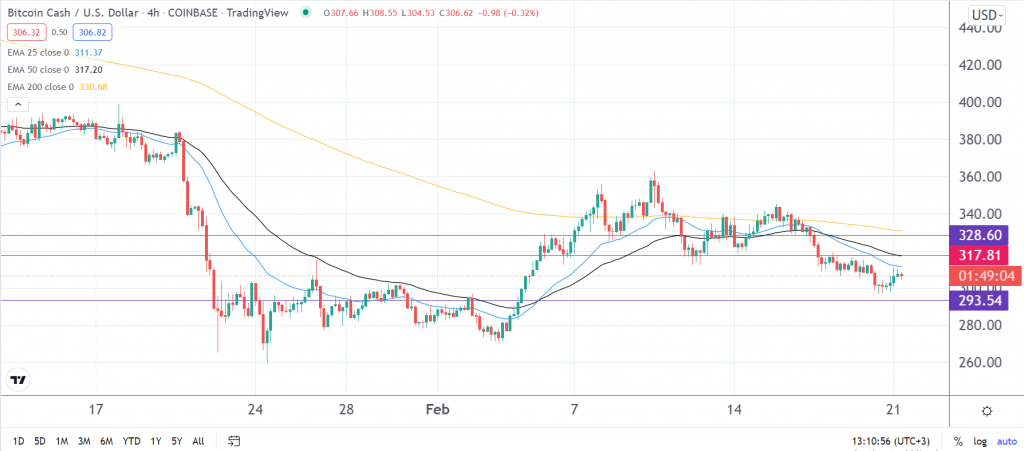 Bitcoin Cash Price Prediction 2025
For a viable Bitcoin Cash price prediction 2025, it is helpful to identify the BTC/BCH ratio. At the time of writing, Bitcoin price was $39,051.42 while Bitcoin Cash Price was $306.45. Based on these figures, the ratio mentioned above is 127.43.
Historically, altcoins like Bitcoin Cash tend to move in a similar path as the leading crypto by market capitalization – Bitcoin. According to LongForecast's Bitcoin price forecast 2025, the cryptocurrency will average at $61,361 in January 2025 before dropping to $38,744 by the end of the year.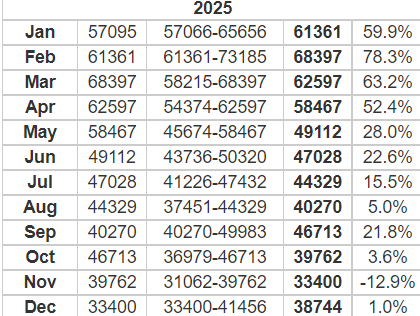 Assuming that the current ratio will persist in the coming years, the Bitcoin Cash price prediction 2025 is for $493.13 at the start of the year. Subsequently, it may drop to $311.37 in December 2025.
Bitcoin Cash Price Prediction 2030
As aforementioned, the current BTC/BCH price ratio is 124.43. Based on the Bitcoin Cash price prediction 2030 by CoinPriceForecast, Bitcoin price will be at $151,582 by mid-year and rise further to $159,161 by the end of the year.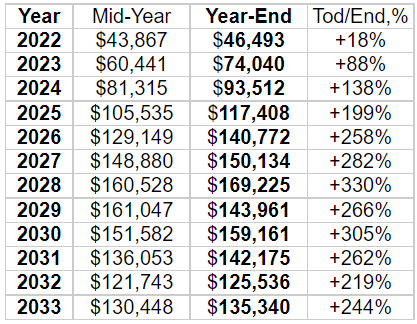 Assuming that Bitcoin Cash price will move in tandem with BTC price as is often the case, Bitcoin Cash price prediction 2030 favours the bulls. It may surpass the psychological level of $1,000 to retest May 2021's high at $1,218.21. By the end of 2025, it may be at $1,279.12.
Nonetheless, it is important to remember that cryptocurrencies are highly volatile, and their movements can be rather aggressive within a relatively short time. Therefore, it is crucial to conduct individual research and stick to the risk level you are comfortable with to avoid hefty losses.
Bitcoin Cash Market Sentiment
The market sentiment remains bearish, as with other risk-on financial assets. According to the crypto fear & greed index, fear remains the key emotion driving the industry. The index is currently at an extreme fear of 25, which is a decline from the previous session's reading of 27. However, it is also worse than the fear level of 46 recorded in the past week. Based on the market sentiment, Bitcoin Cash price will likely remain in the bear market in the short term.
Is Bitcoin Cash a Good Investment?
Like the other cryptocurrencies, Bitcoin Cash is a somewhat volatile and speculative financial asset. However, a look at the altcoin's price movements since its introduction in 2017 indicates that the returns can be higher than those of another group of an asset such as stocks.
For instance, after starting at $524.06 in July 2017, Bitcoin Cash price skyrocketed to $4,301.16 in just five months. However, a year later, it fell below its launching price to $74.19.
Based on this perspective, Bitcoin Cash is a good investment for investors with a considerably high-risk appetite. However, cryptocurrency may not be the ideal asset to include in your portfolio for risk-averse individuals.
How to Buy Bitcoin Cash
BCH tokens are stored in a secure digital wallet similar to other cryptocurrencies. Therefore, the first step in buying the cryptocurrency is to acquire a crypto wallet that supports the altcoin's storage.
Subsequently, one can choose to go the route of cryptocurrency exchanges or peer-to-peer transactions. In the latter option, one gets in touch with a willing trader offline or on a cryptocurrency exchange. The escrow payment platform ensures that the deposited amount is held in the system until the seller releases the agreed-upon crypto.
Besides, if you are keen on how to buy Bitcoin Cash, cryptocurrency exchanges are another popular approach. Some of the renowned entities include Binance, Coinbase, and Crypto.com. First, the buyer needs to deposit local fiat currencies like US dollars or Euros, depending on the platform. Subsequently, one receives the purchased Bitcoin Cash either in the inbuilt wallet or an external wallet.